Become a Storyteller
Journalism is the perfect major for students who want to tell dynamic, engaging, and inspiring stories. Our students will develop written and oral communications techniques to share these stories across a variety of platforms. Looking to become a news journalist, or a feature writer for a magazine? This is the major for you.
Our program will expose journalism students to the conventions of news reporting and writing, shooting and editing video, magazine and feature writing, and digital multimedia production. With a range of courses and electives, our students will be prepared as professional storytellers.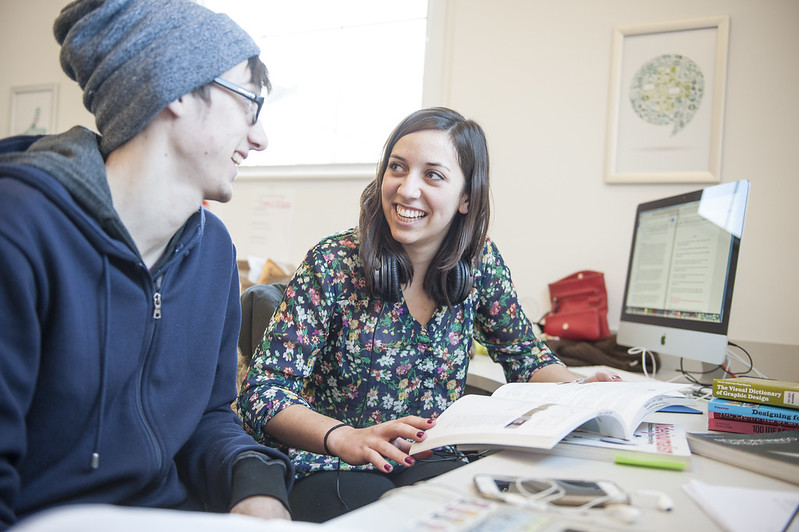 What can I do with a degree in Journalism?
With a Journalism degree students will have exciting careers such as, TV News Anchor, Reporter, Producer, Director, Multimedia journalist, Photojournalist, Magazine Writer/Editor, Newspaper Writer/Editor, Online Writer, Reporter or Editor. Whether you're interested in working for a newspaper, magazine, television/radio station, or an online news outlet, you will get the practical hands-on experience you need to tell compelling stories across multiple forms of media.
A Diverse Field
A career in journalism means that no day is the same. Journalism is an exciting and diverse field that allows for growth and ongoing exploration of a wide range of ideas. At Etown we prepare you for this diversity, as you'll have the chance to get involved in a variety of student media from your first day on campus.
Write for our award-winning student newspaper
Be an anchor/reporter/producer for the College's TV station
DJ on our radio station
An Evolving CURRICULUM
You will have the opportunity to take courses in a variety of areas within the field and tailor the curriculum to your specific interests including: journalism, broadcast news, digital multimedia production, newspaper, and magazine writing. We have several courses and electives that will prepare you for a job in a newsroom whether you want to write, be in front of the camera, behind the scenes, or produce stories for a digital journalism platform. You will have hands-on, real-world, opportunities to write and produce audio, video, print, and multimedia stories.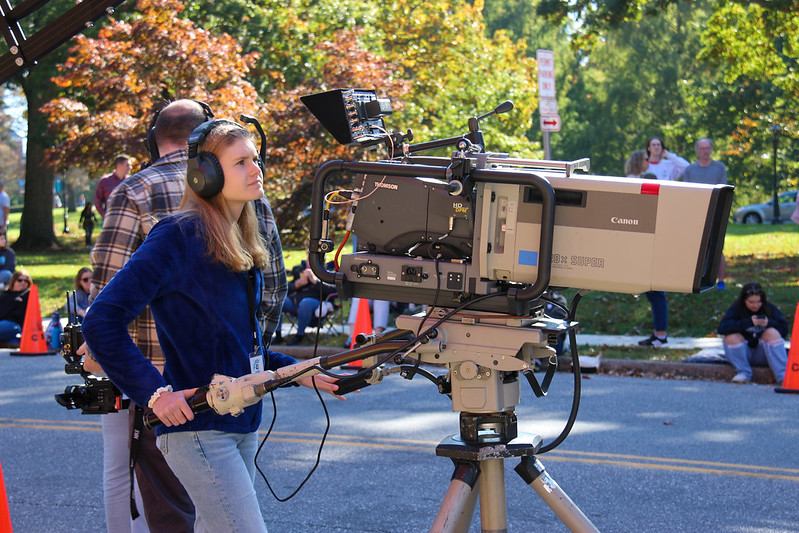 Gain the tools to succeed
Throughout your time at Etown you will learn, the guiding principles of the field of journalism, and how to incorporate those ideals into a future career path. You'll take a variety of courses that will allow you to explore the entire area of journalism and choose your ultimate focus. 
Courses in feature-writing prepare you to

write as a freelance writer and staff writer in the magazine industry

Courses in video production, audio production and broadcast news will allow you to explore the multimedia aspects of the field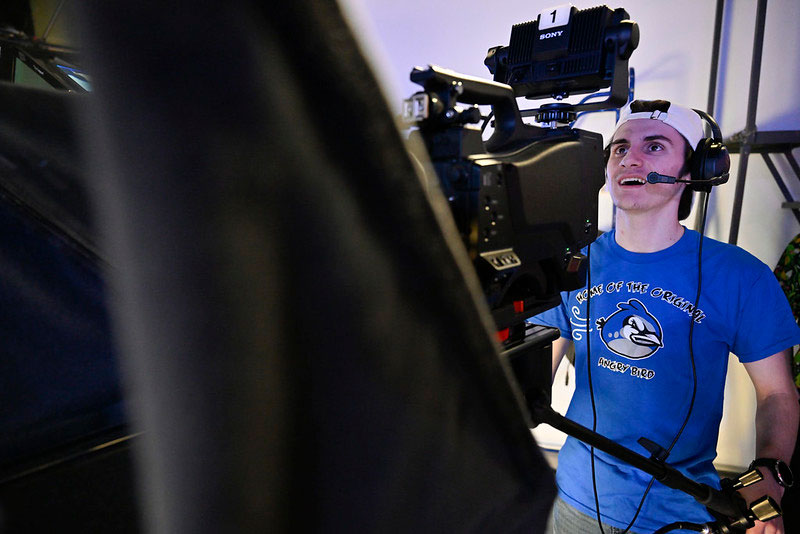 Communications Minor
A Communications minor is offered to students majoring in other programs. This minor explores written, spoken, and visual communications. Elements which translate to nearly every field.
The curriculum is complemented by our student organizations, the Etownian, ECTV-40, WWEC, and the Jay Firm. These give students the chance to explore multiple forms of media.
Student Groups and Facilities
Elizabethtown College is home to several student-run and community-based campus media outlets. Participation in these media allows you to gain hands-on, practical experience from day one. Campus media at Elizabethtown College includes a combination of traditional broadcast and print media, as well as a public relations agency and collaborative news coverage of the community.
The Etownian
The Etownian is Elizabethtown College's weekly newspaper. The full-color newspaper is produced completely by student writers and editors--from a variety of majors--and is distributed weekly when classes are in session. The Etownian covers news, feature stories, movie reviews, sports and various interest pieces as determined by the Etownian staff. The Etownian is distributed to the campus community and local subscribers. The newspaper's offices are located on the second floor of the Steinman Center. The Etownian also offers a digital version of the newspaper and interactive elements here.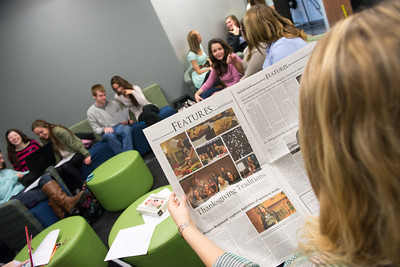 ECTV-40
ECTV-40 is our video production student group. Students will work as part of a video production team to create programming, distributed on our 24-hour cable-access news channel, but also to produce video content for our YouTube channel. ECTV gives students the ability to put the video production skills that they learn in class into practice, and get a broader picture of what certain career paths might look like. Do you want to become a Content Creator or a Freelance Video Producer? ECTV gives you the chance to get behind the camera, in front of the camera, or in the control room of a working broadcast production studio. This will give you the experience and the tools to explore various fields of video production.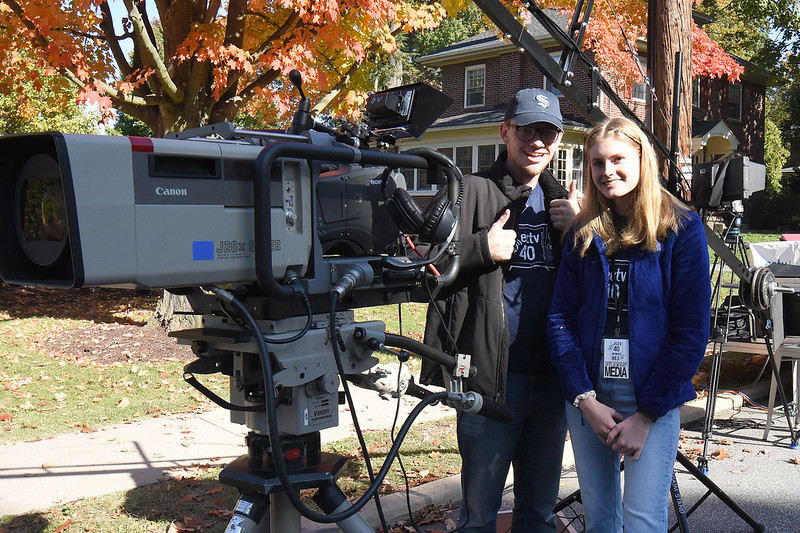 WWEC 88.3 FM
Located on the dial at 88.3 FM, and streaming on TuneIn. WWEC-FM is a student-managed radio station affiliated with the Department of Communications. The radio station gives students the ability to practice both their audio production skills, and gives them the ability to produce a portfolio of radio performances. We host students of all majors, and even some community members as campus DJ's. Our DJ's are given the opportunity to host a show at the same time every week. WWEC features student-designed programming, and students have taken advantage of this to produce various radio shows of differing topics. The FCC-licensed, radio station can be heard across a seven-mile radius from the College – and around the world through TuneIn.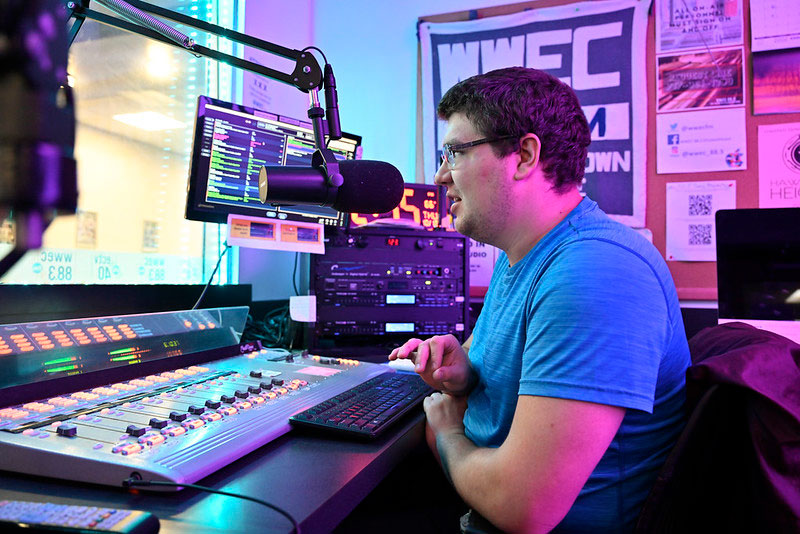 Jay Firm
The Jay Firm is our in-house, student-run communications agency. The mission of The Jay Firm is to provide public relations students with an opportunity to independently practice public relations and marketing communications for clients outside of the classroom. The firm is currently modeled as a voluntary learning laboratory where students work pro bono for clients to expand the skills that they have learned in class. The Jay Firm also gives students in other disciplines, the necessary background to explore Marketing.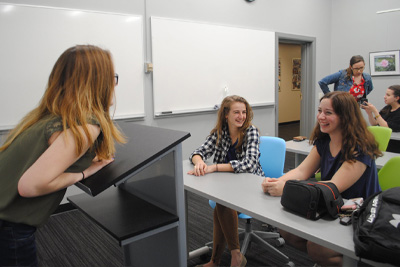 READY TO BECOME A BLUE JAY?