Communications and Media Facilities
The Communications Program is housed in the College's Steinman Center. The Program houses classrooms, computer labs and media production facilities for television and video, audio and radio, newspaper, visual and new media and digital production. The facilities are highly integrated into the coursework of the Program's curriculum and the operation of student media outlets: ECTV Channel 40, WWEC 88.3 FM, The Etownian and The Jay Firm.
A video tour of our facilities and equipment produced by Communications students.
Classrooms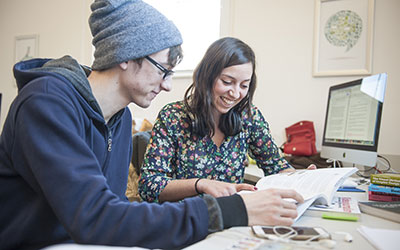 Of course, we have classrooms.  A number of the classrooms in the College's Steinman Center are equipped specifically for communications classes, such as the computer lab and the media screening room. The media screening room is furnished with theater seating for viewing films and multimedia productions. 
Mac Lab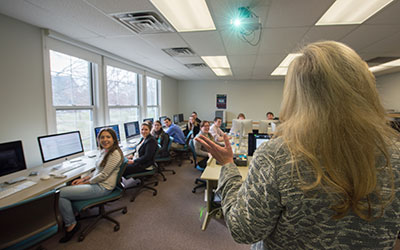 The Mac Lab is a classroom that doubles as a computer lab when not in use by classes. Graphics tablets and a black-and-white printer are located in the room with access to other color printers. The software available on these computers complements the needs of visual communications, media writing and production courses; this includes the Microsoft and Adobe Creative Cloud suite and non-linear post-production software.
The Media Center
The Media Center houses student media operations (WWEC 88.3 FM, ECTV and The Etownian newspaper) and audio and video production laboratory facilities. The offices of The Jay Firm are just down the hall.
The Media Center provides students with a simulation of real-world media operations – an environment in which all media can share content. This configuration encourages collaboration, peer-to-peer learning and problem solving. Student assistants are available when the Media Center is open to assist students with equipment and materials. The Department maintains a collection of equipment for Communications majors and minors to borrow to complete course assignments.
Video Edit Suite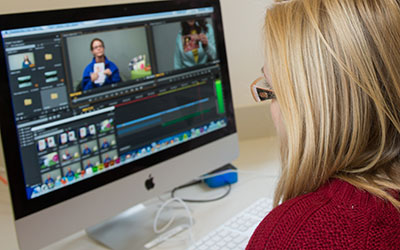 The video edit suite is a production lab with an open format and six iMac editing stations, equipped with Adobe Creative Cloud and Microsoft Office. With a set of headphones, students can work on multimedia projects without disturbing other students.
Audio Edit Suite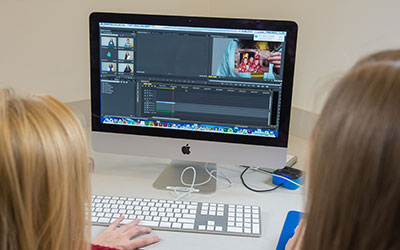 The audio edit suite includes two audio editing stations composed of Mac minis, Profire audio system, Auditions and Protools. It is one of three audio production areas in the Media Center.
Audio Control Room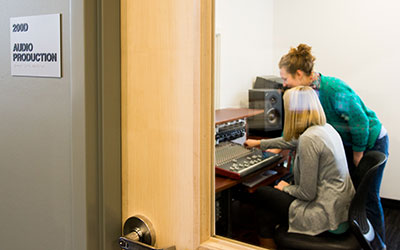 The audio control room is equipped with a Mac mini, Profire audio system, Audition and ProTools. From this room students can manage multiple audio components for multimedia production.
Audio Studio
The audio studio is an open floor plan with a piano, six microphones and six headphones and stands. Students can record musical productions as well as spoken-word projects here. The audio control room is adjacent to this studio. Within the audio studio is an isolated vocal booth. This space is specially designed for recording vocalists and spoken-word projects.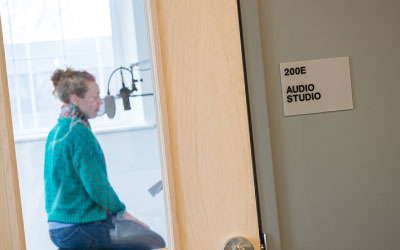 WWEC 88.3 FM Radio Station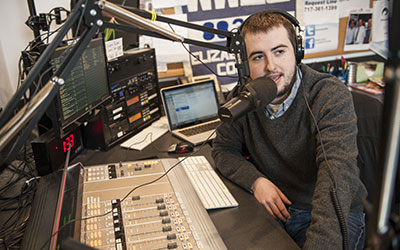 The WWEC 88.3 FM radio station accommodates three guests and two on-air talent. Equipment includes Harris broadcast audio console, MacPro with Megaseg software for automation, two CD players, one Mac mini for research, one Mac mini for Skype and phone interviews playback, four EV broadcast microphones, EAS Innkeeper for automated emergency alert system (FCC compliant) and a Harris 200w FM stereo transmitter. Additionally, radio broadcasts can be video recorded for playback on ECTV. Video recording equipment includes three Sony LCD lipstick cameras (connected to the TV control room switcher).
ECTV Studio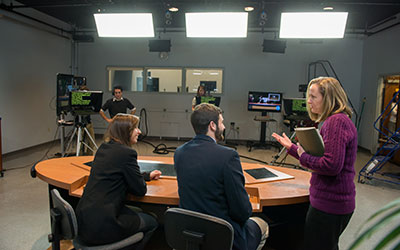 This modular design production studio is equipped with assorted set pieces, backdrops (including green screen), assorted production microphones (lavaliere and boom), Clearcom intercom system, three Panasonic P2HD studio configured cameras, three Vinten broadcast pedestals, florescent TV production lighting, two Samsung flat screen monitors (46-inch and 50-inch) and three EasyPrompt system teleprompters (17-inch). ECTV is Channel 40 on the local Comcast cable network. It is a classic three-camera, live television studio soundstage.
Television Control Room
From the television studio control room the production crew manages the talent and video crew in the television studio. The control room is equipped with a production video switcher, full production audio console, two CD players, HP graphics system, EasyPrompt teleprompter software, Panasonic DVC Pro record disk, iMac for video playback and Adobe Creative Cloud.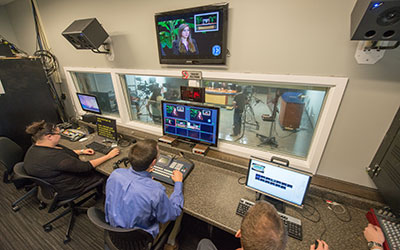 The Etownian Newsroom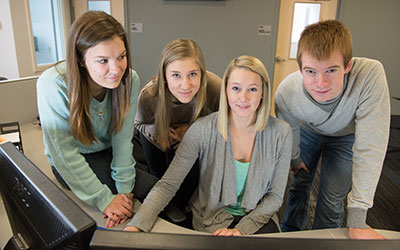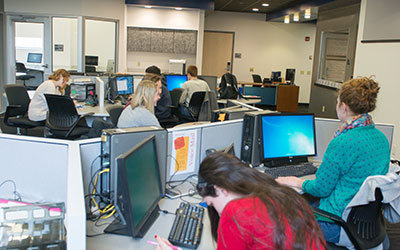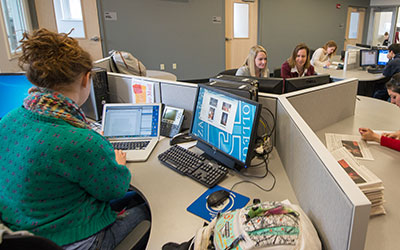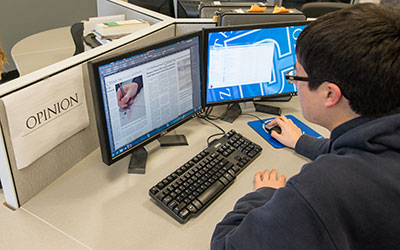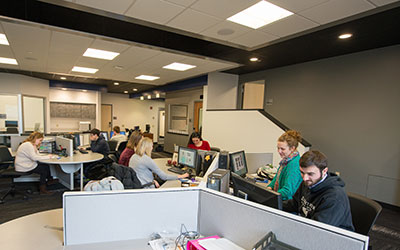 The Etownian student newspaper has a dedicated newsroom for newspaper operations; this open design collaboration space includes six Dell computer stations, ample seating for 14 and an HP black-and-white printer dedicated to the newspaper operation.
Photo Studio
This dedicated photography studio is equipped with an iMac with photo editing software (Adobe Creative Cloud), professional photography light set (three LED dimmable and color temperature control) installed on swing mounted booms, portable strobe light kit, one Bogen tripod, assorted backdrops and object box. The photo studio is ideal for studio photography from commercial photo shoots to portrait sittings. Students can experiment with camera settings, backdrops and lighting to get that perfect image
Photography Workroom and Color Printer Room
To complement the photography studio, the Media Center also provides dedicated space to house two dedicated Epson 3600 color photo printers (large format 11-by-17) controlled by two Mac minis. This work station provides students with the tools necessary to perfect their digital photography skills.
Lounge
The Media Center features a modular seating lounge where students can stop for conversation and collaboration. This space includes a wall-mounted flat-screen television on which students can catch up on the day's news while working in small groups on class assignments.