Synthesize Your Future
The in-depth Chemistry major includes foundational and advanced coursework in the five traditional subdisciplines in chemistry: analytical, biochemistry, inorganic, organic and physical. The major is certified by the American Chemical Society and includes coursework in biology, mathematics, and physics. Students are well-prepared for a variety of careers in chemistry and for the health professions.
The Chemistry major at Elizabethtown College includes coursework in biology, physics, mathematics and computing, and is excellent preparation for a variety of careers in chemistry. All majors in the Department will complete faculty-supervised research as a part of their capstone experience.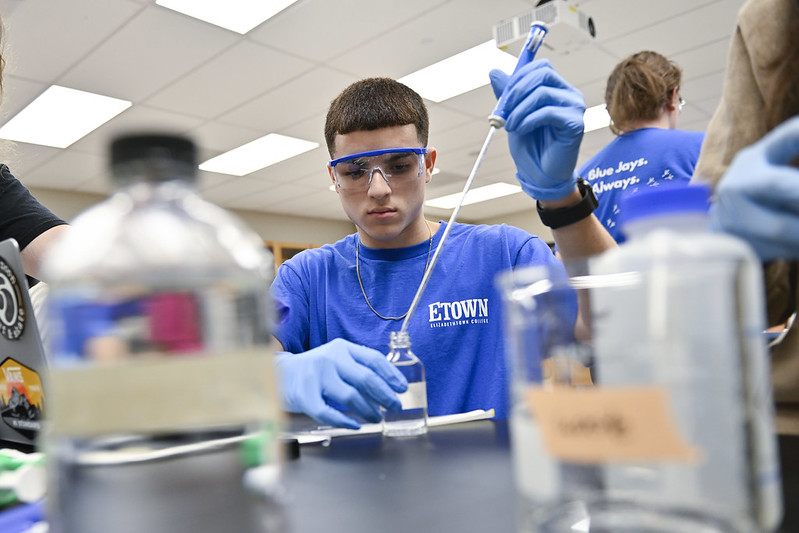 Chemistry Concentrations
The Department of Chemistry at Etown College offers five concentrations within the Chemistry major to ensure students are equipped to pursue the educational or professional career path they are interested in.
American Chemical Society (ACS)
This concentration
 prepares students for graduate school, careers in the medical field (dental, medical, vet, etc.), or for a career in industrial or government laboratories. Especially important in this concentration are advanced laboratory courses, senior-level courses in advanced inorganic and advanced organic chemistry, and the individual research project. The American Chemical Society (ACS) concentration is accredited by the the American Chemical Society's Committee on Professional Training.
Chemical Physics
The 
Chemical Physics concentration
 provides a solid background in chemistry with added emphasis in physics and physical chemistry. This emphasis is largely in quantum chemistry, and the theoretical study of molecular behavior based on the laws of physics. This allows students to study the properties of matter through theoretical and computational means. This concentration is best suited for someone interested in going to graduate school and specializing in theoretical chemistry.
Chemistry Management
By integrating foundation business and economics courses with a strong chemistry curriculum, 
this concentration
 prepares students for sales or management positions within the chemical, medical, and related industries.  Many students pursuing this concentration will still elect to conduct independent research to further increase their marketability when they enter the workforce.
Chemistry Secondary Education
Want to inspire young learners into a lifelong education in the sciences?  This track prepares students for a path of teaching chemistry at the secondary (grades 7-12) level.  In addition to completing key education courses, the chemistry secondary education program merges sound foundational courses in the sciences (including biology, physics, and math) with a rigorous curriculum in chemistry.  Furthermore many students complement their student teaching requirements with optional independent research or study abroad to make themselves even more competitive in the teaching arena. See additional  academic information on the Secondary Education concentration in Chemistry.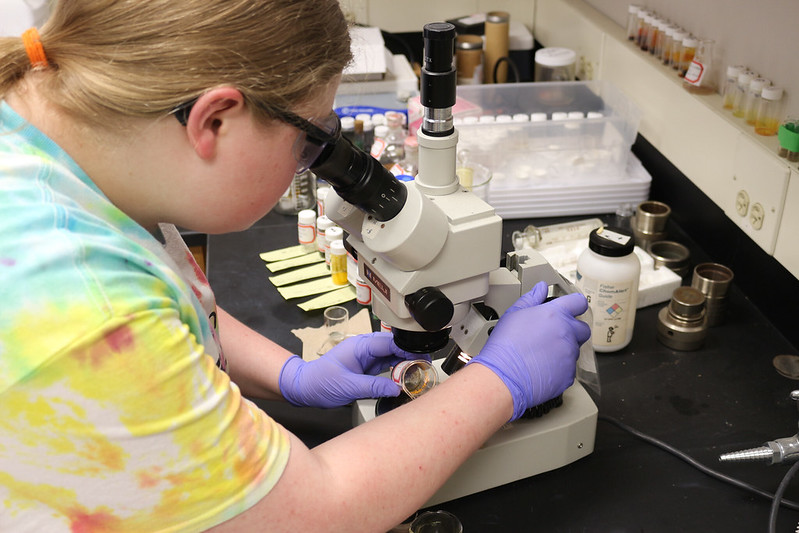 What can I do with a degree in Chemistry?
We understand that many students studying Chemistry have intentions of pursuing continued education after completing their chemistry degree. Our graduates are ready for both the workforce and continued education after the competition of their degree. Recent graduates from our program have gone on to careers at the Sloan Kettering Cancer Center, Johns Hopkins University, Sommer Consulting, Michigan and Pennsylvania State Police Laboratories, Steelton-Highspire School District, and Juniata College.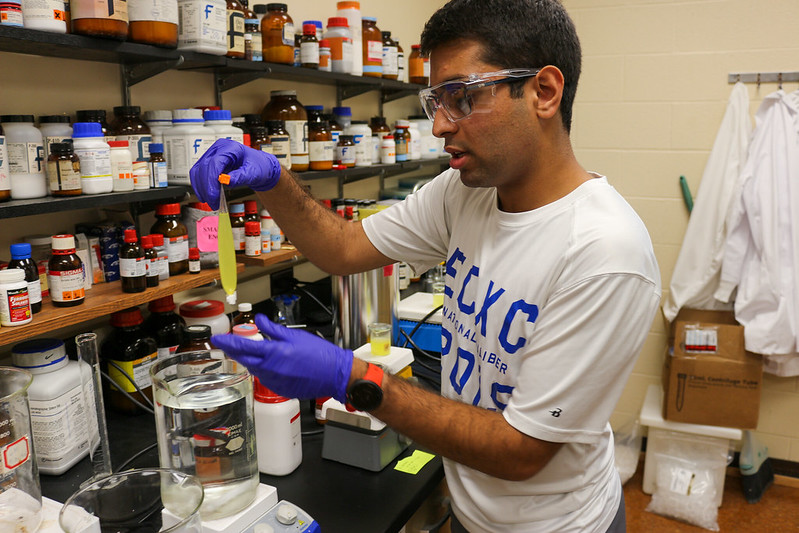 A post graduate connection
A degree in Chemistry is a great starting point for students looking to study healthcare professions after graduating, such as Pre-Medicine, Pre-Veterinary Medicine, Pre-Pharmacy, or Pre-Dentistry. The degree acts as a solid foundation for students looking to pursue careers in the industry or those hoping to do research in the field. A major in Chemistry provides the foundation needed to complete those post-graduate areas of study.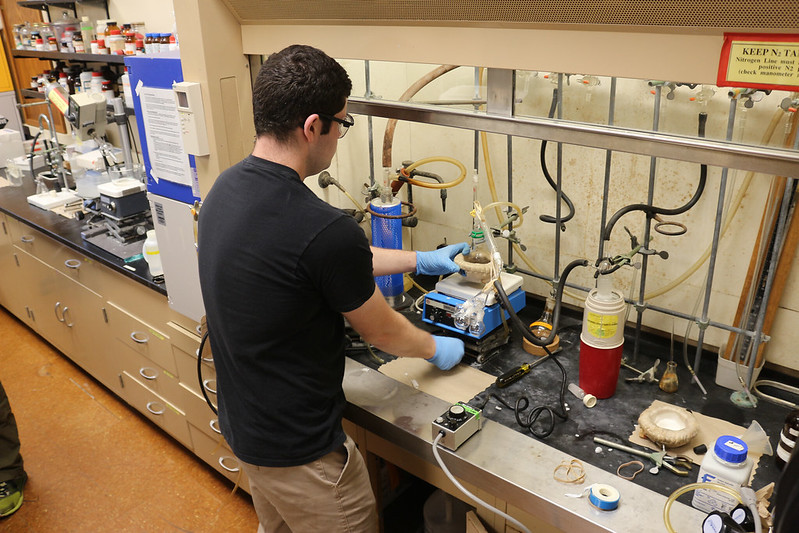 Do real research
Undergraduate research is both the cornerstone and the capstone of the Elizabethtown College Chemistry & Biochemistry curriculum.  Students can begin independent research with a faculty mentor as early as their first year and work with one or more faculty mentors during the academic year and summer, leading up to completion of a required research experience during the senior year.  In addition, fundamental research questions are routinely incorporated into the teaching laboratories associated with specific courses.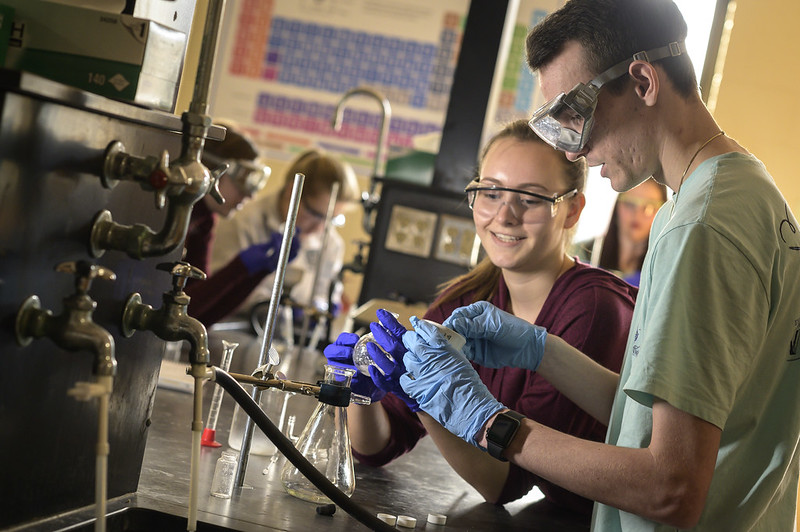 Chemistry Minor
Students majoring in another discipline are able to add a minor in Chemistry to their studies. Whether you're majoring in another STEM field or not, our minor is very flexible and compliments many different areas of study.
READY TO BECOME A BLUE JAY?