Department Life & Student Involvement
Life in the Department of Chemistry and Biochemistry at Elizabethtown College isn't just beakers and test tubes. We are proud to be part of a vibrant on-and off-campus community located in southcentral Pennsylvania. Our students also occasionally find themselves in foreign countries for research fellowships, study abroad semesters and faculty-led trips. While on campus, students have the opportunity to participate in many activities that fuel their curiosity. As a diverse college in the northeast, you will have the chance to explore both your academic interests and personal passions.
Department Events
Within the department, faculty and students plan regular activities meant to bring everyone closer and break down barriers. Outside of class, you'll see our faculty and staff around campus with our students. We believe in personal mentorship and relationship-based education. From the student lunches with faculty members, to dinners and cook-outs at professors' homes, our department functions like a family. Students also enjoy group study sessions and department clubs like the Chemistry Club.
Everyone's favorite tradition is probably the senior breakfast. Every year, the faculty plans and cooks breakfast for our graduating seniors, including their families and friends. Students appreciate the personal touch while professors appreciate the chance to say goodbye in style, but everyone enjoys having a home cooked meal before the graduation ceremony.
Additionally, before everyone in the department leaves for Thanksgiving break, we take a trip (yes, all 30-40 of us!) to Shady Maple, a favorite spot amongst hungry students, for a breakfast get together.
Due to the close connection our professors make with students during their four years, our faculty and staff are able to keep in close contact with our alumni after graduation. We use those connections to plan unique opportunities for our students such as field trips, networking nights, and presentations. We invite professionals in the field from our local area, as well as regionally, to our networking nights to give our students the best opportunities and connections. Our collective campus community works to bring change-makers from all over the world to interact with our students. We've been fortunate enough to have speakers like Nobel Laureate Leymah Gbowee join our campus for an evening of conversation.
Students are also encouraged to participate in other on-campus events and groups such as Student Senate, Emotion, Peer Mentoring and intramural sports. We also encourage them to study abroad or go on short-term study trips. Students can also choose to stick closer to home and get involved with Relay for Life and Into the Streets. 
Student Organizations
For Chemistry students looking for additional out-of-class enriching experiences, or for non-majors who enjoy the sciences, the Chemistry Club is the perfect extracurricular club! From guest speakers, workshops and industrial tours, the Student Affiliates of the American Chemical Society ("Chemistry Club") allows you to learn more about chemical industries and network with professionals in the field outside of the classroom. We value community engagement and routinely conduct chemistry demonstrations with elementary school students in the community. The Etown College chapter has been a nationally recognized chapter for eight consecutive years!
The American Chemical Society provides support to Student Affiliates, including chapter programming aids and services and career and employment services. Membership in the ACS has a number of benefits, including heavily discounted fees for attendance at meetings of the ACS; weekly copies of Chemical and Engineering News, the ACS news journal; and substantial discounts on all ACS journals. Students routinely travel to local, regional, and national meetings of the ACS to report the results of their research findings.
The Chemistry Honor Society (Gamma Sigma Epsilon) is the Rho Eta chapter of the national governing organization for excellence in Chemistry and related studies. Students with a grade point average of 3.3 or higher in chemistry are invited to join this prestigious group of student-scholars.

We recognize and celebrate our students' achievements. Through hard work and faculty mentorship, our students are completing life-changing work both on and off campus. See how we honor our Department's work through our annual awards and scholarships, which allow students to distinguish themselves when applying for jobs or graduate school.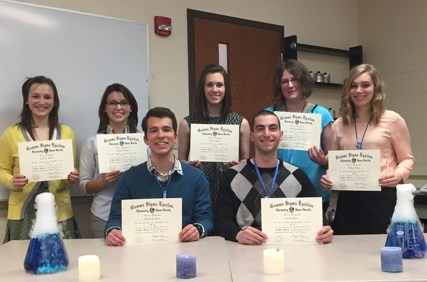 The Chemistry Honor Society (Gamma Sigma Epsilon)