Chemistry and Biochemistry
In the Department of Chemistry and Biochemistry at Elizabethtown College, we learn by doing. We engage students in understanding how chemistry impacts and shapes the world around us and offer a supportive learning environment that advances our students' career and life goals.
Explore Your Interests
We know that your areas of interest are far and wide. We offer two departmental majors, Chemistry and Biochemistry, with concentrations in Forensic Chemistry, Chemistry Secondary Education, Chemistry Management, and Chemical Physics. The Chemistry and Biochemistry majors are accredited by the American Chemical Society, and both majors serve as great foundational bases for students on a Pre-Medicine, Pre-Veterinary Medicine, Pre-Pharmacy or Pre-Dental track.
Real World Learning
Your course work will include interactive classroom experiences, lab classes and hands-on research opportunities. Don your lab coat and protective eyewear and participate in experiments in our up-to-date lab and research facilities in Musser Hall, part of the Masters Center for Science, Mathematics and Engineering. We teach use of lab instrumentation very early in our curriculum. Students get exposed to and actually use instrumentation in their first year, thus giving our students a competitive edge when applying for internships and summer research experiences.
Research and experiential learning are the cornerstones of the discipline. You can begin independent research with a faculty mentor as early as your first year! Fundamental research is incorporated into our teaching labs and carried out with research mentors during the summer and academic semesters. All Chemistry and Biochemistry majors complete an independent research experience during their senior year. Though it is not required for Chemical Education and Chemical Management majors, most student pursuing these concentrations elect to conduct research nonetheless which makes them even more marketable once they head out into the work force
From the Department of Chemistry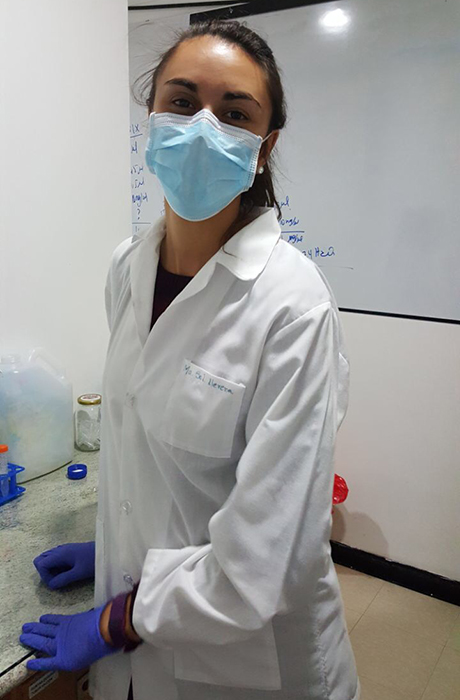 Colby Schweibenz '18 researches breast cancer in Ecuador
Biochemistry major visits villages in Amazon.
Colby Schweibenz is spending six months in Quito, Ecuador, studying biology and other sciences at the University of San Francisco de Quito. While there, the senior biochemistry major, who minors in Spanish, had the opportunity to work with the Latitude Zero Ecuador Research Initiative Program. Schweibenz investigates gene expression in breast cancer cells in the Hospital de Las Valles. She also has had the chance to travel the country—seeing a range of wildlife and their habitats in the Amazon and Galapagos. "I really feel that my time spent here in Ecuador has been such a special experience, and I will carry it with me for the rest of my life."
From the Department of Chemistry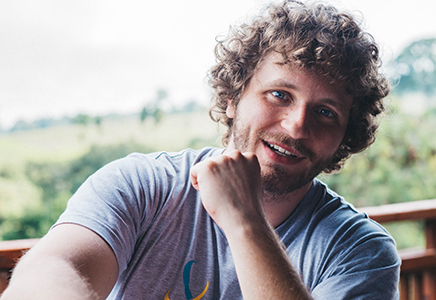 Tyler Butkus '17
This Fulbright recipient explores organic waste recycling systems.
Butkus, whose Fulbright experience started in October 2017, uses his award to research feasibility of organic waste recycling systems in conjunction with Bumi Langit, an institute in Yogyakarta, Java. Before he began his endeavors, he was required to take three months of intensive language classes at Universitas Negeri in Malang, Java. "I'm hoping that by the end of my time abroad, I will have enough information to produce a manuscript or manual detailing my findings, and there may be an opportunity for me to publish such findings in an international journal."
Faculty Members Who Care
Our dedicated faculty members believe in relationship-centered learning. From day one, they provide comprehensive advising, mentoring and exploration opportunities to help you determine the best career path and achieve your career ambitions. You will be challenged, but also supported. Mentoring sessions, career counseling, and dinners at instructors' homes are just a few of the ways our faculty stay invested in the lives of our students. As an upper-class student, you can also look forward to giving scientific presentations in the weekly junior senior departmental seminar followed by informal and light-hearted lunches with department faculty and your fellow students!
Setting You Up For Success
Many of our alumni have pursued advanced degrees in graduate or professional school. Our curriculum prepares you for the rigors of advanced studies, not just in scientific knowledge and know-how, but also in the communication of science. Graduates of our program have seen success in programs including Johns Hopkins, the University of Pennsylvania, University of Michigan, University of Maryland, University of North Carolina, Harvard Medical School, Penn State Hershey School of Medicine, Temple University School of Dentistry, and University of Pennsylvania School of Veterinary Medicine.
Our students have flourished in careers as forensic scientists, clinical laboratory scientists, industrial hygienists, medical doctors, college professors, pharmacists, attorneys, quality control engineers, nutritionists, business executives, and nuclear submariners. From GlaxoSmithKline and Merck and Company, to Milton S. Hershey School and the Dana Farber Cancer Institute, we have a network of alumni across the country who serve as mentors and contacts for our students.
From the Department of Chemistry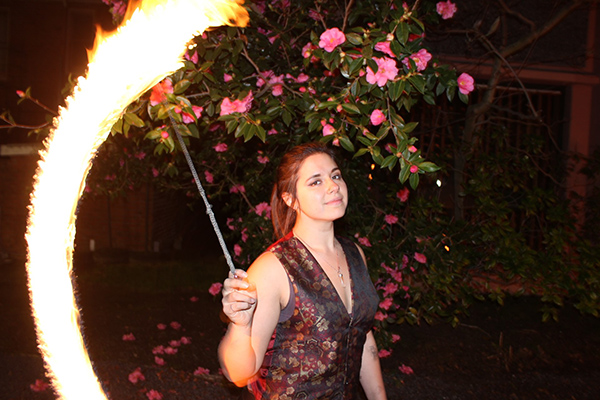 Aubrey Maryniak '19
You might say this junior biochemistry major ran off and joined the circus.
When choosing to study abroad, Aubrey Maryniak keyed in on New Zealand and specifically the University of Otago because it is globally known for its biochemistry department. In addition to her interest in broadening her horizons with neuroscience courses and contributing as a storyteller for BCA Study Abroad, Marynaik also took up with the Dunedin Fire and Circus Club when she arrived this past June. As part of the circus, she is learning to use the fire poi—a chain with a ball that is set afire. Maryniak said being part of the circus and performing at festivals is more than just playing with cool toys. "People who make music and practice flow arts (fire spinning) get together for a night and spread community, love and new skills."
In the Department of Chemistry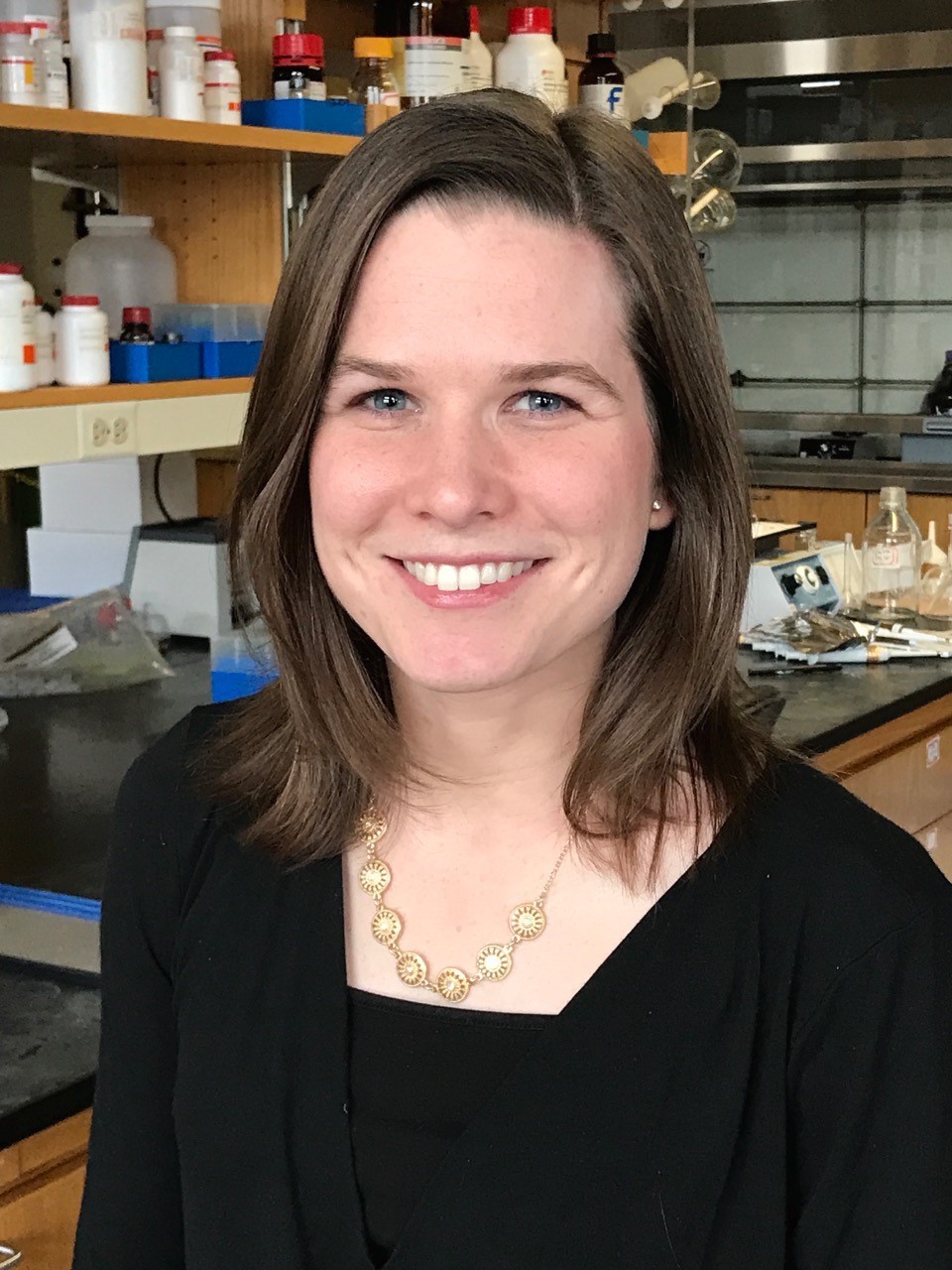 Lauren Gibson
Assistant professor of chemistry
Lauren Gibson is a new assistant professor in the Department of Chemistry at Elizabethtown College. After earning a degree in chemistry with a minor in music from a Murray State University, Gibson attended Vanderbilt University, defending her dissertation in March 2017. "In graduate school, I worked on medical diagnostics for malaria. I developed new nano-materials to help make these devices sensitive but also inexpensive, simple to use and stable so they could be used by our collaborators in Zambia."