Why Study Business at Elizabethtown?
As a business major at Elizabethtown College, you can write your own business plan for life. Do you value individualized attention and nurturing relationships? Do you plan on starting your own business or social enterprise down the road? Are you interested in developing practical skills in accounting, marketing, finance, business law, management, economics, or entrepreneurship/ family business? Are you eager to use your future business skills to help the community? If yes, E-town business is for you!
Accreditation

The programs in Accounting, Business Administration and International Business are accredited by the Accreditation Council for Business Schools and Programs (ACBSP). We are one of only 3% of institutions worldwide accredited by ACBSP and one of 20% of U.S. institutions.
College of Distinction Badge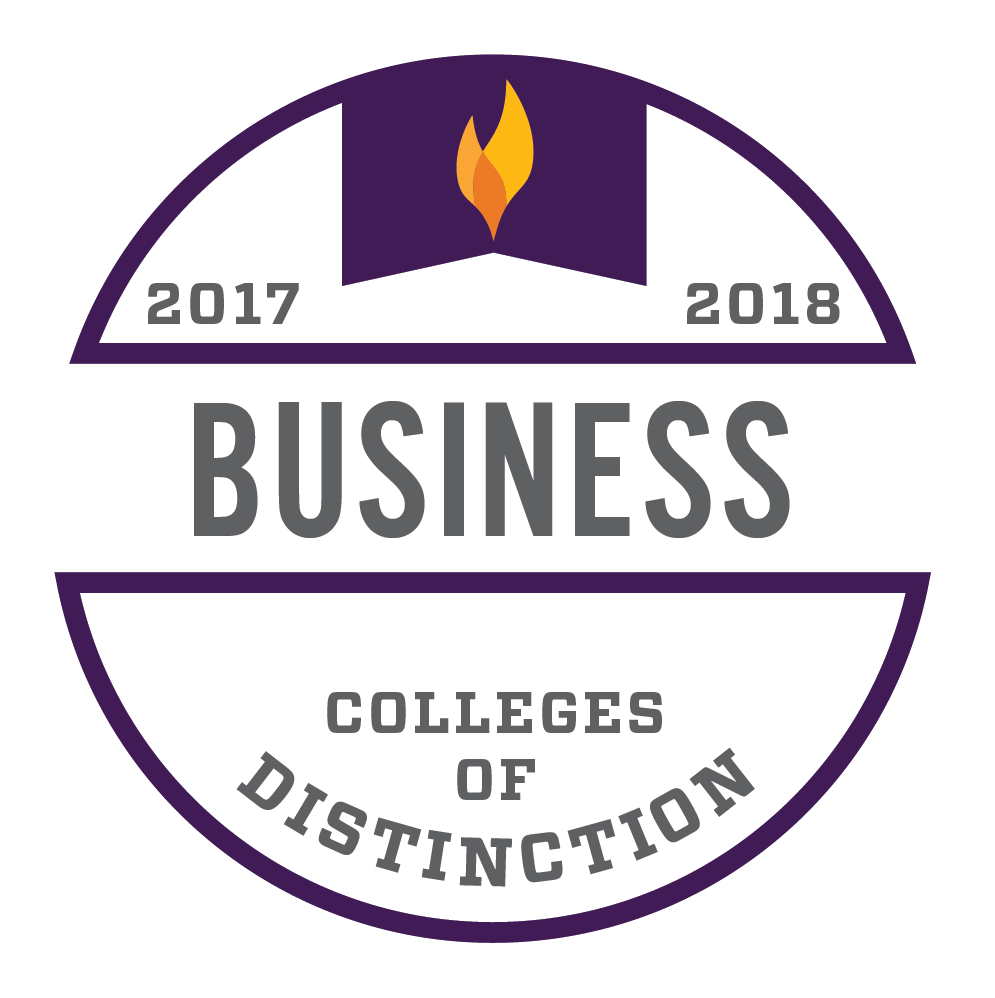 We are proud to announce that we were awarded the Colleges of Distinction Badge for Business!
We are recognized for excellent teaching, innovative learning experiences designed to engage students, and the high value that employers place on our graduates. 
At E-town, every business student who wants

an internship can

complete one!

95% placement rate!  The majority of

our graduates find a job in

less than 5 months.
Join Us For Our Business Expo!
Learn about the transition into your first year of college, get information on your intended major, and meet our faculty during our department visit day! Register here.
We offer bachelor's degrees in:
_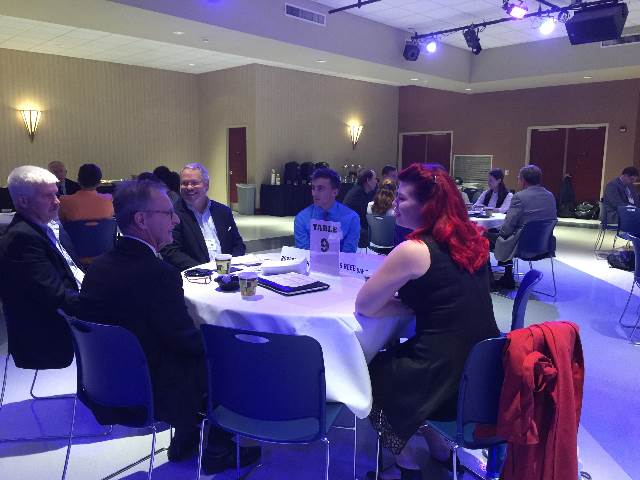 In the Department of Business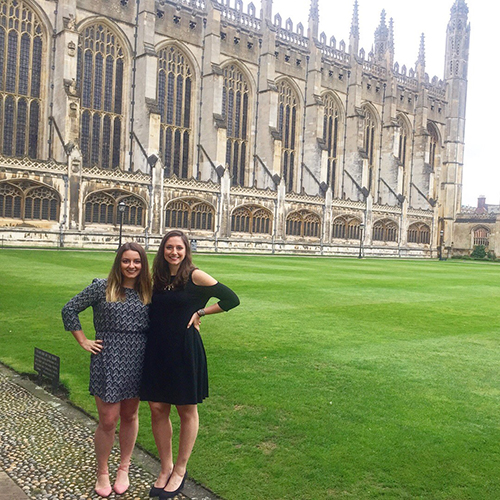 Lia Kopar '18
Rebecca Yunginger '17
University of Cambridge (U.K.) 
completed independent supervision projects this summer.
Kopar, an international business major with a concentration and minor in economics, worked with a researcher in labor economics. Utilizing her Spanish language skills, she conducted a chronic and extreme poverty analysis, including a three-country case study on El Salvador, Nicaragua and Guatemala. "I had the chance to meet local foreign workers from Greece, Albania, Turkey, Hungary and Brazil … made me more aware of how interconnected the world is."  Yunginger, an international business major with a concentration in management and a minor in modern languages-French, studied at Cambridge's Judge Business School analyzing current sustainability trends in business through a case study of Nestlé. "I was able to conduct interviews with (executives at Nestlé) to enhance my work with the collection of qualitative data." .
Hershey Co-Op Experience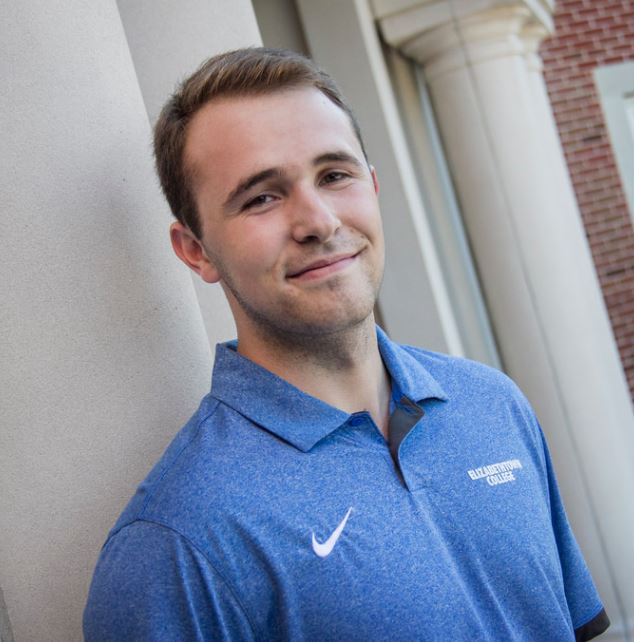 Adam Saubel '17
Hershey Co-Op Alum, Business Administration and Economics
"Through the Hershey Co-op experience, I was able to work on a full-time basis for six months with industry leading professionals in Category Management. To have the ability to be placed into a Fortune 500 company working alongside Vice Presidents, Senior Directors, and Senior Managers was a remarkable way to build out my professional network with both Hershey employees and other interns from across the nation. I was able to showcase the exceptional skills Etown provided me with, earn a solid stream of income while still in college, and strengthen my resume for future employment opportunities."  
Intern Locally & Globally
Employers are increasingly interested in hiring graduates who have had meaningful "hands-on" business experience during their college career. Elizabethtown College works closely with businesses, accounting firms and Fortune 500 companies located in central Pennsylvania, throughout the East Coast and around the world to place students into internships during their junior and senior years.
Manage Real Money
Our Trostle Investment Portfolio (TIP) amounts to almost $350,000 and it is entirely managed by students!
The portfolio performance grew by 7.58% since inception in 2007!
The TIP consistently exceeds the S&P 500 stock index! 
Participate in a Club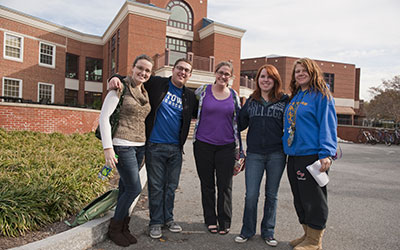 For 21 years, the Elizabethtown ENACTUS (formerly SIFE) team has won the Northeastern Regional Finalist Award at the national competition. Other related student organizations include the Accounting/Finance Club, a chapter of the American Marketing Association, Delta Mu Delta (business honor society) and Omicron Delta Epsilon (international honor society for economics).
Study Abroad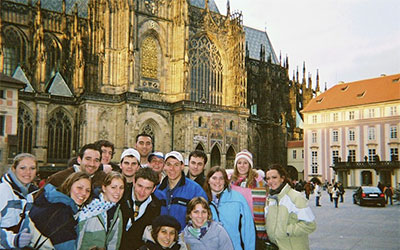 Elizabethtown College offers flexible, short-term study tour programs in Geneva, Prague, and Beijing.
Or, you may choose to study abroad for a semester at programs offered by our partner universities in several countries including Spain, Ireland, France, Germany, Mexico, Japan and England.
Succeed after Graduation
Business majors at Elizabethtown College enjoy high placement rates. Our graduates are employed at a wide range of firms and have attended top-ranked graduate programs in business, law and economics.  We also have partnered with graduate schools to offer fast track admission.
Conduct Research
You can carry out Independent Study or participate in the Honors-in-the-Discipline program. You will get a chance to work with faculty, present your findings at the annual Student Conference in Business and Economics and get published in the Department's annual Digest. You may also work as a student research assistant for one of your professors.
Learn in a State-of-the-Art Business Building
The Department of Business is located in the James B. Hoover Center for Business, one of the newest facilities on the Elizabethtown College campus.  The Center features classrooms equipped with state-of-the-art equipment, a finance lab, collaboration spaces, and a resource center.  The finance lab simulates a dynamic trading floor environment and enables students to act as investors.  The lobby features a student lounge area, two large-screen televisions tuned into CNBC, and a finance ticker display.
Networking Opportunities
As a business student, you will have the opportunity to build connections with local and regional business leaders. A large number of business leaders serve on advisory boards for our accounting, business, and international business programs. In these roles, they mentor our students and help develop internship and job opportunities with their companies.
We guarantee every business student access to a personal career and academic mentor in their field to help them navigate their post-graduate plans!
Faculty 
The faculty in the Department of Business have earned the highest academic credentials -- most have attained terminal degrees in their fields. Several also have garnered significant corporate-sector experience. Members of the business faculty are fluent in several languages and have taught or lived in Europe, South Asia, the Middle East, and the Pacific Rim.
About Us
VISION: To be nationally recognized as a premier business undergraduate program with a distinctive blend of the liberal arts and professional studies.
MISSION: Preparing students for a dynamic business world, through practical business applications and critical thinking.
For More Information
 
Email: busdept@etown.edu
Tel: 717-361-1270
Fax: 717-361-1487
Hoover Center for Business, Elizabethtown College, 1 Alpha Dr, Elizabethtown, PA 17022