Elizabethtown PRIDE Program

PRIDE stands for Promote, Recruit, Involve, Donate and Employ and is the heart of a concept to engage and mobilize all of us who love our Blue and Gray.  Whether you are two or 200 miles from campus, you can volunteer with Elizabethtown College and its students, faculty and staff.  The E-town community thrives on the volunteer work that our alumni and parents engage in.  Our volunteer support system does not just stop at the campus perimeters, but extends throughout our alumni and parents network all over the country.
The best part is - you can be involved in various areas of the College community and don't have to be on campus to do it!  The PRIDE program encompasses Admissions, Alumni Relations, Career Services and Development Departments at Elizabethtown, and there are a variety of ways to get involved!
__________________________________________________________________________________
PRIDE Program Volunteer Day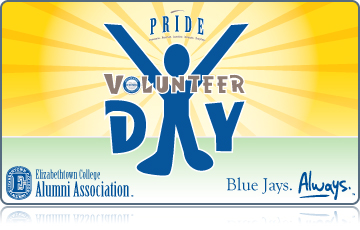 Join us for the seventh annual Elizabethtown College PRIDE Program Volunteer Day on Saturday, April 2, 2016!  This campus-wide event is a collaborative effort with Student Senate, and will provide alumni, students, faculty and staff with the opportunity to work together on seasonal spring projects that will beautify the campus.

The day will begin in the Susquehanna Room of Myer Hall and will include light refreshments and lunch.

Event Schedule:
8:30 a.m.

Light refreshments
Susquehanna Room, Myer Hall

9 a.m.
9:30 a.m. – 12 p.m.

Service projects throughout campus

Cutting back/removing brush
Spreading leaves 
Weeding 

12 – 1 p.m.

Lunch
Acknowledgement of volunteers 
Notes:
Deadline to register is Monday, March 28
This event will take place rain-or-shine with indoor activities scheduled in case of inclement weather
Attire is weather-appropriate work clothes
Contact us at  pride@etown.edu  or 800-877-2604 with questions.

__________________________________________________________________________________

What is the PRIDE Program?
There are five areas of the PRIDE program, each with its own unique volunteer opportunities: