The Economics Program
While searching for the right school with an Economics major in Pennsylvania, it's important to find the program that blends meaningful coursework with out of class opportunities. As you study economics, you'll learn about economic theories and institutions, develop communication skills, and acquire an understanding of research methods. After completing your degree in economics, you'll be fully prepared for careers and graduate programs in economics and business.
Economics Major Courses
As an Economics major, you'll take courses such as the following:
BA 270 - Strategic Managerial Decision-Making and Critical Analysis I
EC 302 - Intermediate Microeconomics
EC 309 - Introductional to Mathematical Economics
EC 410 - Econometrics
MA 251 - Probability and Statistics
Why Study Economics at E-town College?
As an Economics student, you will have plenty of opportunities to apply your economics knowledge in the real world. Our highly qualified professors have years of experience with research and practice in the field. Our south-central Pennsylvania location provides our students with access to large markets on the East Coast, and many nearby opportunities.
Nationally Recognized Economics Degree
Major in Economics at E-town and share in our national success. Our Economics degree is ranked 14th among Pennsylvania Liberal Arts Colleges and 117th nationally on the U.S. News & World Report's National Liberal Arts List. We are also highly ranked in the Brookings' Value-Added Report based on alumni salaries.
Life After E-town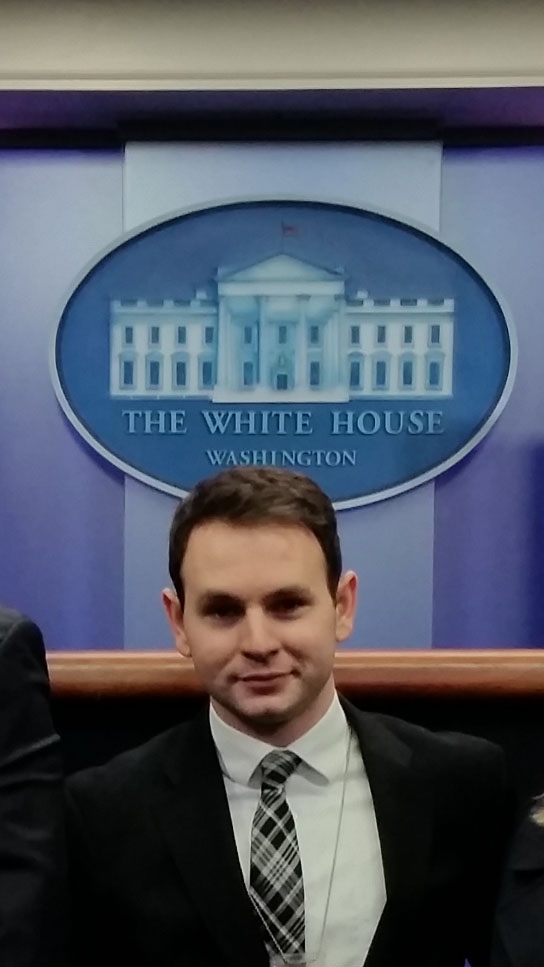 Clayton Kaier '11
ADVISOR & SPECIAL ASSISTANT TO THE DEPUTY OF THE UNITED STATES TRADE REPRESENTATIVE FOR THE EXECUTIVE OFFICE OF THE PRESIDENT AT THE WHITE HOUSE
At E-town, Clayton pole vaulted for the Blue Jays, participated in the Federal Reserve Challenge and Model UN and enjoyed reading and contributing to the Etownian. After graduation, Clayton served in the White House under the Obama Administration as an Advisor and Confidential Assistant to the Deputy United States Trade Representative. Through his position, he supported a portfolio that included U.S. trade and investment relations with Asia, as well as trade negotiations and policy coordination in the areas of services, investment, innovation and intellectual property. Prior to joining USTR, Clayton worked as a legislative intern for Congressmember Karen Bass. In this role, he conducted research to support the reauthorization of the African Growth and Opportunity Act. He also worked as an organizer for Terry McAuliffe's 2013 gubernatorial campaign.
A World of Opportunities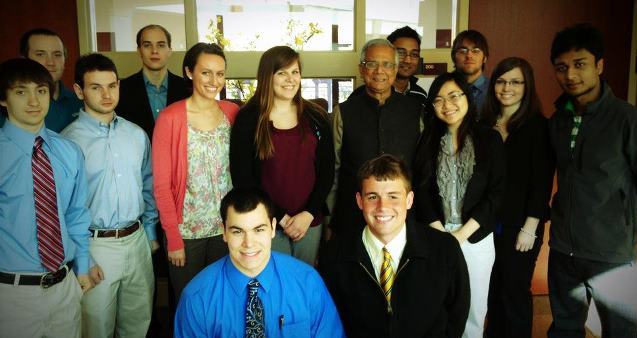 Elizabethtown College economics students with Nobel Laureate Muhammad Yunus on campus.
Major in Economics and broaden your understanding of the world around you. As you study economics, it's important to think globally. Participating in an abroad experience is the perfect way to gain awareness of world issues and the role of economics in the global environment. You can study abroad in Europe, Asia, or Latin America for a semester or even a year, and participate in short-term study tours to Geneva, Prague, or Beijing.  A degree in economics paired with a cross-cultural experience will give you an edge over the competition. You can also participate in trips to the World Bank in Washington D.C., and the Federal Reserve Bank in Philadelphia, trips specifically designed for economic students.   
Meaningful Business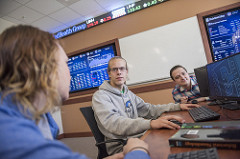 Study economics and take advantage of our research opportunities! As a major in Economics, you'll work under the supervision of our expert faculty who will guide you in your research projects. Many of our Economics majors conduct Honors in Discipline projects and present their findings at our Business & Economics conference , or at regional conferences. These research opportunities complement your coursework and have the potential to be published in academic journals and publications. If you're interested in graduate school, take advantage of our Articulation Agreements with graduate schools and earn a Master's degree in one year!
Economics Major Requirements and Degree Planners
What can you do with an Economics degree?
Obtaining a degree in economics will provide you with a strong background in economics, math, and business which lead to a variety of career opportunities. After completing our course, you'll be ready to start your career as a:
Market Research Analyst
Financial Advisor
Economic Analyst
Credit Analyst
Economist
Investor Relations Associate
Are you interested in a career as an economist?
Demand for this career will grow by 6% by 2024
Median salary: $54,100 per year
Source: Bureau of Labor Statistics
After leaving campus, graduates with a major in Economics are working with major companies or are advancing their study of Economics at graduate schools. Some of the companies our graduates work for include: