International Business Major
Increasingly, top-level and executive positions are reserved for professionals with global business experience.
The International Business (IB) major at Elizabethtown College offers an innovative, practical and integrated curriculum that combines business skills with proficiency in a foreign language, understanding of other cultures and effective communications from a global perspective. The selective nature of our program allows us to bring in an exceptional class each year to learn about global business management through mentoring by faculty and members of the IB Advisory Board. With an International Business degree from Etown, you will be prepared for positions at global companies in roles such as a global financial manager, a consultant for global companies, an international accountant, an international economist or an import/export compliance specialist.
Why study International Business at Etown College?
Global experience is increasingly important in the business world today and companies are looking for employees who have a global perspective, understand our interconnection with other countries and are able to negotiate with people from other cultures.
Our International Business degree has distinct components that give you the skills, knowledge and experience you need to succeed in today's global market. Our selective program accepts top students who will thrive in an exciting and challenging classroom environment. We provide many
departmental opportunities
for students to get involved and prepare for the future.
Student Stats
Student/Faculty
Ratio
Average
Yearly
Applications
Accepted
First-Year Students
Post-Graduation
Job Placement

Alumni Work In
The USA For
Global Companies
The Class of 2023 have an average SAT score of 1,338 and class rank of 7.9%!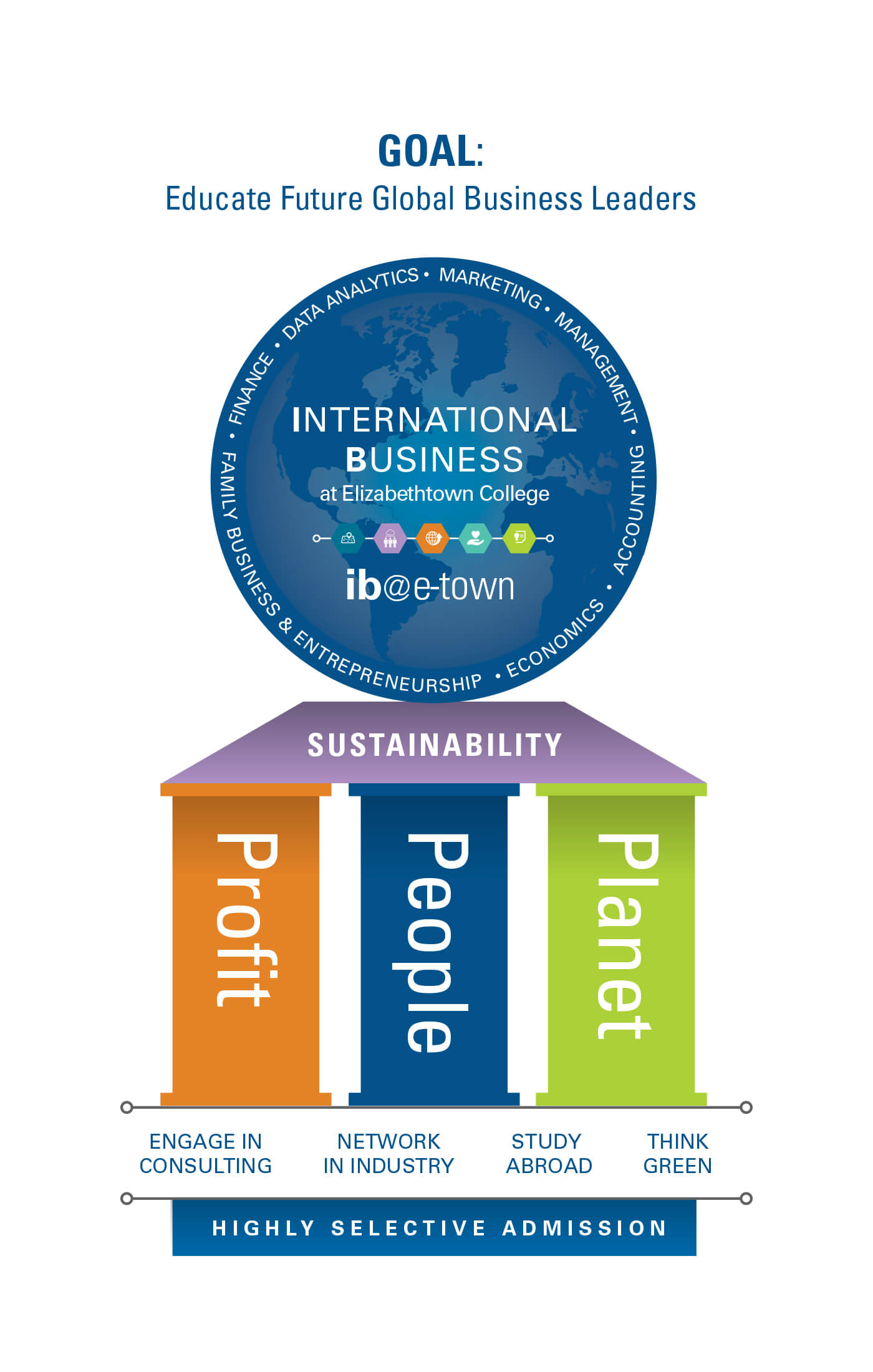 International Business Major Courses
In addition to core Business courses in accounting, marketing, finance, economics and management, your International Business program will include a combination of business studies, foreign culture and international interaction classes. Some of the courses you may take to complete your degree include:
BA 258 - Global Business Negotiations
FIN 327 - International Financial Management
BA 337 - International Legal and Ethical Environment of Business
EC 307 - International Economics
PS 245 - NCH International Relations or PS 150 – Comparative Politics
BA 497 - International Business Seminar
In addition to courses specific to the major, students will be required to complete modern language course requirements. For complete course information for our international business degree, please view our course catalog.
Become Proficient in a Modern Language
Those who pursue this degree must choose a language concentration. Students will spend a semester or even a year abroad to polish their language skills. Our students may choose one of the following languages:
Chinese
French
German
Japanese
Spanish
Study Abroad & Complete Our Innovative Curriculum
To complete our International Business degree, you must participate in a study abroad experience. Through our program, you'll have the ability to concentrate in a business area of your choice such as Finance, Marketing, Accounting, Economics or Management. No matter what area that you choose to focus on, you'll gain an understanding of the history, economic and political systems of different cultures and master the skills to interact and negotiate effectively in the global community.
Benefit from Mentorship Experiences
As an International Business major, you'll be mentored by an executive in your area of interest. Our selective program allows our students to develop close relationships with our faculty and members of the International Business Advisory Board. These interactions provide excellent networking opportunities for our students throughout their time at Etown and beyond. Our Advisory Board members have offered numerous internship and full time job opportunities to our students.
Gain Hands-On Experience with Real-World Projects
Through your studies, you will complete an approved internship and participate in real-world projects and hands-on activities for multinational companies. In our finance lab, you'll interact with the real business world while working with real-time global commerce data. You will work with faculty advisors on research projects and have the opportunity to present your research at national and international conferences as well as publication of your work in reputable academic journals.
IB Alumni Ambassadors
Prepare for A Career in Global Business Management
Our faculty and curriculum work together to provide you with essential global business management skills, so you'll be prepared for any position in any location around the world after graduation. Our active alumni network is available to our students to assist with mentorship and career exploration.
Jessica (Deremigio) Baker '05
Project Manager
Project Manager, Financial Services Business Development, Bloomberg L.P.
jderemigio@gmail.com
Foreign Language: German
Study Abroad Location: Marburg, Germany
First Job After Graduation: Treasury Mangagement Consultant, M&T Bank
Kyle Buffenmyer '08
Senior Manager; Harvard MBA
Senior Manager, International Expansion, Square Trade, San Francisco
buffenmyerka@yahoo.com
Foreign Language: Spanish
Study Abroad Location: Quito, Ecuador
Graduate School/Degree: Harvard MBA
First Job After Graduation: Analyst, Al Rajhi Holding, Saudi Arabia
Ashley Clark '13
MBA Candidate at Cornell University
Foreign Language: Spanish
Study Abroad Location: Bareclona, Spain and Quito, Ecuador
First Job After Graduation: Business Analyst, KBA North America
At Etown, you will learn about International Business management in our new finance lab in the Hoover Center for Business. Our professors will help you to interact with real businesses while working with real-time global commerce data.
Our goal is to prepare every student completing the International Business degree for any position anywhere in the world after graduation. That's why we require our students to participate in a study abroad experience and work on real projects for multinational companies. These opportunities allow our students to engage with global business strategies in a foreign country before they graduate, giving them an advantage over their peers from other colleges and universities.
Our selective program has distinct components that, together, give you the skills and knowledge you need to work in today's global marketplace:
Graduate School Preparedness
Upon graduating, our International Business majors have moved on to positions and top companies or to graduate MBA programs such as:
Schools and Universities:



Law Programs:
Our alumni work in various fields at firms such as:






International Success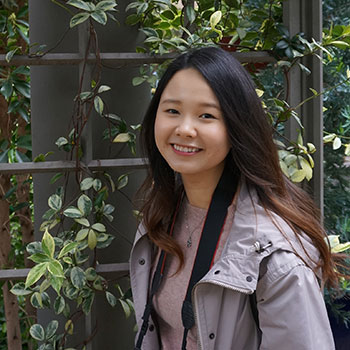 Ashley Hoang '15
International Student from Vietnam
I was given the opportunity to learn so much not only in the classroom, but also from other college experiences. I was always a busy bee and challenged myself through different academic and social activities to enjoy my college years to the fullest.
The IB program at Etown has been named one of the most comprehensive and highly-ranked programs in the U.S. It has opened many doors for students, including me, to enter the business world. I came to Etown College five years ago as an International Student from Vietnam. As an International Business major who has a keen interest in Finance, I tried my best to maximize my exposure to different aspects of the field including participating in a consulting project for Armstrong World Industries Inc., publishing Finance research in the College's annual Business Digest, receiving first place in Gill/McDaniel College Finance Competition and participating in the CFA Research Challenge. In every position, I actively utilized my leadership skills and knowledge to pursue success. As I immersed myself in analytical and critical thinking, the dream of becoming a finance consultant was seeded. When not working on business projects, I enjoyed social activities that contributed to the community. I was an active member of two volunteer organizations: Britney's Hope Foundation and Only Rice is not Enough. Both organizations provide resources to address the needs of orphanages and poor children. These different roles have not only sharpened my skills, but also made my learning experience a meaningful journey.
One of the most valuable experiences that I found unique to Etown is the endless opportunities students are given to set foot in real industry work. In my sophomore year, I had a chance to complete my internship at Fulton Financial Corporation's International Department. The position gave me a chance to utilize what I learned in class. I also developed many valuable relationships with my co-workers and managers, who gave me great support and advice throughout my time at Fulton.
My CIP project was another great hands-on experience that I was able to complete during my time in Etown. The project partners with real companies to give students real world scenarios to analyze and find solutions to present to the company. I enjoyed the work because I was involved in every step along the way to solve the problem instead of just reading hypothetical cases and writing an essay about them. During the CIP project, my group partners and I were able to visit the actual production plant, talk to managers and specialists and discuss the best way to solve the issue. At the end of the project, we were more knowledgeable in the subject matter that we worked on and learned so much about working in teams. Those experiences were valuable as they helped me ease into the industry with preparation and practice.
Without the support from my mentors and friends at Etown, I wouldn't have achieved such milestones. The close-knit campus helps connect people together. I made friends with people from diverse backgrounds which broadened my perspectives significantly. The IB mentoring program is a great opportunity to seek counsel from mentors who are working in the industry and are willing to provide advice. When looking back, I am so glad that I chose to come to Etown. I was given the chance to grow professionally and personally.
From the Department of Business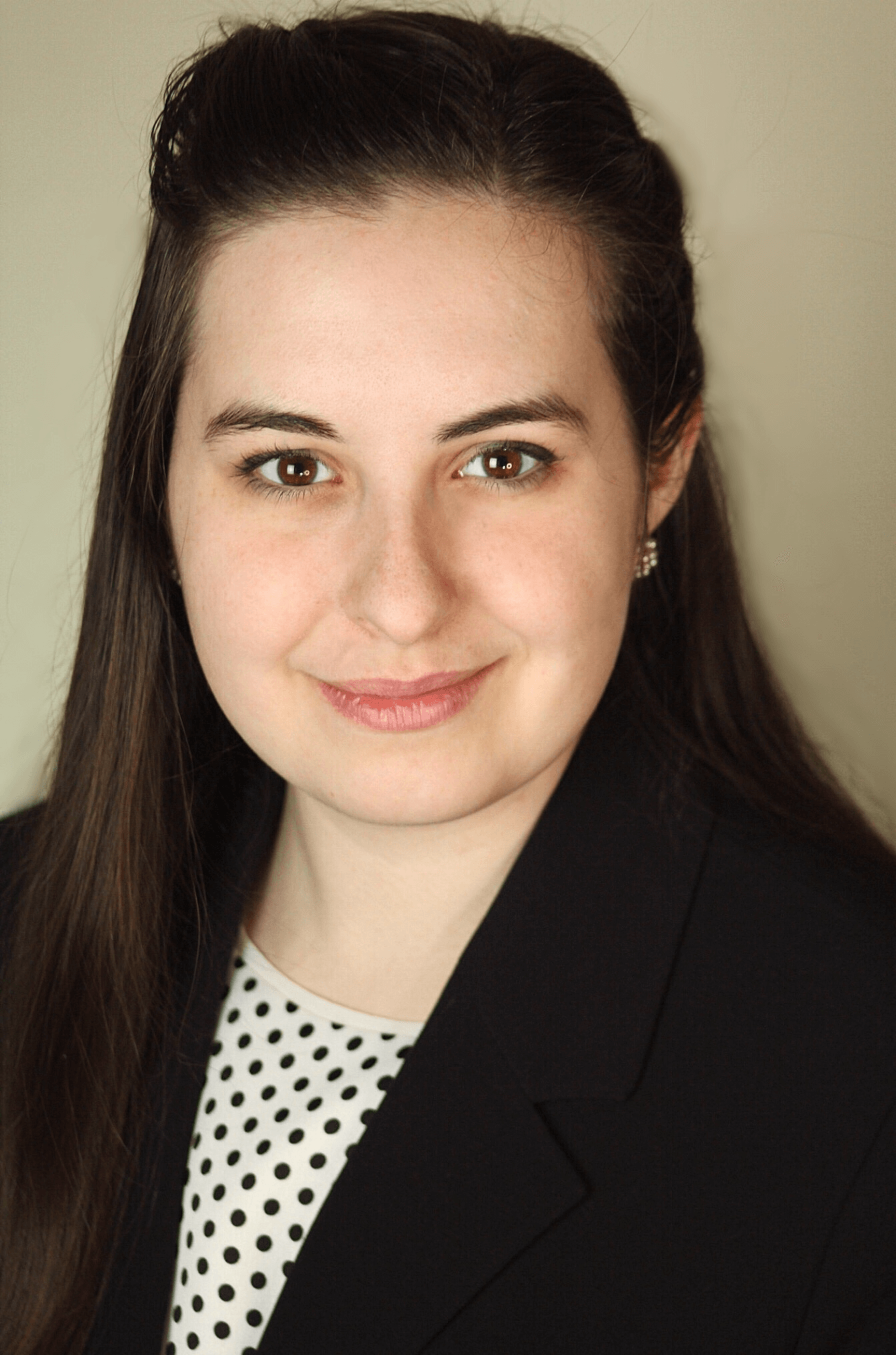 Emily Seratch '19
International Business Major
Starting freshman year, Emily only knew she wanted to speak Chinese and learn more about the world of business. She was thankful she was able to explore different areas, such as marketing, finance, management, and accounting before she had to make a final decision. In the end she settled on finance. During her time at Etown, Emily had the opportunity to intern at a TJ Maxx distribution center, Clark Associates, and Williamstown Theatre Festival and studied abroad in Dalian, China. As she entered her senior year, Emily received two jobs offers: one at IBM as a consultant and the other as a contracting specialist at Naval Supply Systems Command (NAVSUP). She ultimately selected the contracting position at NAVSUP. She attributes her success at her new job and her drive to work harder to the time the professors at Etown took to mentor her. "Talking to professors daily and having them invested in what I was learning and doing with my life pushed me to be a better person and student."
From the Department of Business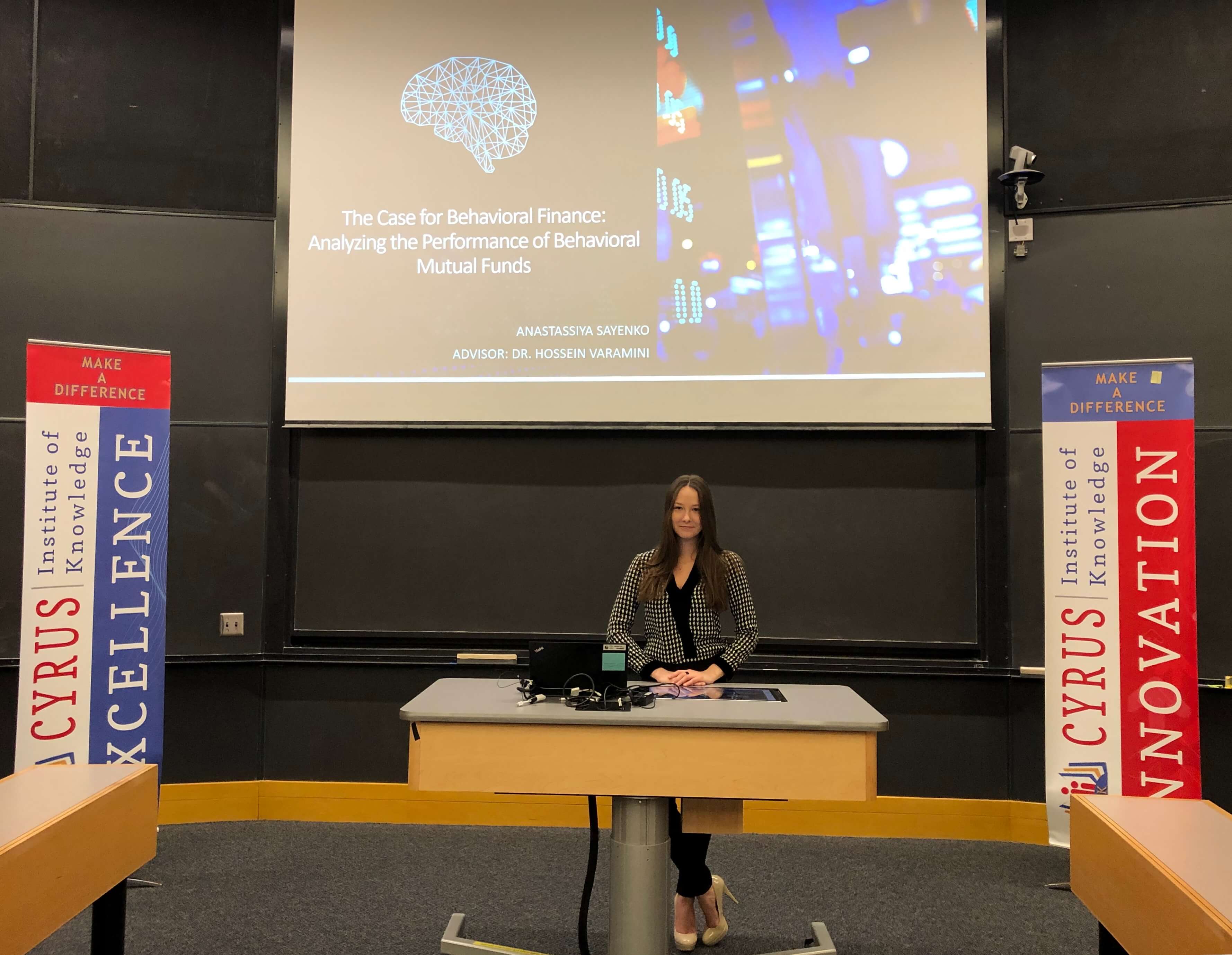 Anastassiya Sayenko '19
International Business Major
Anastassiya graduated in 2019 with a major in International Business, a concentration in Finance, and a minor in Psychology. An important aspect of Anastassiya's experience at Etown was research. After working as a Research Assistant at the Social Enterprise Institute during her sophomore year, she co-published a paper titled "Impact Investing: Relying on Social Return on Investment to Address Epilepsy in Africa" with Dr. Hossein Varamini. She continued to explore her interest in research by being a part of Summer Scholarship, Creative Arts and Research Projects Program (SCARP) and assisted Dr. Varamini in writing an international business textbook.
During her senior year, she worked on her Honors in the Discipline thesis titled "The Case for Behavioral Finance: Examining the Performance of Behavioral Mutual Funds." Her research explored the application of psychology-based principles in finance and investments specifically. Anastassiya presented her work at the Cyrus Institute of Knowledge (CIK) Conference at the Massachusetts Institute of Technology and at the Nineteenth Annual Student Conference in Business and Economics at Elizabethtown College. The same year, she led a team in the Chartered Financial Analyst (CFA) Equity Research Challenge which involved developing a comprehensive sell-side report on a given stock. Elizabethtown College's team placed first in the Philadelphia area and represented the College in New York City at the Americas Regional Competition.
After graduation, Anastassiya was offered a Financial Specialist position at Koenig and Bauer, a multinational printing press manufacturer, in Dallas, TX.
From the Department of Business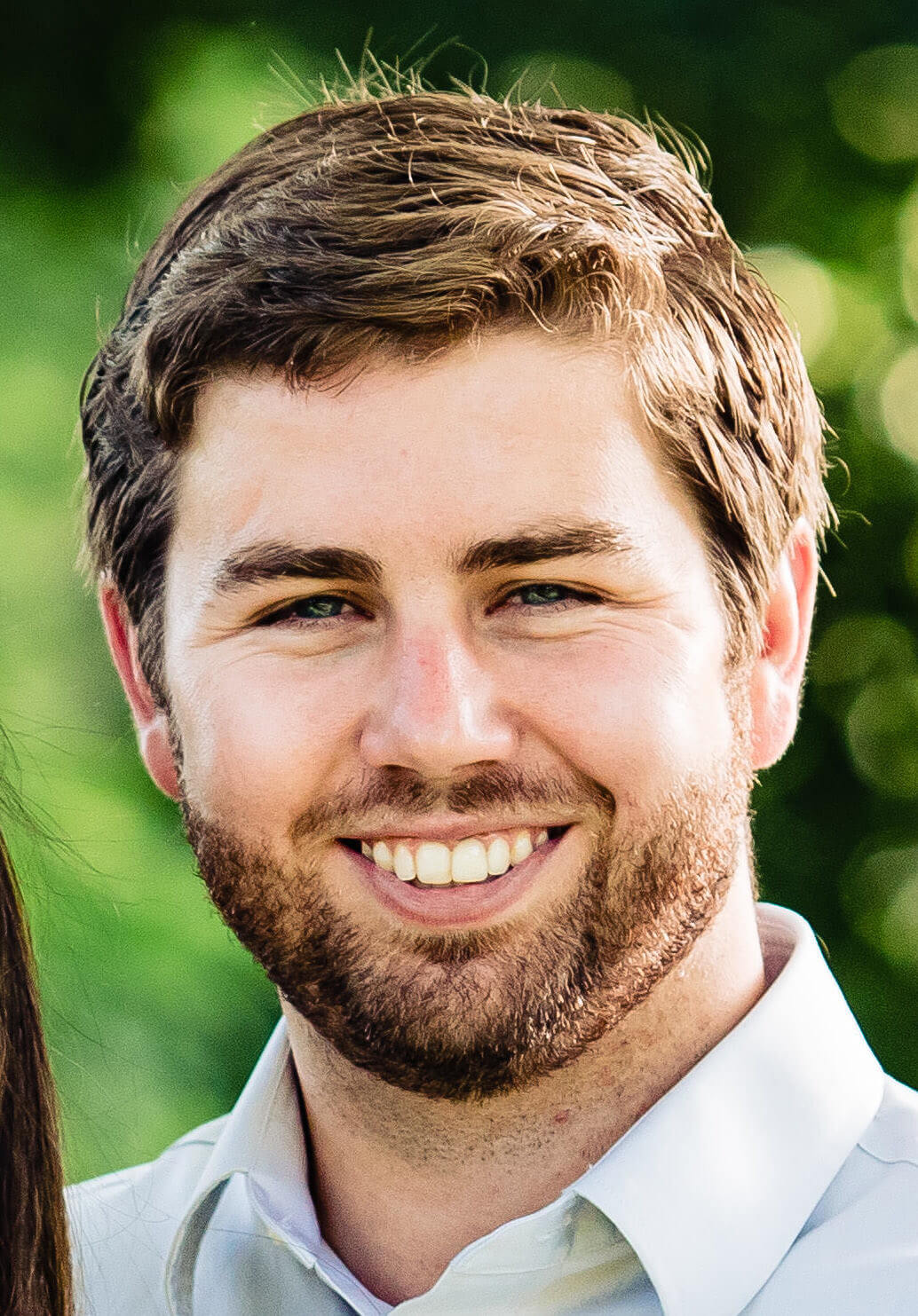 Jason Clough '17
International Business Major
Two days after Jason first visited campus and met the Business faculty, he decided to attend Etown to study International Business and play lacrosse. "The IB program is incredibly unique in that it covers the broad disciplines of business while also allowing each student to concentrate on their interests. Etown was not just a school, but more importantly a community of likeminded people that all seemed sincerely happy. I also completed internships with JPMorgan and Deutsche Bank before my final year at school and had three job offers (Goldman Sachs, Deutsche Bank and JPMorgan) going into my senior year." Jason has been working as a Wholesale Lending Analyst at JPMorgan Chase as part of their Global Financial Analyst Development Program since graduation. Largely due to the focus on service from Etown, he has also spent time volunteering at HOPE International in Lancaster as a financial consultant to further their non-profit mission.
International Success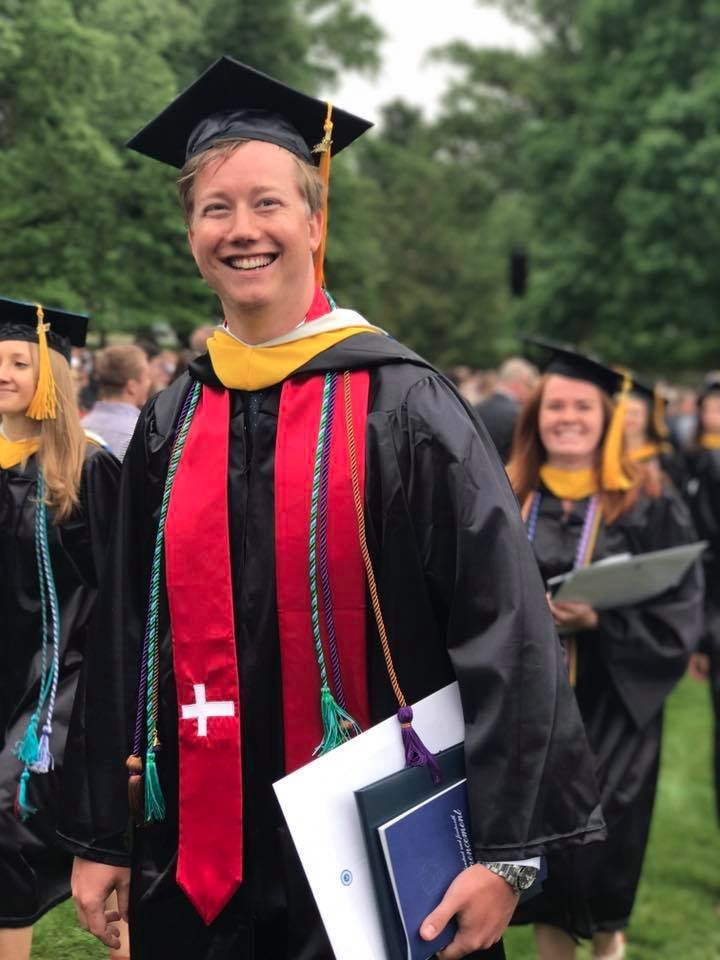 Joachim Hellesen '17
Business Analyst, Deloitte Consulting
"Etown, the IB program, and all the professors in the business department were crucial in my development and in getting me to where I am today. I can't speak highly enough of the program and everyone involved – they helped me get to where I am today, working as an Analyst for Deloitte Consulting."
My experiences and studies at Elizabethtown College have helped me further my professional career. I landed my first internship in the summer between my Sophomore and Junior year as an International Air Freight Forwarding Intern with Able Freight Services Inc., based out of their Los Angeles office. There, I worked with shipping, analysis of the business, and overall business improvement by implementing new systems.
My work and experience at Able Freight, as well as continued academic effort at Etown, helped me land my second internship during the summer between my Junior and Senior year as a Project Controller Analyst at Deloitte Consulting, based out of their Harrisburg office. During my time at Deloitte, I worked on multiple accounts performing financials tasks and analysis, as well as presenting in front of company partners and clients, among other things.
Etown, the IB program, and all the professors in the business department were crucial in my development and in getting me to where I am today. I can't speak highly enough of the program and everyone involved – they helped me get to where I am today, working as an Analyst for Deloitte Consulting.
Overall, I am so happy that I chose to come to Etown. The friends, memories, and experiences made there will last a lifetime.
International Success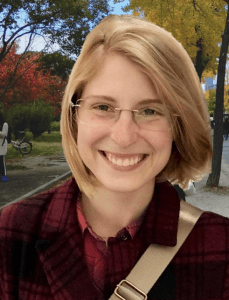 Victoria Edwards '19
Elizabethtown College Student Awarded Fulbright Scholarship
Recently, Elizabethtown College senior Victoria Edwards was awarded a Fulbright Scholarship. Victoria, an International Business and Japanese double-major with a specialization in Political Science, plans to conduct research in Japan and proposed affiliation at Sophia University and Waseda University.
"I am honored to have come this far, but I am even more eager to begin my work abroad and complete a project worthy of the bestowed honors," said Edwards who also studied abroad in Japan in 2017. "This award will enable me to return to Japan and devote myself to a project that capitalizes on my passions, strengths, and aspirations"
Edwards, of Bear, Delaware, will focus her research project on examining polarization among contemporary Japanese youth activists and non-participants, and the changing landscape of youth political participation. She also will study comparative developments in former generations' political behavior over time.
"Being able to engage with individuals and events firsthand, rather than from behind a computer screen, imparts a deep sense of importance to my work," Edwards said. "I look forward to listening to the stories of those I meet and understanding their role with respect to larger social trends."
Edwards plans to digitally archive her findings, providing descriptions in English and Japanese.
The Fulbright Program is devoted to increasing mutual understanding between the people of the United States and the people of other countries. Fulbright is the world's largest and most diverse international educational exchange program.
From International Business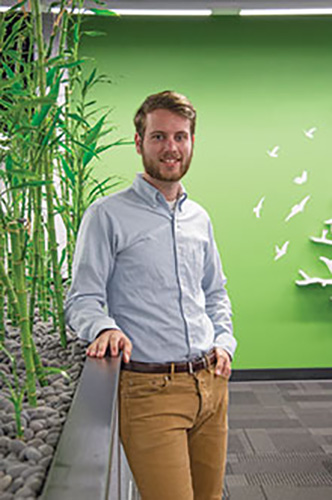 Tyler Kunkle '14
International Business and German Graduate and Fulbright recipient.
After a two-month internship in Dallas, Texas, Tyler Kunkle took his Fulbright oversees to Germany, where he served as an English teaching assistant. While in Mainz, Germany, the Fulbright recipient taught English language and literature to students in grades five through 13. He returned to the United States in 2015 and currently works as a program coordinator for the American Friends of Alexander von Humboldt Foundation.
Decision Factors
1
Have an SAT score of at least 1200
2
Are in the top 15 percent of your high school class
3
Have at least 2-3 years of a foreign language in high school
4
Are interested in some aspect of business
5
Would like to study abroad and learn more about other countries and cultures