The Music Therapy major at Elizabethtown College is a part of the Music Division of the Department of Fine and Performing Arts. Music therapy students take core music courses as well as psychology, biology, and music therapy courses. Our professors are experienced professionals with a passion for music therapy.
What is Music Therapy?
A career in music therapy allows individuals to combine a love of music with a sincere interest in working with people. Credentialed music therapists use music as a tool to provide successful, motivating music experiences within a therapeutic environment.
What do Music Therapy majors study?
Our Music Therapy program is a competency-based program that provides a comprehensive, personalized education. The integrated coursework develops students' musicianship skills, clinical skills, and knowledge base concerning a variety of different clinical/therapeutic needs. Students take courses in music theory, music history, therapy methods, conducting, and instrumental courses such as keyboard, voice, and guitar.  Coursework is thoroughly integrated with clinical experience. View the full course requirements for the Music Therapy degree program.
What does clinical experience look like?
The extensive clinical opportunities at Elizabethtown College provide a wide range of hands-on experiences that assist students in combining their knowledge and skills to plan and conduct music therapy sessions. Students complete six semesters of clinical experiences on and off-campus in a variety of settings. Each session is supervised by a board certified music therapist. Senior-level students also have the opportunity to work with additional clients from the community within our on-campus clinic.
From Music Therapy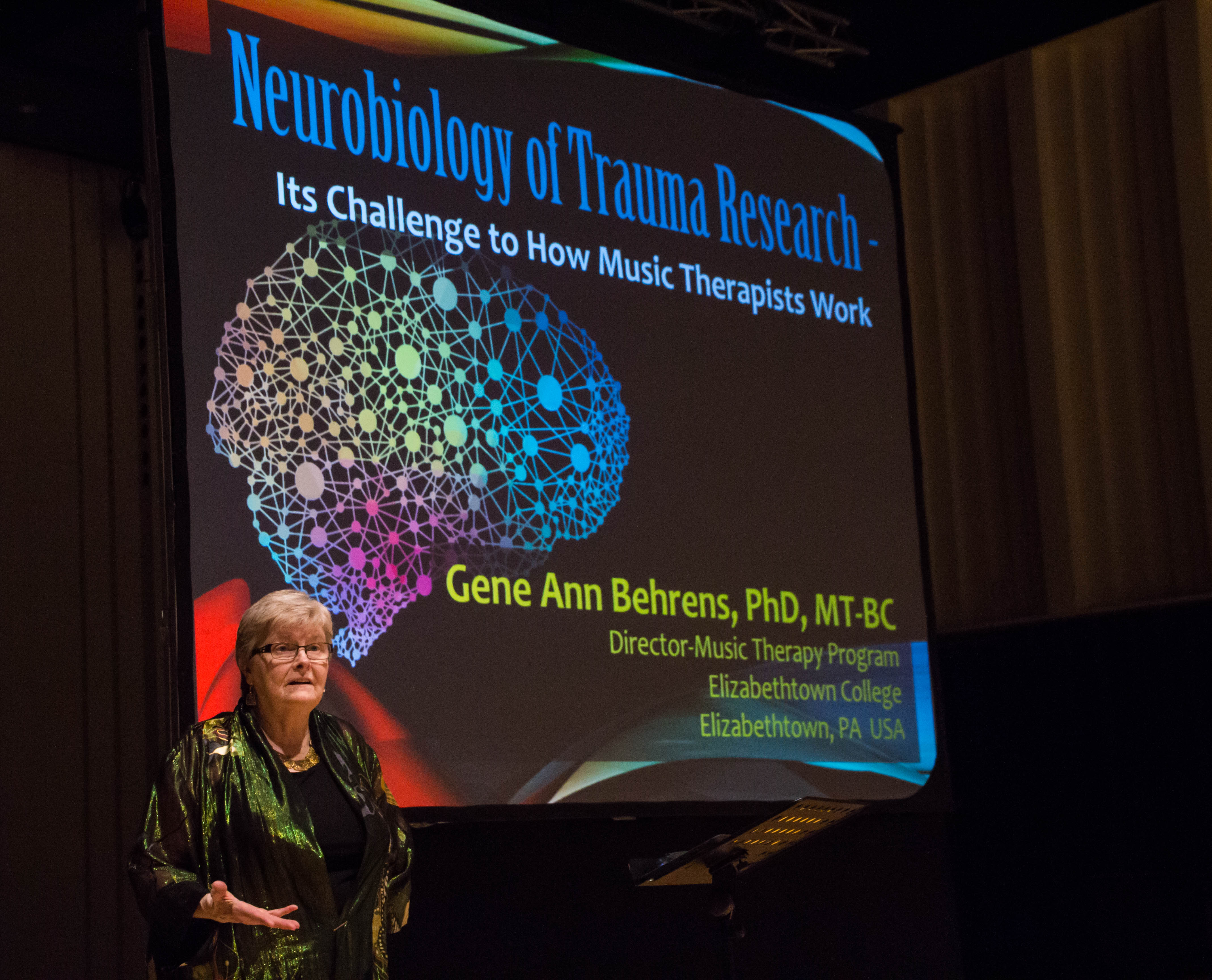 Gene Ann Behrens, professor of music and director of music therapy
helping the trauma therapy community through her work with music and the brain.
In summer 2017, Gene Ann Behrens travelled to conferences around the globe to share information on how neurobiological trauma patients can use music to help them learn new ways to manage their ordeal. With these new coping skills, post-traumatic stress disorder patients are better equipped to deal with their trauma and are better able to retell their experiences. The teaching framework Behrens used at the conferences can be applied in the classroom across different disciplines—occupational therapy, social work and psychology. "It's a passion of mine to share information with other people ... to be able to share this with other music therapists who are also interested in trauma work."
What do Music Therapists do after graduation?
Our students are sought after because of their reputation of success at national and regional conferences, their pass rates on the board certification exam, and their musical and clinical preparation.  Our students are working in schools, senior adult living centers, hospitals, private practices, and many other contexts.