The Music Therapy major at Elizabethtown College is a part of the Department of Music of the Division of Fine and Performing Arts. Music therapy students take core music courses as well as psychology, biology, and music therapy courses. Our professors are experienced professionals with a passion for music therapy.
What is Music Therapy?
A career in music therapy allows individuals to combine a love of music with a sincere interest in working with people. Credentialed music therapists use music as a tool to provide successful, motivating music experiences within a therapeutic environment.
What do Music Therapy majors study?
Our Music Therapy program is a competency-based program that provides a comprehensive, personalized education. The integrated coursework develops students' musicianship skills, clinical skills, and knowledge base concerning a variety of different clinical/therapeutic needs. Students take courses in music theory, music history, therapy methods, conducting, and instrumental courses such as keyboard, voice, and guitar.  Coursework is thoroughly integrated with clinical experience. View the full course requirements for the Music Therapy degree program.
What does clinical experience look like?
The extensive clinical opportunities at Elizabethtown College provide a wide range of hands-on experiences that assist students in combining their knowledge and skills to plan and conduct music therapy sessions. Students complete six semesters of clinical experiences on and off-campus in a variety of settings. Each session is supervised by a board certified music therapist. Senior-level students also have the opportunity to work with additional clients from the community within our on-campus clinic.
From Music Therapy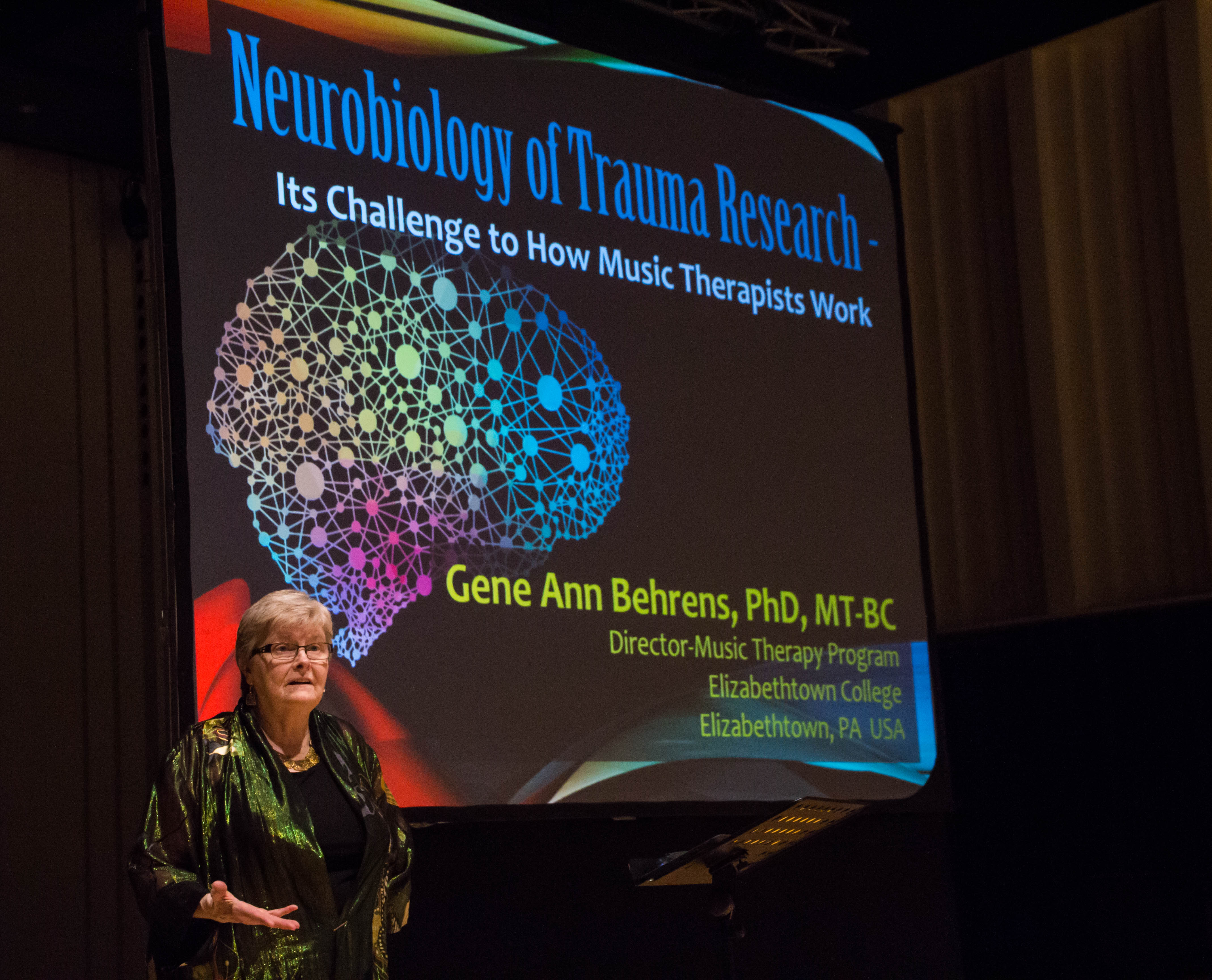 Gene Ann Behrens, professor of music and director of music therapy
informing trauma therapists about neurobiology of trauma and music-brain research.
In summer 2017, Gene Ann Behrens travelled to conferences around the globe to share information on how music therapists can use the latest research on the neurobiology of trauma and music and the brain to inform their work with clients dealing with unresolved trauma. The research supports using a specific treatment sequence and music to develop new coping skills; these skills help clients manage neuro responses while working to resolve and integrate traumatic experiences. Behrens' teaches her music therapy students the trauma framework which also can be applied across many other disciplines. "It's a passion of mine to share information with other people ... to be able to share this with other music therapists who are also interested in trauma work."
What do Music Therapists do after graduation?
Our students are sought after because of their exceptional music and clinical skill preparation and success in their internships.
E-town music therapy students have some of the consistently highest pass rates on the Certification Board Music Therapy exam (CBMT) and are employed in jobs across the USA within 3 - 6 months of graduation.
94% first-time candidates pass, compared to a 75% national rate (2010-2018)
E-town graduates score 7-11 percentage points above the national mean across the four exam domains.