The Four-Year Graduation Guarantee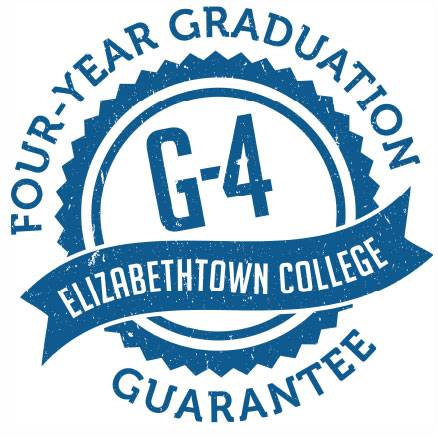 We guarantee graduation in four years for students who meet conditions that we have in place to foster success.
If a student meets all the requirements and does not graduate in four years, we will pay for the remaining credits needed to complete the degree, up to 16 credits in one year. This program demonstrates the College's commitment to mobilize all of our student-support areas to ensure that each student at Elizabethtown will be given the resources needed to ensure 4-year graduation success.
The cost of an education is measured by how much students pay annually and the number of years they will be in school. Our four-year graduation rate exceeds the national average – for all schools and for four-year private colleges and universities.  That means students graduate sooner, thereby keeping their costs down and adding to the number of years that they can earn a salary.
We will stand behind our guarantee by waiving tuition costs for courses a student might need to complete his or her degree beyond four calendar years.
Here is what students need to do to be covered by the four year graduation guarantee:
Meet with an academic advisor at least once every semester and follow advice on scheduling courses;
Stay continuously enrolled (study abroad with an Etown-approved program counts as continuously enrolled);
Complete 32 or more credits each year (this can include summer and winter terms); and
Maintain at least a 2.0 GPA overall and the minimum GPA required for their major.
Please Note: To be eligible for the Four-Year Graduation Guarantee, individuals must be incoming first-year students, beginning in the Fall 2018 semester. We are unable to offer this guarantee to incoming transfer students.