Occupational Therapy Program Application Process
An Occupational Therapy interview (with the Office of Admissions) is required.
Prospective Occupational Therapy majors are encouraged to explore the field of occupational therapy prior to applying to the program and before participating in the required Occupational Therapy admissions interview. Opportunities can be found at the American Occupational Therapy Association's website.
Factors Considered
High School Class Rank and GPA
High School science grades
SAT or ACT scores
Knowledge and Understanding of Occupational Therapy (including field experience)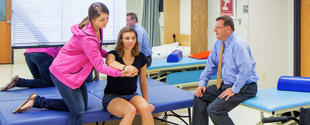 Occupational Therapy practitioners can be found in six broad areas of practice:
Children and Youth
Health and Wellness
Mental Health
Productive Aging
Rehabilitation, Disability, and Participation
Work and Industry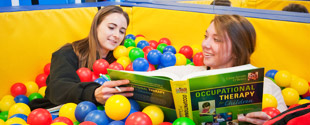 Prospective Occupational Therapy majors can learn about these areas through a variety of methods, including:
Shadowing practitioners in different settings (hospitals, schools, private practice, hospice, community mental health facilities, nursing homes, veteran's services, etc.)
Conducting research, either on-line or through a career specialist or guidance counselor
Reading about occupational therapists and/or their clients
Career exploration in allied health fields
For more information, please contact Paula Orenstein, coordinator of Occupational Therapy admission at orensteinp@etown.edu or (717) 361-1376.