Attend Our Next Open House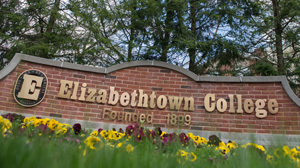 All of us at Elizabethtown College hope you'll be on campus to learn more about the College during our upcoming Open House. Spend the day with us, tour the campus, meet our faculty and students, and hear about our academic programs and cocurricular activities.
Elizabethtown College was among the 222 outstanding colleges and universities that The Princeton Review recommended to college applicants in the 2009 edition of Best Northeastern Colleges.
Open House Schedule of Events
Schedule Subject to Change
8:45 - 9:20 a.m. - Registration in Leffler Chapel
9:20 a.m. - 2 p.m. - Welcome to Elizabethtown
Department presentations and sessions on student services, athletics and activities, financial aid and admissions
Campus tours
To register for an Open House Program, please call the Office of Admissions at 717-361-1400 or fill out the form below: