An Overnight Stay at Etown
The Elizabethtown College admission staff and campus community realize the importance of the overnight visit as a part of the college selection process. For this reason, we invite you to stay overnight with one of our campus host volunteers!
During your overnight stay, you'll have the opportunity to attend classes, participate in various student activities, interact with our current students, and spend the night in a residence hall. This experience will allow you to view campus life at Etown firsthand and enable you to uncover all that Elizabethtown College has to offer.
*Stay Overnight
Contact Us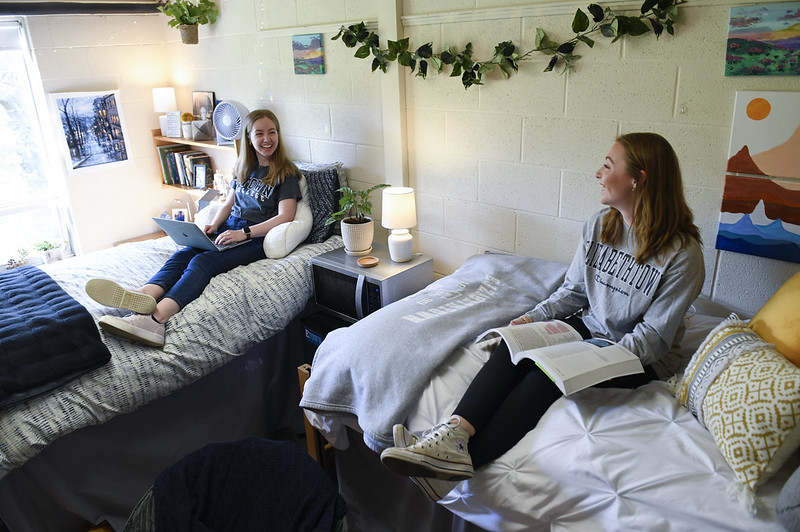 *Please note that in order to participate in the overnight program, you must first apply using the Common Application Form or Etown Application. The supporting materials that complete the file, such as transcripts, letters of recommendation, and standardize test scores, may be submitted at a later date.
How do I schedule an overnight visit to Elizabethtown College?
Our students are always excited about hosting prospective students on campus. However, because they are volunteers, schedules may be modified based on exams and college recess. We will accommodate your visit request as best we can. 
Note: If you are an athletic recruit you must reach out to your coach to organize your overnight visit.  The coach will assist in deciding the best day for your visit and will assist you with the first step of requesting a visit.
1. Request a Visit:
Applied students must submit an application for admission prior to requesting an overnight visit.
Click Overnight Visits through your student portal to register.
Select the date that works for your schedule at least two (2) weeks prior to your anticipated visit.
Let us know if you are interested in taking a campus tour, meeting with an admissions counselor, professor, or financial aid.
Beginning in late September, overnight visits are offered select Monday through Wednesday evenings throughout the academic year.
2. Receive Your Confirmation:
When the details of your visit are finalized, you will receive a copy of your schedule, the name of your host, what to bring with you to campus, and check-in time and location.
Call 717-361-1400 or e-mail overnight@etown.edu if you are unable to attend or if the date on the confirmation email is incorrect.
3. Pack and Prepare:
Bring a sleeping bag (or blankets), a pillow and towels as you will stay overnight in a residence hall with a current Etown student. Air mattress will be provided if bed is unavailable.
As a guest of the College, you will receive complementary meal tickets.
We recommend that you bring any homework and a laptop, if you have one available to bring (you may spend some time in the library with your host) or extra money in case you find an Etown sweatshirt or hat you cannot live without!
4. Arrive on Campus:
Your specific arrival time will be noted on your itinerary. On the day of your scheduled visit, check-in at 4 p.m. at Campus Safety located at 615 South Mount Joy Street, Elizabethtown, PA 17022.
Check Out Some of Our Visit Opportunities
Choose from a diverse range of visit opportunities that work best for you.
All forms and questions can be directed to:
Office of Admissions
Elizabethtown College
One Alpha Drive
Elizabethtown, PA 17022-2298