Accounting Major
We offer a premier four-year accounting program in Pennsylvania to prepare our students for a career in accounting. Our program is specifically designed to help our students pass the certified public accountant (CPA) exam and enter the field of public accounting. As an accounting major at Elizabethtown College, you will gain proficiency in accounting and develop a strong business core foundation to enable you to pursue a career path that is right for you.
Meeting the CPA Requirements: 150-Hours
Avoid a fifth year of college by completing your accounting degree in four years!
Our accounting program meets Pennsylvania's education requirements for the CPA exam. In order to receive CPA certification, most states require 150-credit hours in addition to a bachelor's degree and passing the CPA exam. At Etown College, your advisor in the accounting program will individually coach you in pursuing your CPA certification and help you complete all 150 credits during your four years. You can achieve this goal by earning course credits for acceptable performance on Advanced Placement (AP) exams, performing internships for credit, completing summer courses and taking additional semester courses. We have prepared sample four-year schedules to use as general guides for meeting the 150-hour CPA requirement. Currently, firms are not giving preference to individuals with an advanced degree, so meeting the requirements in four years avoids a fifth year of education and gets you into a paying career a year earlier!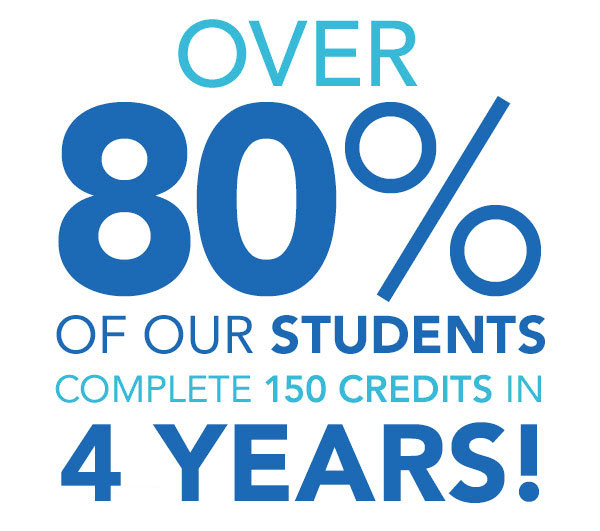 Exploring Opportunities: Gain Hands-on Experience
Gaining experience in the field is a great way to explore career options and give you a leg up as you pursue full time opportunities. Whether your goal is becoming a CPA or working in industry or government, our annual job and internship fair brings companies to campus so that you can more easily pursue these opportunities. Many students obtain internships off campus which often lead to full-time job offers. Our Volunteer Income Tax Assistance (VITA) program is another great way to develop your skills while serving the community. The VITA Program offers free basic tax return preparation to low-to-moderate-income individuals who cannot prepare their own tax returns. The tax returns are prepared by accounting students and are reviewed by the Director of the Accounting Program for accuracy. You'll gain real-world experience while acting as a tax accountant and practicing Etown's commitment to service.
More than 90% of accounting majors performed at least one internship or participated in the VITA program over the past three years.