Politics, Philosophy and Legal Studies
The Department of Politics, Philosophy and Legal Studies at Elizabethtown College is home to three distinctive areas of study. Whether you want to go to law school, study the human condition or work in public policy or administration, our Department prepares you for a career of analytical thinking and gives you the skills you need to thrive in continued education or the workforce.
Department News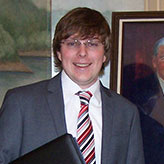 Elizabethtown College has produced 22 Finnegan Fellows—the most out of any Pennsylvania college or university. And a lot of that has to do with mentorship.
From the Department of Politics, Philosophy and Legal Studies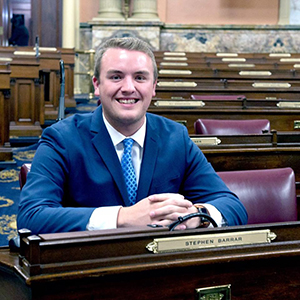 Matthew Pysher '18 served as legislative fellow
Introduced legislation to PA House of Representatives
Matthew Pysher '18, a political science and legal studies major with a minor in international studies, spent three months this past year working as a legislative fellow in the Pennsylvania House of Representatives. With a full workload of legislative research, he drafted his own piece of legislation, which attempts to improve school safety by introducing "panic buttons" to active shooter agendas. His experience, he said, confirmed his interest in working for the Department of Defense in the policy sector.
"The highlight of the fellowship was the networking with representatives in the House and members of the committee and staff. I interacted on a daily basis."
Majors Within the Department
After Graduation
Graduates from our programs find jobs in their chosen field, or they go on to further their education in graduate or law school. Our Political Science graduates work at government agencies, private law practices, non-profit foundations, humanitarian organizations and lobbying firms and in business management and higher education.
Our Philosophy graduates go on to careers ranging from professor to attorney, and a survey of our alumni from the past decade shows that 80 percent of our Philosophy graduates have full-time employment with an average annual salary of at least $50,000.
Because many Political Science, Legal Studies and Philosophy majors intend to go to law school, our Pre-Law Advising Program prepares students for entry into top law schools.