The Bowers Center for Sports, Fitness and Well-Being
CPR Certifications
The Office of Campus Recreation and Well-Being offers certification through the American Red Cross for Adult First Aid/CPR/AED.
The Adult First Aid/CPR/AED course will prepare you to recognize and care for a variety of first aid, breathing, and cardiac emergencies involving adults. This is a blended learning course including an online portion and an instructor-led classroom session.
To receive certification, you need to:
Complete the online portion prior to attending the in-class portion.

This must be taken on a PC or tablet with a high-speed internet connection.
You should allow two hours to complete this.

Attend the instructor-led classroom session at Elizabethtown College.
Upon successful completion of the course, you will receive a digital certificate for Adult First Aid/CPR/AED, valid for two years.
The cost for current Elizabethtown College students, staff and faculty is $65. The cost for community members is $80.
For more information or to register for a class, please contact Joni Eisenhauer.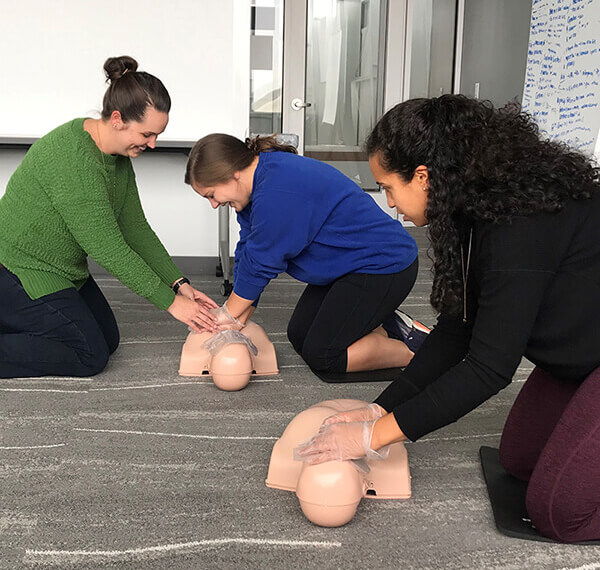 Upcoming Sessions:
September 22 (4 time slots, 8 people/session): 7:30 am - 9:00 am, 10:00 am - 11:30 am, 12:30 pm - 2:00 pm, 2:30 pm - 4:00 pm
October 20 (4 time slots, 8 people/session): 7:30 am - 9:00 am, 10:00 am - 11:30 am, 12:30 pm - 2:00 pm, 2:30 pm - 4:00 pm
November 17 (4 time slots, 8 people/session): 7:30 am - 9:00 am, 10:00 am - 11:30 am, 12:30 pm - 2:00 pm, 2:30 pm - 4:00 pm