Office of Development
Our staff are primarily located in Alpha Hall and charged with fundraising for the College with varied constituents including, alumni, parents, friends, corporations, foundations and Churches of the Brethren members and their districts. The Office of Development staff seek to create, enhance and maintain relationships with these important members of the greater Elizabethtown College community in order to enhance the overall quality of the College and support its program and mission.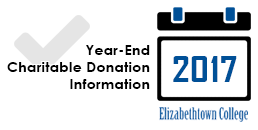 As the calendar year comes to an end, there is no better time to give back, to celebrate the many accomplishments of this past year, and to look ahead to all that the New Year will bring. 

 
The major areas of the Office of Development are:
The Elizabethtown College Fund
Be Inspired: The Campaign for Elizabethtown
Give Now to The Campaign for Elizabethtown
Save