Donations & Transfers
For all policies and procedures related to donations and transfers, please see the Hess Archives Collection Management Policy.
Donations
The Hess Archives and Special Collections is dependent on the generosity of our donors to help us build and maintain a strong archival and rare book collection that helps enrich our understanding of Anabaptist and Pietist history and documents the dynamic history of Elizabethtown College. We are interested in donations of rare books, small press periodicals, manuscripts, institutional records, college and church publications, photographs, audiovisual materials, oral histories, electronic records, and selected artifacts. Collection strengths and areas of special interest include the following.
College History with an emphasis on:
Board of Trustees
Presidents
Accreditation
Faculty Assembly
Select departmental records
Select faculty papers
Athletics
Student and alumni perspectives
Anabaptism with an emphasis on:
Amish life and culture
Global Anabaptism
Ephrata
Peace, reconciliation, and experiences of war
Select personal papers of Anabaptist and Pietist scholars
Church of the Brethren
Priority will be given to Church of the Brethren materials from the Atlantic Northeast and Southern Pennsylvania Districts and their associated congregations. The Hess Archives and Special Collections is the designated repository for these local districts. Congregations are encouraged to consult our Church of the Brethren Collection Development Policy and contact the Archivist to discuss stewardship of their records.
Priority will also be given to materials that support or enhance the college curriculum. We are a teaching collection and welcome class visits and student research projects.
Materials are added to the collection based on the recommendation of the Archivist in consultation with the Director of the High Library, the Collection Development Librarian, and the Director of the Young Center for Anabaptist and Pietist Studies. All accepted donations must be accompanied by a signed Deed of Gift.
Any oral history interview added to the Hess Archives and Special Collections must be accompanied by an Oral History Deed of Gift and Release Agreement. Community members interested in undertaking an oral history project are encouraged to contact the Archivist to discuss the scope of their project and any technical requirements.
Transfers
Campus departments are encouraged to contact the Archivist to discuss retention and possible transfer of records to the Hess Archives and Special Collections. When in doubt, don't throw it out!
All transfers must be accompanied by an inventory or documentation of the contents and contact information from the transferring department. Please contact the Archivist before sending materials.
When materials are offered to campus departments by alumni and outside community members, please complete a Gift Delivery Record before sending the materials to the archives.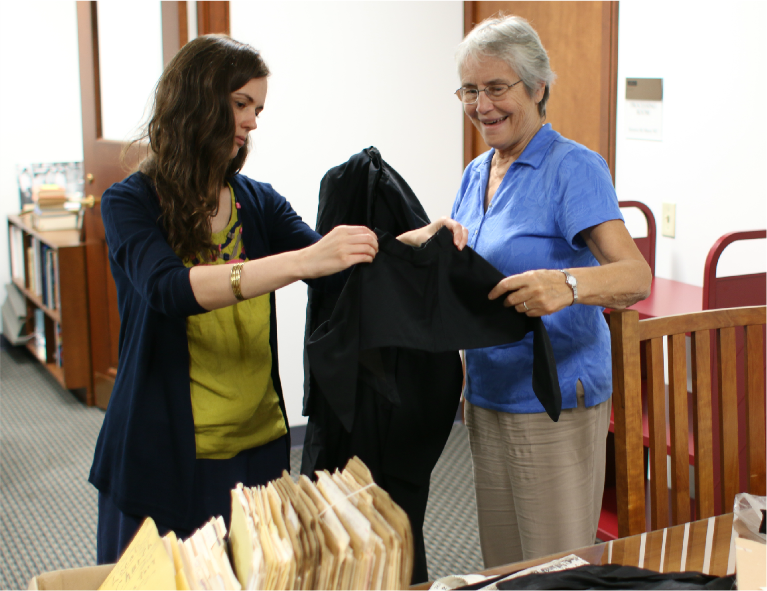 One of our many generous donors, Nancy Bieber shares a plain dress passed down through her family. Nancy's donation is now part of the Hess Archives' Meyer, Wenger, Bucher Collection.