Math Department Life
Life in the Department of Mathematical Sciences is characterized by a spirit of helpful cooperation. It is quite common to see small groups of students studying together in the Math Commons area, or in the "Math Hideaway," a special study room dedicated to student use. Faculty office doors are always open, inviting students to come in and ask questions or talk about mathematical matters.
Students in the Department of Mathematical Sciences are involved in numerous activities, both on and off campus. In the department, we have a math club and a chapter of Pi Mu Epsilon, the national math honor society, and our upper class students also serve as tutors in our tutoring center to help other students who need help with their math classes. In addition, many of our students spend a semester studying abroad or take part in short term trips abroad.
Student Organizations
Explore topics of interest in mathematics and learn from peers and mentors with our student organizations within the Department!
Math Club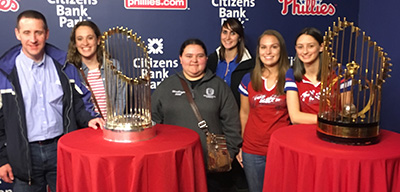 The mission of Mathematics Club is to provide a forum to exchange ideas and information in the field of Mathematics. The club encourages activities and field trips, sponsors speakers, and investigates a broad view of current ideas and research in mathematics and employment opportunities.
Dr. McDevitt and 5 members of the Math Club posing with the 1980 and 2008 World Series trophies at the Phillies College Business Intelligence Night on April 13, 2016
Pi Mu Epsilon
Pi Mu Epsilon, the mathematics honor society, is a national organization whose purpose is the promotion of scholarly activity in mathematics among students in academic institutions, and among the staffs of qualified non-academic institutions. This honor society is open to students attaining high academic achievement in mathematics.
Student Tutoring
The faculty specially choose top math students to serve as tutors for the department. We offer drop-in tutoring five nights a week for students taking most 100- or 200-level math classes. Tutoring is obviously beneficial for those being tutored, but it also helps the tutors by reinforcing course material and teaching them how to exercise care and patience when explaining complicated ideas to other people. Such explanatory ability is a valuable professional skill for anyone called upon to deal with the public or work collaboratively, such as teachers and actuaries.
Study Abroad Opportunities
Embrace the world as your classroom! We encourage all of our majors to consider a study abroad experience during their time at Etown. Whether for a semester or for a May term class, we believe that the world is an exciting classroom. Although the programs in our department are intensive, there is certainly room for students to spend time abroad with proper planning. We carefully advise our students who are interested in studying abroad to plan their academic careers to accommodate a semester abroad within their four-year course of study.