Recycling Program
Campus Services invites you to recycle...
Campus Services invites you to participate in our recycling initiative for ink and toner cartridges. This simple and convenient program will enable you to dispose of your used ink and toner cartridges in an environmentally responsible manner.
 All Brother, Canon, HP, and Lexmark cartridges are accepted.
 All faculty, staff, and students are encouraged to participate
 Drop boxes are located in a mailroom near you
Mail Services will be responsible for pick up of used cartridges.
Please place them in your Mailroom with your outgoing mail.
Feel free to contact Mail Services with any questions.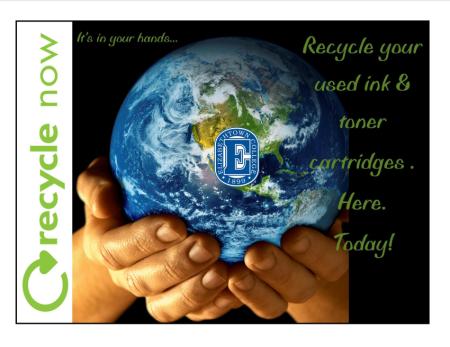 Together we can reduce our environmental footprint!
Did you know?
375 million empty ink and toner cartridges are thrown away, most ending up in a landfill, only to release toxic chemicals upon incineration
1,000,000 cartridges are used per day
375 million cartridges put end-to-end would circle the earth over 3 times