Meet the Staff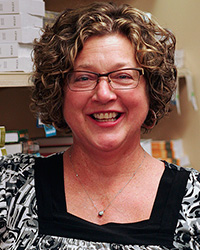 Sue Doremus - Store Director
Store Director
doremuss@etown.edu
(717) 361-1516 | Brossman Commons- 122
Responsibilities: Keeping up with the ever changing bookstore industry, maintaining budgets and Point of Sale, computer and electronics buyer, as well overseeing the daily operations of the College Store.
In Brief: Sue began her career in the College Store in 1995 as a part-time cashier. Shortly thereafter, her position became full-time and she took over as the clothing buyer. Over the years, Sue has worked in every facet of the Store, including textbook manager, computer and electronics buyer, inventory control, POS and into her current position as the Director of the College Store. She never imagined working in one place this long, but E-town has a way of keeping people around for decades. She loves the students, the work she does, and her wonderful support staff who help make the whole operation run smoothly. Some interesting facts about Sue...she is a 25- year cancer survivor and an avid pet lover! In her spare time, Sue enjoys horseback riding, spending time with her children, and granddaughter, Ava Lily. She lives for her next vacation in the islands and time with family and friends.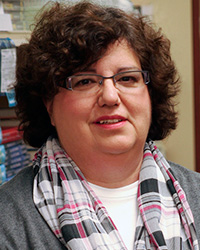 Nancy Fink
Office Manager
finkn@etown.edu
(717) 361-1382 | Brossman Commons - 121
Responsibilities: Accounts payable/receivable, the hiring, scheduling and training of student employees, ordering and coordinating regalia for graduation, commencement and special events. In addition, Nancy orders and maintains the inventory of school supplies and health & beauty products.
In Brief: Nancy came to the College Store as an on-call book rush cashier in January of 2004, after working 14.5 years in the State Senate, 4 years in the Governor's Office and 9 years as a stay-at-home mom, school volunteer and part-time court transcriptionist. She has been in her full-time position as Office Manager since June of 2011 and really enjoys the interaction with students and staff. As a native of Elizabethtown, she is constantly amazed at the growth and changes on the campus where she would ice skate on Lake Placida and take swim lessons in the BSC as a young girl. Nancy enjoys an "empty nest" with her husband, has two boys and her interests include reading, cross-stitch, biking, camping and travel.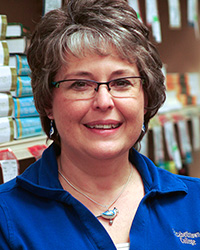 Wendy Gibble
Merchandise Manager
gibblew@etown.edu 
(717) 361-3706 | Brossman Commons - 120
Responsibilities: Purchasing clothing and logo items for the College Store that helps brand Etown to the rest of the world. In essence, Wendy gets to "shop" all day! Additionally, her duties include social media, maintaining the online store www.etowncollegestore.com and promotion of seasonal sales and activities. She loves the challenges and freedoms of her job and welcomes suggestions to help make the Store a better place for everyone!
In Brief: Wendy began her career with Elizabethtown College in 2000, in the Human Resources Department as an aide to Payroll and HR offices. Her husband's job took her family to Ohio for four years, but she came right back to E-town after moving back to PA in 2007. Since then, Wendy has worked as an interim secretary and part-time assistant in Alumni Relations, part-time cashier in the College Store, before moving into the position of Merchandise Manager in 2011. Wendy grew up in Elizabethtown where she was an E-town Bear.  She is married with two children and an adorable mini doodle named Addy!  When she's not shopping for the College Store, she is shopping at the outlets or malls in the area…she claims it's a hobby.  In addition, Wendy enjoys walking, reading, church functions and theater.  She and her daughter usher at the Fulton and, also at Hershey Theater.  Her husband also ushers with them, at Hershey.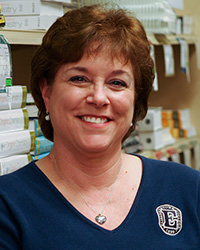 Debbie Peterson
Textbook Manager
Brossman Commons - 123
Responsibilities: All aspects of securing adoptions, textbook ordering, pricing returns, buybacks and inventory for textbooks and course material used each semester; this includes undergrad courses, as well as SCPS sessions. Determines vendor sources and product availability, processes online textbook orders from the College Store website, facilitates the multiple rental programs, both in-store and online, and maintains current textbook adoption lists.
In Brief: Debbie has worked in various administrative positions. Prior to joining the College Store as Textbook Manager, Debbie was the Admin Assistant in the Education Department at E-town. Before moving to Elizabethtown, she lived in Sylvania, OH and was employed at Lourdes College. She has had her own transcription business since 1993, and still maintains today. Debbie is married and has two daughters and two step-sons. Hobbies include reading, traveling to visit family, and bike riding with her husband!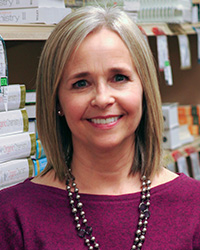 Jill Wagner
Clerk Cashier P/T
wagnerjm@etown.edu
(717) 361-1131 | Brossman Commons
Responsibilities: Assisting customers in the checkout process, assisting customers with requests or questions. Jill also assists the Merchandise Manager and restocks merchandise, as needed.
In Brief: Jill came to the College Store in July 2012 and is the friendly face you see in the Store every afternoon. She enjoys traveling with her husband, spending time with her four children, and reading a good book.