About SVMC
Mission Statement

"To equip leaders for ministry in a regionally based, Christ centered, culturally relevant context in ways that bear witness to the beliefs, heritage, and practices of the Church of the Brethren."
Developed in 1993, the Susquehanna Valley Ministry Center (SVMC) is a ministry partner with the Atlantic Northeast, Mid-Atlantic, Middle PA, Southern PA, and Western PA districts along with the Brethren Academy for Ministerial Leadership and Bethany Theological Seminary. SVMC provides training in regionally based settings for persons exploring the call to ministry and/or lay leadership. Working from a solid commitment to core Anabaptist and Pietist understandings within the Church of the Brethren heritage, we provide training in biblical studies, ministry skills, peace and justice perspectives, theology, church vitality, and other subjects that help students prepare for ministry. We make classes available at both the graduate and academy levels.
SVMC hosts graduate courses offered through Bethany Theological Seminary in Richmond, Indiana.* These courses are taught by Bethany professors, but held on the campuses of Elizabethtown and Juniata Colleges. Such courses afford students in the Northeast an opportunity to take graduate-level ministry courses in a Brethren context. Credits can be used toward a degree at Bethany or at another seminary.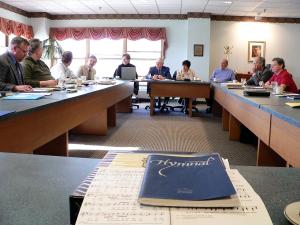 A limited number of seats in graduate courses are also available to certificate students and auditors. Pastors may audit Bethany courses for 3.0 CEUs. 
SVMC partners with the Brethren Academy for Ministerial Leadership to offer both face-to-face and online courses in the TRIM certificate program. 
SVMC also organizes classes in its five partner districts for the ACTS certificate program. Curriculum and courses are certified by Brethren Academy. ACTS is open to students without college degrees. Certificate students may cross register for courses in another certificate program with prior approval from the SVMC Executive Director. 
Enrollment for ACTS and TRIM courses is processed at the Susquehanna Valley Ministry Center office in coordination with the Brethren Academy for Ministry Leadership. 
*Bethany Theological Seminary is accredited by the Association of Theological Schools in the United States andCanada (ATS) and the Higher Learning Commission of the North Central Association of Colleges and SecondarySchools (HLC).
Local Access
ACTS courses are offered at Church of the Brethren congregations in the five partnering districts.
TRIM and Graduate courses are taught at either Elizabethtown or Juniata College.