What the Amish Teach Us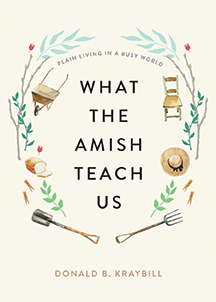 Donald B. Kraybill, Distinguished College Professor, Senior Fellow, and Professor of Sociology Emeritus, has spent decades researching Amish history, religion, and culture. In his new book, What the Amish Teach Us: Plain Living in a Busy World, released in October 2021, he shares interesting stories and valuable insights from forty years of conversations, fieldwork, and research with the Amish. The twenty-two succinct, informative essays describe the practices and values of Amish life and offer lessons for the rest of us.

Learn More
Q&A
Table of Contents
Purchase the Book
Johns Hopkins University Press     Amazon
Listen to the Podcast
Podcast: What I Learned from the Amish, with Donald Kraybill
Q&A
Q: What inspired you to write What the Amish Teach Us?
A: I spent nearly four decades researching and writing about this distinctive North American community. After giving dozens of presentations on Amish life, some people have asked, "So what have they taught you?" This book answers that question. It chronicles the lessons I've learned from the Amish, lessons of benefit for all of us.
    In the book and the podcast I contend that our hyper-tech society can learn a lot from the horse-and-buggy-driving Amish. I explain how old-fashioned practices related to community, technology, and tolerance for other religions surprisingly turn relevant once again in the twenty-first century.
    I know it sounds audacious. But it's true. The Amish have much to teach us. It may seem strange, even surreal, to turn to America's most traditional group for lessons about living in a hyper-tech world—especially from a horse-driving people who have resisted "progress" by snubbing cars, high grid power, and even a high school education.
    Their wisdom confirms that old turns new again. Or, in the words of another truism, perhaps they're so far behind, they're out ahead. So before you toss aside this ludicrous notion that we can learn something from a low-tech people, consider the following facts: The Amish have out-Ubered Uber for nearly a century. They were also into solar before it was green. Their "engineers" have developed sophisticated sky tubes for lighting off-grid buildings. Amish entrepreneurs, who never attended high school, have built thousands of successful businesses. Moreover, their collaboration with scientists in advanced genome research has brought path-breaking medical discoveries. The loneliness epidemic that stalks our society happily bypassed them. And these are the people whose courage enabled them to forgive, within hours, the man that gunned down 10 of their children. They have much to teach us.
Q: How long did the writing/publication process take?
A: The essays in this book emerged from conversations with hundreds of Amish people, thousands of hours of fieldwork in different states, and my ruminations over the years.The writing took about three years. I submitted the manuscript to Johns Hopkins University Press in fall 2020. The approvals, editing, indexing, notes, and printing took about a year.
Q: Have you published any other books?
A: I started teaching at Elizabethtown College in 1971. I published my first book in 1976. Since then I have authored, coauthored, edited, or coedited some three dozen books—many of them about the Amish or other Anabaptist groups. (You can see my titles on Amazon or on my website.)
Q: What is unique about this book compared with your other ones?
A: This one is entirely different from my other books. All of my previous ones had typical chapters. This small hardback features 22 short essays on a range of topics from spirituality to entrepreneurship to retirement. In each essay of 1,000-1,200 words, I show how a particular Amish practice—regarding education, patience, and family, for instance—is relevant for the rest of us in our hyper-everything world. Each essay makes its own standalone argument.
    In terms of writing, this was the hardest book I've written. Each essay had to be tightly crafted and compact. It would have been much easier to write 5,000-word chapters on each topic. It underscores the old adage that I've often told my students: a short letter is harder to write than a long one where you can ramble on with fluff, froth, and fizz.
Q: Is this the first podcast you've released? What did you learn from this process?
A: Yes, "What I Learned from the Amish, with Don Kraybill," is my first podcast. It is a companion to the book. I learned that a good podcast requires hard work and a lot of time. I was extremely fortunate to have Eric J. Schubert as my podcast producer. He was superb. He did all the tech stuff and digital audio editing. I created the content. We produced it in the recording studio at the DH HUB in the basement of Wenger on the Elizabethtown College campus. Each of the nine episodes ranges from 12-14 minutes and focuses on a different topic. Each of the first four episodes includes a conversation with one of my Amish friends. The podcast episodes will be released on nine consecutive Tuesdays beginning on October 5. You can listen on amishteach.buzzsprout.com.
Q: What do you hope people take away from your book and your podcast?
A: I hope the podcast and the book encourage readers to see their lives from a new perspective—one that nudges them to reflect more deeply on the meaning of life. For me, Amish ways disrupt my old habits and my fixed understandings of how I think the world works. I hope the essays prod readers to question what they do and why they do it.
    I selected 22 Amish themes that I find provocative, ones that have transformed my thinking. They have given me new insights for living in a hyper-everything world. I'm not recruiting for the Amish nor am I proposing that we cut and paste their habits into our contemporary lives and try to mimic how they live. I'm just inviting readers to stop and digest some relevant old-fashioned wisdom.
Q: What did you enjoy the most about writing this book?
A: For me, the fun part of writing a book is the front-end brainstorming. Which topics to include and exclude. How to focus a key theme that ties all the essays together coherently and how to organize and title the essays. That is the fun stuff. The writing and rewriting is the hard stuff. I'm not a fast writer. My mantra is "make a mess and clean it up at least ten times." I'm more of an editor than a writer.
Contents
Preface: When Old Is New Again
Chapter 1. Riddles: Negotiating with Modernity
Chapter 2. Villages: Webs of Well-Being
Chapter 3. Community: Taming the Big "I"
Chapter 4. Smallness: Bigness Ruins Everything
Chapter 5. Tolerance; A Light on a Hill
Chapter 6. Spirituality; A Back Road to Heaven
Chapter 7. Family: A Deep and Durable Bond
Chapter 8. Children: At Work, Worship, and Play
Chapter 9. Parentlng: Raising Sturdy Children
Chapter 10: Education: The Way It Should Be
Chapter 11: Apprenticeship: An Old New Idea
Chapter 12. Technology: Taming the Beast
Chapter 13. Hacking: Creative Bypasses
Chapter 14. Entrepreneurs: Starting Stuff
Chapter 15. Patience: Slow Down and Listen
Chapter 16. Limits: Less Choice, More Joy
Chapter 17. Rituals: A Natural Detox
Chapter 18. Retirement: Aging in Place
Chapter 19. Forgiveness: A Pathway to Healing
Chapter 20: Suffering: A Higher Plan
Chapter 21: Nonresistance: No Pushback
Chapter 22: Death: A Good Farewell
Epilogue: Negotiation Never Ends
Podcast: What I Learned from the Amish
What, if anything, can we learn from the Amish? Donald Kraybill spent decades researching and writing about this distinctive community. In nine episodes, he argues that our hyper-tech society has much to learn from the horse-and-buggy-driving Amish. In each episode, Kraybill explains how old-fashioned practices related to community, technology, apprenticeship, and forgiveness are relevant once again in the twenty-first century. The first four episodes include conversations with one of Kraybill's Amish friends.
Listen to the podcast: https://jayscholar.etown.edu/youngcenter_kraybill-podcast/