Partner Schools
The Science in Motion (SIM) program at Elizabethtown College primarily serves public and private schools in Berks, Lancaster, Lebanon and Schuylkill counties.  However, districts in Cumberland, York and Dauphin counties have utilized the program also.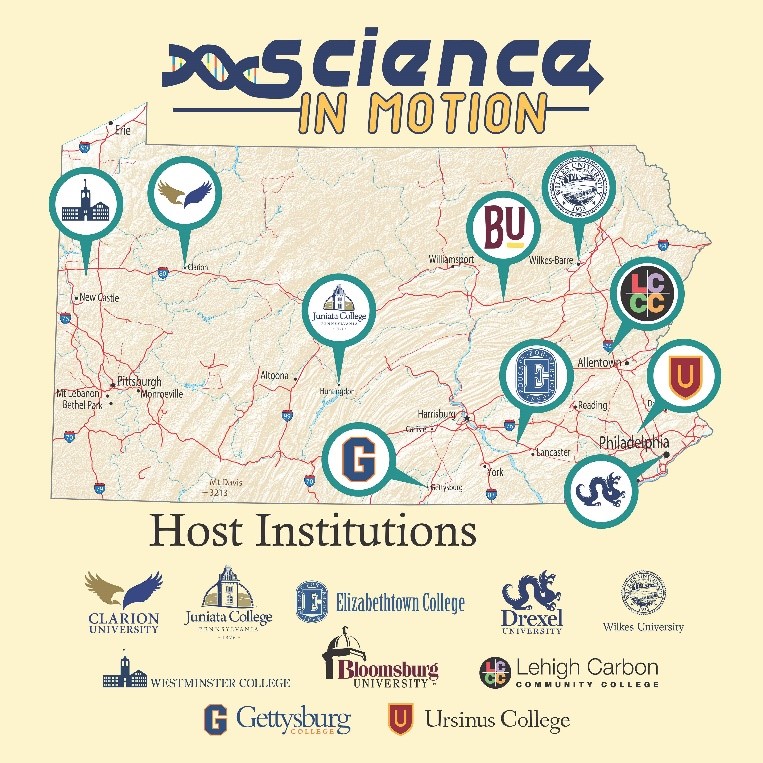 2019-2020 School Year Numbers
Demonstrated and/or Expected Outcomes: Science in Motion
Science in Motion provides teachers and students in public and private school districts with access to and training on research quality equipment, used for hands-on, inquiry-based lab exercises in the subject areas of biology, biotechnology, biochemistry,chemistry and environmental education. During the 2019-2020 academic year, the demonstrated outcomes in regard to usage and training within the SIM program included:
334 pieces of laboratory equipment were utilized by 54 teachers and 10,776 students for 64 weeks;
12,096 student educational contacts occurred using this equipment (number of students multiplied by number of different laboratory experiments completed);
75 distinct laboratory experiments were completed in the classrooms;
560 different sections of students and 23 Advanced Placement classes utilized the equipment.
County of Districts and Schools
Berks County
Muhlenberg School District: Muhlenberg Middle School
Cumberland County
Big Spring School District: Big Spring Spring High School
Carlisle Area School District: Carlisle High School
Central Dauphin School District: Central Dauphin East High School
Cumberland Valley School District: Cumberland Valley High School
East Pennsboro Area School District: East Pennsboro High School
Dauphin County
Harrisburg School District: Sci-Tech Campus
Middletown Area School District: Middletown Area High School
Lancaster County
Cocalico Area School District: Cocalico High School
Conestoga Valley School District: Conestoga Valley High School
Elizabethtown Area School District: Elizabethtown Area High School
Ephrata School District: Ephrata High School
Hempfield School District: Hempfield High School
School District of Lancaster: J.P McCaskey High School, Lincoln Middle School
Penn Manor School District: Penn Manor High School
Solanco School District: Solanco High School
Lebanon County
Eastern Lebanon County School District: ELCO High School
Palmyra Area School District: Palmyra Area Middle School
York County
Dover Area School District: Dover Area High School
Hanover Public School District: Hanover Senior High School
Kennard-Dale School District: Kennard-Dale High School
Northern York County School District: Northern High School
Red Lion Area School District: Red Lion Area High School
South Western School District: South Western High School
Southern York County School District: Susquehannock High School
Spring Grove Area School District: Spring Grove Area High School
Western York Area School District: Western York High School
York Suburban School District: York Suburban High School
If you are interested in becoming a SIM partner school, contact Wendy Martin at (717) 361-1305 or martinw@etown.edu.