About the Division of Fine Arts
Fine Art majors at Elizabethtown College design their own career paths that suit their personal needs, as we offer a Bachelor of Arts degree program that is both flexible and interdisciplinary.
Our talented faculty and staff foster creativity and personal growth by providing in-depth instruction in Studio Art, Art History, and Art Education. We also offer two minors in Studio Art and Art History and participate in the interdisciplinary minor programs in Graphic Design and Architectural Studies.
The Fine Arts Division prepares students for a variety of careers within the field of visual arts. With three major concentrations and several minors to choose from, our students explore diverse aspects of art and self-expression. By choosing Elizabethtown College, you'll become part of a community of artists that embrace individualized artistic growth and experimentation.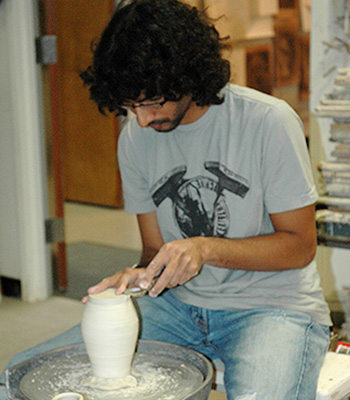 Pathways to careers in art
Studio Art
Art Education
Art History
From the Department of Fine and Performing Arts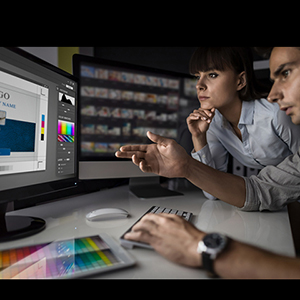 Student interest draws new major
Elizabethtown College adds graphic design major.
Students interested in the fast-growing field of digital arts can now major in graphic design at Elizabethtown College. According to Patricia Likos Ricci, director of the Fine Arts Division, of the Department of Fine and Performing Arts, student demand was a significant factor in expanding the College's offerings from a minor to a major. With 30 students participating in the school's graphic design minor over its two-year existence, it was only a matter of time before the major was established, she said. A new course "Designing for Web and Social Media (ART 325)" is included in the curriculum, and additional courses will be offered in the future to keep up with developments in the industry.
"The curriculum is efficiently organized to provide room for graphic design majors to have a minor or double-major in a discipline of their choice that will enhance their employment opportunities, augment their skills or enrich their creative and intellectual capacities."
From the Department of Fine and Performing Arts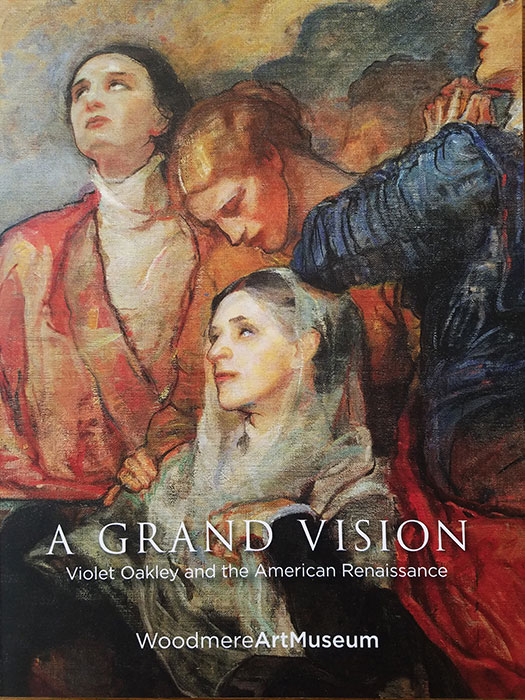 Sharing an artist's story
Violet Oakley exhibit featured at Woodmere Art Museum.
Patricia Likos Ricci, associate professor of the history of art and director of the Fine Arts Division of the Department of Fine and Performing Arts, curated "A Grand Vision: Violet Oakley and the American Renaissance," an exhibit at the Woodmere Art Museum in Philadelphia about the life work of a remarkably powerful woman who refused to back down in the age of suffrage and changing female roles. Oakley was independent and refused to acquiesce—all while remaining ladylike and dealing with struggles in her own home life. By incorporating Oakley's work into the classroom, Ricci gives her students an opportunity to learn about a forgotten female force who helped decorate the capitol building in Harrisburg—when, at the time, a man would traditionally have been chosen. "Believe in yourself. It sounds like a cliché, but have the courage to believe that you can achieve your goals. … Don't be afraid to stand alone and overcome a stereotype."

"A Grand Vision: Violet Oakley and the American Renaissance" continues through Jan. 21, 2018.
Life After E-town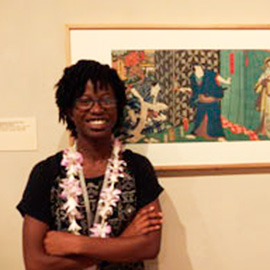 Monique D'Almeida '13
Graduate Assistant for Global Art History courses at the University of Hawai'i at Manōa
As a Japanese and Fine Arts (Art History) double major at E-town, Monique enjoyed the opportunities to develop new skills during activities such as language roundtables to practice her Japanese, or job and internship fairs for networking. She would encourage all students not to take your time at E-town for granted. Be involved as much as possible and make as memories as possible.
Art on campus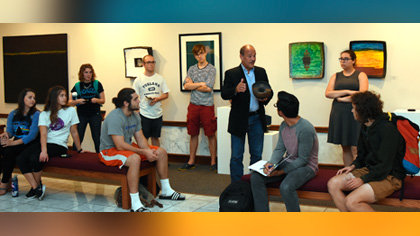 Exhibitions in the Hess Gallery and the Lyet Gallery bring national and international artists to campus and highlight contemporary trends in the art world. Students have the opportunity to submit their work to the Annual Juried Student Show and every year the graduating seniors display their work in a group exhibition.
Art nearby campus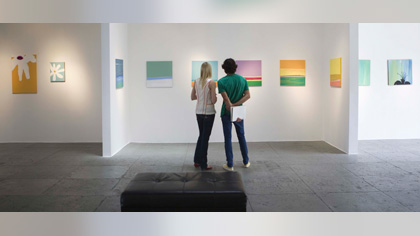 E-town students have access to nearby major art scenes in Lancaster, Harrisburg, Philadelphia, Baltimore, Washington, D.C., and New York. Each semester, trips are arranged to view exhibitions. Recent destinations include the Whitney Museum of American Art, Storm King Art Center and Dia Beacon, the Barnes Foundation, Rodin Museum, Philadelphia Museum of Art and Frank Lloyd Wright's famous house, Fallingwater.