Art and Design Faculty
Kristi Arnold
Associate Professor of Art
Office: Steinman Hall, room 103
Phone: 717-361-1433
Email: arnoldkl@etown.edu
Personal Website: www.kristi-arnold.com
Kristi Arnold received a Bachelor of Fine Arts degree in Painting from the University of Kansas and a Master of Fine Arts degree in Painting and Printmaking from the University of Connecticut. She earned a Doctor of Philosophy degree in visual arts and theory from the University of Sydney, Sydney College of Art in Australia. Arnold is also a recipient of a Fulbright Fellowship at the Jan Matejko Academy of Fine Arts in Krakow, Poland.
 
Her work has been exhibited widely throughout the United States and abroad including California, New York, Georgia, Kansas, and Illinois and countries such as Belgium, Australia, Japan, South Korea, Bulgaria, Poland, and Austria. In 2013, she was invited to create a site-specific project for the Central Business District in Brisbane, Australia by the Vibrant Laneways Program. Most recently, Arnold had a solo show at the International Center for Graphics Arts in Krakow, Poland. Likewise, in 2018, she was awarded a residency at the Mokuhanga Innovation Laboratory: Mokuhanga Artist-in-Residence at Lake Kawaguchi in Japan and at the Jentel Artist Residency Program in Banner, Wyoming. She has also been the Artist-in-Residence at the Frans Masereel Centrum in Belgium, ARTSPACE in Australia, the University of Georgia in Atlanta, the Lawrence Art Center in Kansas, and the Hashinger Hall Post-MFA Artist in Residence at the University of Kansas.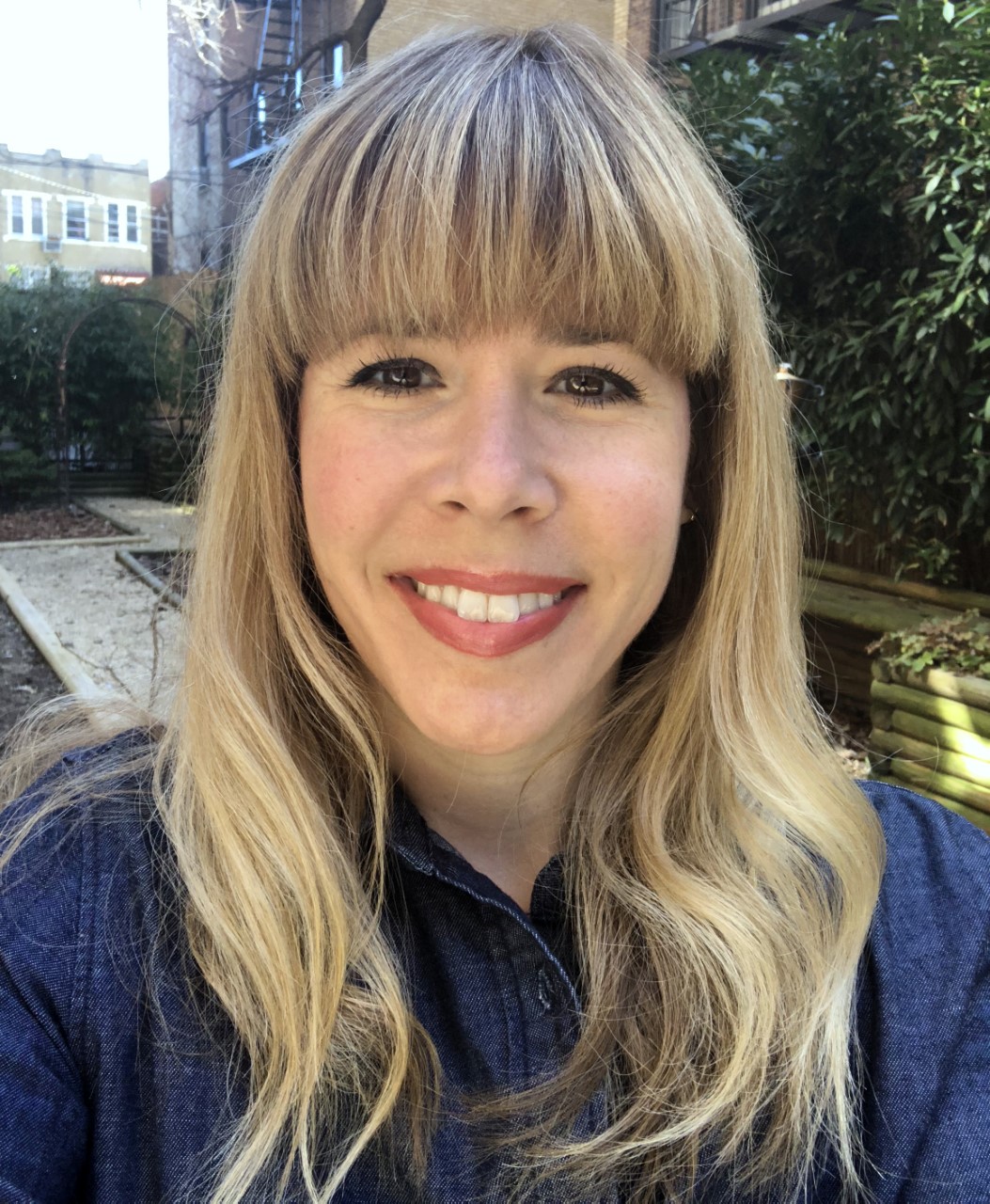 Artist Statement
Throughout my career, I have primarily focused on the grotesque by way of distortion, transformation, repetition, dark humor, absurdity, contrasting color palettes, and the play between positive and negative space. In this way, the grotesque represents the in-between—the blurring of the borders between fact and fiction, the known and the unknown, gender and sexuality, reality and dreams, and the beautiful and the ugly. The grotesque harmoniously converges and marries imagery that typically does not belong together. It is the haziness of reality, the weakening of borders by way of violating the codes of logic. The grotesque exists outside the boundaries of our sensibilities, equal to the uncanny, the sublime, and the horrific.
Dan Burns
Adjunct Faculty
Office: Steinman Hall, room 100
Email: burnsd@etown.edu

Daniel Burns has an international exhibition record, with over one hundred solo and group shows, including exhibits in museums, galleries and universities in the US, Europe and Asia. He has been the recipient of a Fulbright Memorial Award to Japan, and has been an Artist-in-Residence at the Hungarian Multi-Cultural Foundation, Balatonfured, Hungary, The Millay Colony for the Arts, Byrdcliffe Artist Colony and Wilson College. He has also been the recipient of a fellowship to Montserrat College of Art. In 2014, he received the Outstanding Supervision/Administration/Art Educator award from the Pennsylvania Art Education Association for his commitment to art education. Daniel Burns received his MFA from the Catholic University of America.
"It is a privilege and great joy to be an educator. Each student possesses a unique voice that is nurtured through arts education. Their voices enlighten those of us who are fortunate enough to teach. I am continually inspired by the exchange of ideas with students".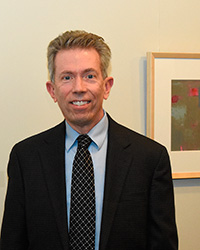 Jeff Bye
Adjunct Faculty
Office: Steinman Hall, room 100
Email: byej@etown.edu
Personal Website: www.jeffbye.com
Jeff Bye is a graduate from the Rhode Island School of Design and was selected to attend a year abroad in Rome, Italy as part of the EHP Program. There, he was exposed to the great masters of art through Museums in London, Paris, Madrid, and Rome. Soon after, he moved to New York City and studied at The New York Academy of Art and received a Master of Fine Arts in Painting.
Living in New York for fifteen years also expanded his knowledge of art, as well as artists, by attending the Metropolitan, Guggenheim, MoMA, and other countless museums and galleries the city has to offer.
Bye is a member of the Copley Society of Boston and was awarded the Copley Master, the youngest ever to receive this honor. Bye currently exhibits in cities like New York, Boston, Philadelphia, and Portland, Maine.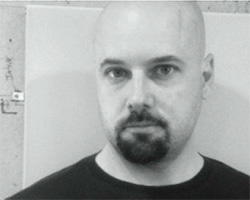 Artist Statement
(The Ugly Beautiful)
This series of work is an ongoing exploration of a number of places that I have visited while working in New York City, Philadelphia and throughout the Northeast. While working in the scenic department in New York City, as well as working as a conservator in Pennsylvania and surrounding states, I was able to explore areas that were off limits to the general public. The Brooklyn Navy Yard and Admire Row in the compound of Fort Totten, the Domino Sugar Factory, as well as the Lowes Theater in Brooklyn were just a few places that I have had the pleasure of documenting with my sketchbook and camera. I have also explored a number of buildings in South Philly as well as the neighborhood of Fishtown. I have taken images during my travels to cities and states like Pittsburgh, Virginia, Chicago, and Ohio. These buildings that were once vibrant with activity are now abandoned or on a smaller scale of capacity.
I am fascinated with how these spaces have weathered over time and the beauty that they withhold. These abandoned spaces are now a mere reflection of their past. What draws me to them initially are the facades of the buildings. Some of these structures have a haunting presence that is hard to ignore. I find myself mesmerized by the monumental scale as well as intrigue of what's inside. The boarded up windows and doors only heightens that intrigue. I feel that I am not alone in this endeavor. I find that I strike up conversations very quickly when people see my work and they are familiar with the structure that I am painting; either they have passed it on their way to work everyday or it's a staple of their community. They feel that it's a monument of the past and an iconic symbol of its community. I find out from many people, whether they've lived in the neighborhood their entire life or for just a few years, that they want to preserve these buildings as a reminder of their identity of the past and for future generations to have a link to what once was. I can't stress how important these structures are for me personally. I would love to see some type of history remain in these areas so that there's a visual and historic understanding of what made the areas so unique to begin with as well as preserving the genetic makeup of the ethnic culture and original purpose of the structures that once was a vital fabric to the overall function of the cities and way of life there.
Viewers are always wanting to know about these structures and if I have ever ventured inside. For example, the paintings "Pocket Door," "Fort," and "Corner Studio" are all examples of interiors that pose the question of what else is in the building. They have a strong impact on the viewer by the composition and how the light is penetrating throughout the space and the use of contrast from very dark and ominous corners to pockets of light revealing the beauty of decay. This is also relative in the narrative images that I have created. There's a drama that is present by how the figures occupy the space. This is not always intentional. The figure naturally takes the attention of the viewer and creates an overall drama and mood.
At a time when clean and new are very welcomed by most, my eyes once again are drawn to the ugly beautiful; the spaces that have character and a reflection of the past. Time is often dismissed in these spaces. It's a quietness that transcends to the viewer. A moment of stillness that is powered by the light, the structural elements of the spaces, and the additional props and color palette also contribute. I find that these images have an energy that needs time to adjust. Similar to when you enter a space on a bright sunny day and your eyes are in shock because of the extreme contrast from light to dark. I find that these paintings need the full attention of the viewer so that the time and space around it can truly breathe so the raw patinas and textures that give the painting balance can begin to be appreciated.
A recent collection displayed at the Steven Amedee Gallery in New York City included Shoe, reviewed in The American Art Collector Magazine:
In Shoe, Bye shows another old building, but this one occupied by a cobbler and various old machines that are used to repair shoes. He saw the business, was intrigued with all the clutter in the space and popped in to speak with the owner, who gladly let the artist linger and take pictures. The resulting panoramic painting captures the "chaos and clutter" of the business.
Milt Friedly
Professor of Art
Office: Steinman Hall, room 102
Phone: 717-361-1385
Email: friedlmd@etown.edu
Personal Website: www.miltfriedly.com
Milt Friedly has received recognition locally, regionally, nationally and internationally for his work in ceramics, printmaking and sculpture. His work has been included in exhibitions at the Urban Center for Contemporary Art; the Brooklyn Waterfront Artists Coalition; the Yellowstone Art Museum; the Nicolayson Art Museum; the San Angelo Museum of Fine Arts; Museum; the Gallery of American Craft; the Susquehanna Art Museum; the Lancaster Museum of Art; the Bedford Gallery; the University of Oklahoma; the Savannah College of Art and Design; Denise Bibro Fine Art; the Demuth Museum; the George Krevsky Gallery; the University of the Arts, Philadelphia; the Lesher Center for the Arts; and the European Cultural Center, Venice, Italy. His work is included in a number of public collections and many private collections. He received Fine Arts Degrees from Arizona State University (BFA Ceramics and Printmaking) and the University of Wyoming (MFA Sculpture and Printmaking). He is Professor of Art at Elizabethtown College and directs the Susquehanna Center for the Creative Arts.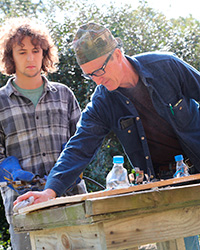 Artist Statement
I have been working with remnants (found objects) including welded steel and other mixed media works. My interest in based on physical attraction to the material as well as intrigue with the materials history both long and short term. While some of the materials had specific use and contain a more transparent past others are more mysterious. I am attracted to items that have an immediate past like remnants from a meal as well as objects that invoke nostalgia and a longer history.
I would like the audience to take a closer look at what is recycled or thrown away and consider its beauty, whether a piece of steel from the junk yard or packing material from a newly received package. I have found intrigue and beauty in the banal – objects and material that I believe are often overlooked in a hurry-up and technologically controlled society, one that demands immediate satisfaction.
Katherine A. Hughes, PhD
Associate Professor of Communications and Graphic Design
Office: Wenger Center, room 100
Phone: 717-361-1259
Email: hugheska@etown.edu
Katherine Hughes is associate professor of communications and graphic design at Elizabethtown College. 
Prior to teaching, Dr. Hughes worked in the fields of e-learning and web development as a designer and project manager.
Dr. Hughes teaches courses in Visual Communications (COM 130), Digital Photography (ART 145), Introduction to Graphic Design (ART 207), and Photojournalism (COM 371). Additionally, she has served on honors committees for the Departments of Communications and Fine Arts. She also advises the Etown Photography Club.
Dr. Hughes leads a short-term study abroad program to Ireland. Students spend 3.5 weeks traveling across Ireland and Northern Ireland documenting their experiences through journalistic writing and photographs. For more information about Etown's Study Abroad Programs, visit the Study Abroad page.
Dr. Hughes authored a textbook, titled "Graphic Design: Learn It, Do It" (CRC Press). This text is an introduction to the fundamentals of graphic design and the Adobe Creative Cloud applications used to put these concepts into practice.
Dr. Hughes earned her doctoral degree in mass communications, as well as her master's degree in television/radio/film from the S.I. Newhouse School of Public Communications at Syracuse University. She earned her bachelor's degree in mass communications from James Madison University.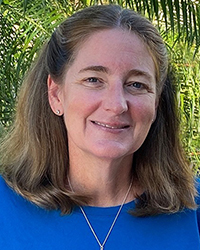 Patricia Likos Ricci, PhD
Distinguished Professor of the History of Art
Office: Steinman Hall, room 100
Phone: 717-361-1517
Email: riccipl@etown.edu
Patricia Likos Ricci, PhD is Distinguished Professor of the History of Art, co-advisor of the Architectural Studies program and an affiliated member of the Women and Gender Studies faculty. She teaches courses in European and American Art, World Architecture, and a seminar on the Italian Renaissance. Her research focuses on American Renaissance murals and architecture and the interface between the arts and sciences. 
She publishes and lectures on the emerging professional women artists of Philadelphia: Violet Oakley, Jessie Willcox Smith, Elizabeth Shippen Green, Emily Sartain and the members of The Plastic Club. The authority on the muralist Violet Oakley, she was guest curator of the retrospective exhibition A Grand Vision: Violet Oakley and the American Renaissance held at Woodmere Art Museum (2017-18). 
Her publications on the history of architecture include "Cultural Politics in the United States Capitol: The Case of Constantino Brumidi, 1805-1880" (Iconocrazia 18, 2020); "Who is this Renaissance? Where did he come from? Englishness and the Search for an American National Style, 1850-1900" (Architectural History 64, 2021); and "Ruskin Rediscovered" (Nineteenth Century 25, 2005). She was co-author of the historical survey Buildings of Pennsylvania: Philadelphia and Eastern Pennsylvania (SAH, 2012) and guest editor of "The State as a Work of Art: Design, Technology and Social Reform, 1876-1917" (PMHB, 2002). 
Dr. Ricci has written about the mutual interests of artists and scientists in "The Inquiring Eye: Illustration and the Production of Knowledge" (A Companion to Illustration: Art and Theory, Blackwell, 2019); "Edwin Austin Abbey's The Passage of the Hours: Astronomy as History" (Astronomical Society of the Pacific, 2015); "The Joseph Priestley House" (PMHB, 2012) and "Lux ex tenebris: Étienne-Louis Boullée's Cenotaph for Sir Isaac Newton" (Canopus, 2005).
Dr. Ricci received her doctorate from Bryn Mawr College and her undergraduate degree from Moore College of Art and Design. A practicing artist, her painting Search and Rescue is on the Artists' Registry of the 9/11 Memorial Museum.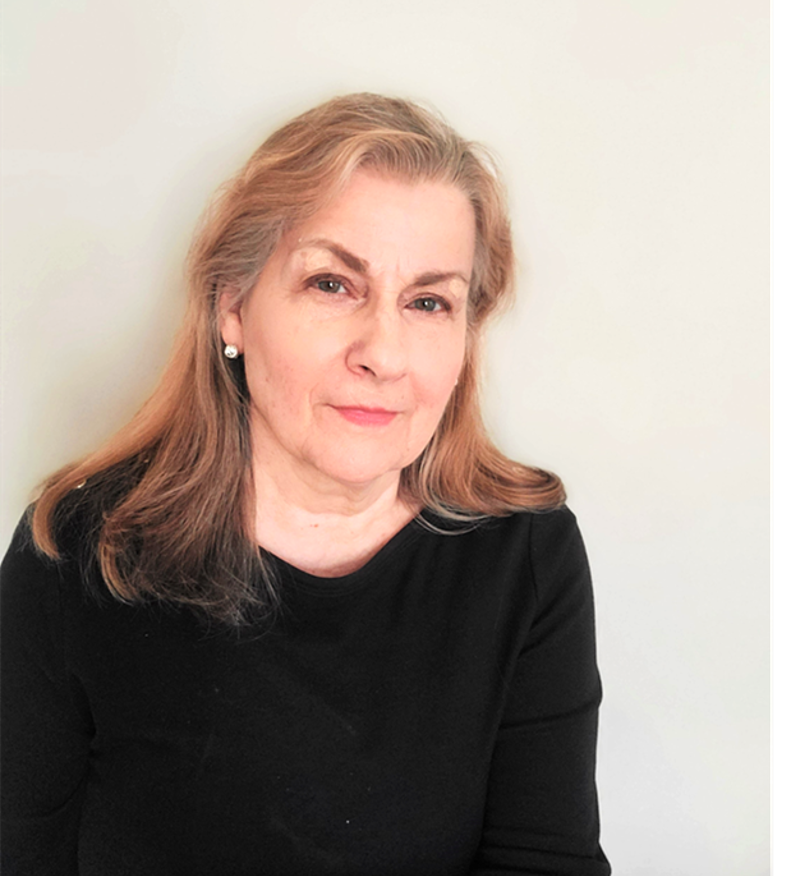 Dant Weikel
Adjunct Faculty
Office: Steinman Hall, room 100
Email: weikeld@etown.edu
Danté "Dant" Weikel was born and raised in Locust Gap, Pennsylvania. At a young age, he found his passion for art and design through his step-grandfather's love of music and painting, and his constant nit-picking of various video game strategy guides and restaurant menus. He graduated from Elizabethtown College in 2016 with a B.A. in Fine Arts, where he focused primarily on sculpture, printmaking, and graphic design. He then spent a few years living and studying in Baltimore, and received an M.F.A. in Graphic Design along with a Certificate in the College Teaching of Art from the Maryland Institute College of Art in 2019. Since then, he has been working as a freelance artist and designer, and even returned to Etown to teach various facets of design, typography, and you may even see him pouring bronze every now and again.