Why Study Art and Design at Etown?
Major in Fine Art or Graphic Design at Elizabethtown College and become part of a community of artists that embrace individualized artistic growth and experimentation. Our students have the chance to design their own career paths through our flexible and interdisciplinary curriculum. Our majors, minors, and concentrations allow our students to explore diverse aspects of art and self-expression.
Our talented faculty and staff foster creativity and personal growth by providing in-depth instruction in Fine Art, and Graphic Design. We also offer minors in Arts, Architectural Studies, Art Administration, Communications, and Graphic Design.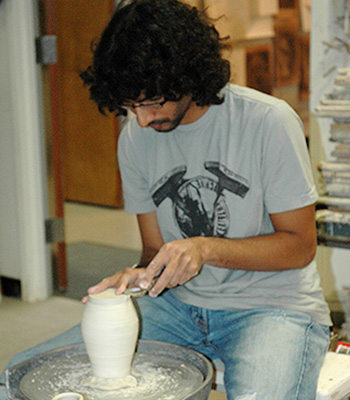 Request Information About Art and Design at Etown
From the Department of Art and Design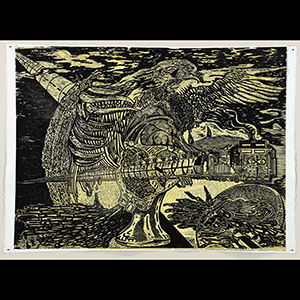 Entering exhibits is art professors' version of being published
Friedly collaborates with other artists in summer show
College professors demonstrate academic talent and bring attention to their ongoing research by publishing papers in reputable journals. Participation in exhibits is the art world's version of that tradition. Milt Friedly, professor of art at Elizabethtown College, was recently invited to participate in an exhibit on large printmaking at the Lancaster Museum of Art. The show, titled "The Art of the Big Print: Master Lancaster Printmakers," features Friedly and five other artists who worked together to create 30-inch-by-40-inch prints. By participating in exhibits, Friedly said, he can better relate to students about their various levels of ability throughout their lives. The exhibit runs through July 1, 2018.
"It's important to take part locally and be active in the community … Don't jump ahead of where you're at."
From the Department of Art and Design
Hannah Ciocco, Class of 2019, receives the Inspiration Award in Art History
Hannah Ciocco, Class of 2019, has received the Inspiration Award in Art History in recognition of her documentary on the Martin Luther King Jr. Memorial in Washington D.C. Hannah, who is a History major with minors in Art History and Religious Studies, wrote, filmed and edited the forty-minute video Remembering King: A Dispute in Collective Public Memory for her Honors in the Discipline project in History. "My documentary emphasized the idea that the enduring nature of memorials ensures that they have significant influence on public memory. For these reasons, memorials often elicit serious debate," she stated. The Martin Luther King Jr. Memorial, a four-acre complex In West Potomac Park next to the National Mall, was controversial when it opened in 2011. "I decided to go to the MLK Jr. Memorial in January and interview visitors myself." Hannah's mentor for the documentary was Dr. David Kenley, Professor of History, with whom she studied Digital Humanities. After graduation, Hannah will continue her education at John Hopkins University where she has been accepted to the Master's program in Museum Studies with a certificate in digital curation.
From the School of Arts and Humanities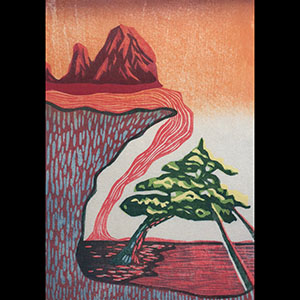 Art professor honored with residency opportunity
Kristi Arnold studies printmaking in Japan
Kristi Arnold, assistant professor of art at Elizabethtown College, attended a five-week artist residency in Katsuyama, Fujikawaguchiko-cho, Japan, this spring where she studied mokuhanga, a traditional Japanese printmaking technique, with a residential master printer. Her residency was part of the 2018 Mokuhanga Innovation Lab, in which six artists from around the world are chosen to travel to Japan to participate in the training. In addition to learning mokuhanga, a water-based woodblock printmaking style, Arnold was moved by the Japanese culture's appreciation for aesthetics and respect for the environment. She hopes to incorporate mokuhanga in her Art 204 course at Etown.
"Since mokuhanga technique doesn't require the use of a printing press and the materials are environmentally friendly, it is a very accessible media."
From the School of Arts and Humanities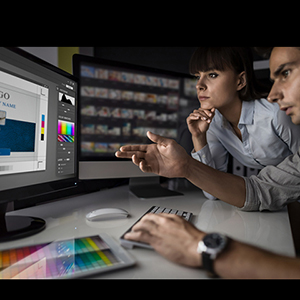 Student interest draws new major
Elizabethtown College adds graphic design major.
Students interested in the fast-growing field of digital arts can now major in graphic design at Elizabethtown College. According to Patricia Likos Ricci, director of the Department of Fine Arts, of the Division of Fine and Performing Arts, student demand was a significant factor in expanding the College's offerings from a minor to a major. With 30 students participating in the school's graphic design minor over its two-year existence, it was only a matter of time before the major was established, she said. A new course "Designing for Web and Social Media (ART 325)" is included in the curriculum, and additional courses will be offered in the future to keep up with developments in the industry.
"The curriculum is efficiently organized to provide room for graphic design majors to have a minor or double-major in a discipline of their choice that will enhance their employment opportunities, augment their skills or enrich their creative and intellectual capacities."
From the School of Arts and Humanities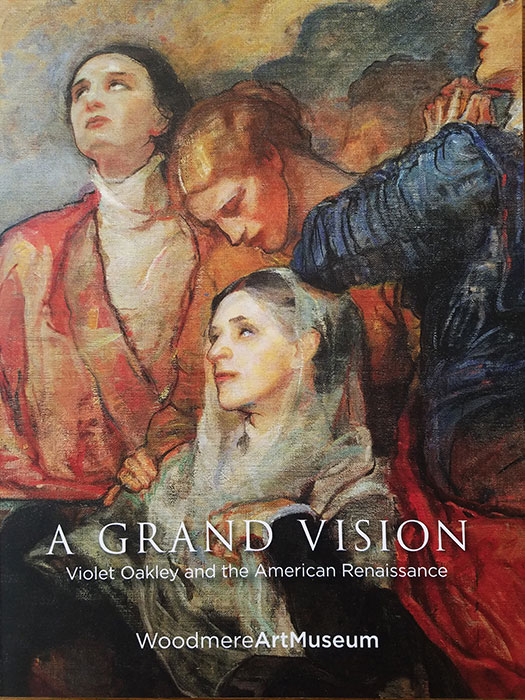 Sharing an artist's story
Violet Oakley exhibit featured at Woodmere Art Museum.
Patricia Likos Ricci, associate professor of the history of art and director of the Department of Fine Arts of the Division of Fine and Performing Arts, curated "A Grand Vision: Violet Oakley and the American Renaissance," an exhibit at the Woodmere Art Museum in Philadelphia about the life work of a remarkably powerful woman who refused to back down in the age of suffrage and changing female roles. Oakley was independent and refused to acquiesce—all while remaining ladylike and dealing with struggles in her own home life. By incorporating Oakley's work into the classroom, Ricci gives her students an opportunity to learn about a forgotten female force who helped decorate the capitol building in Harrisburg—when, at the time, a man would traditionally have been chosen. The exhibit closed in January.
"Believe in yourself. It sounds like a cliché, but have the courage to believe that you can achieve your goals. … Don't be afraid to stand alone and overcome a stereotype."
From the School of Arts and Humanities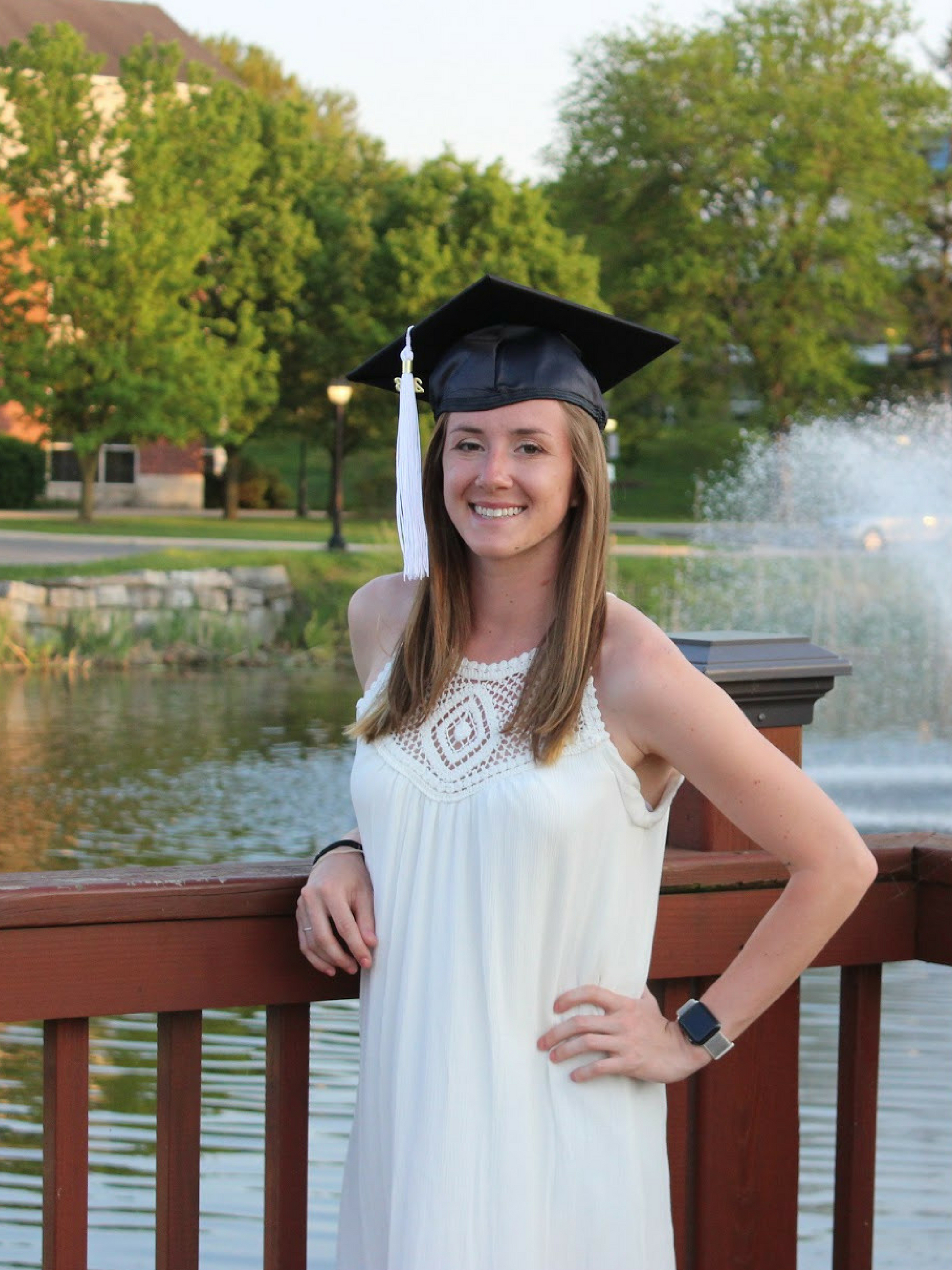 Maria Anderson '18
Art Education Major
Maria Anderson, Art Education, 2018, has a passion for teaching art. She earned a Bachelor of Arts degree in Fine Arts with a Pennsylvania PK-12 teaching certification in May 2018. Three days after graduation, she obtained a position teaching K-6 Art in Penn Manor School District. As a Fine Arts major, Maria was able to combine her love of art with her interests in science and athletics. She incorporated anatomical imagery in her paintings and conducted interdisciplinary research in Biology. Throughout her four years at Elizabethtown College, she was a member of the Cross Country and Track and Field team. Maria's distinguished career included many awards, scholarships and medals. She demonstrates the value of a liberal arts education at Elizabethtown College that develops the potential of the whole person.
From the Division of Fine and Performing Arts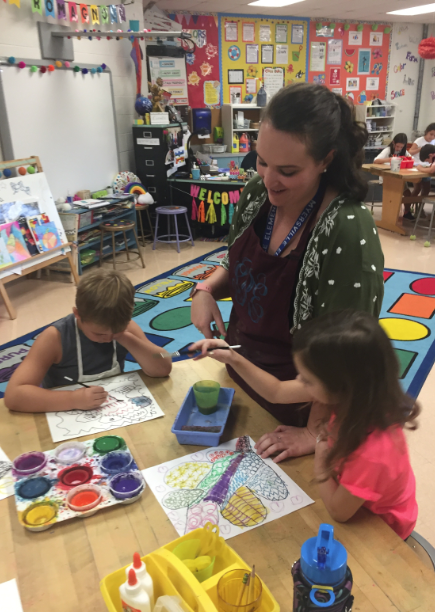 Sarah Romagnoli '16
Art Education Major
Sarah Romagnoli, Art Education, 2016, began her career after Etown with Frederick (MD) County Public Schools and is currently in her third year of teaching at Myersville Elementary School. Dedicated to growing the arts in schools, Romagnoli used her Etown experience of "Educate for Service" to participate in various fundraisers to support local art programs. Romagnoli also serves on the leadership team for the visual and performing arts in Frederick County, writing curriculum and presenting at professional development days for other art teachers in the area. She is continuing her education with a Master's in Instructional Design.
Pathways to careers in art
Showcase Your Talents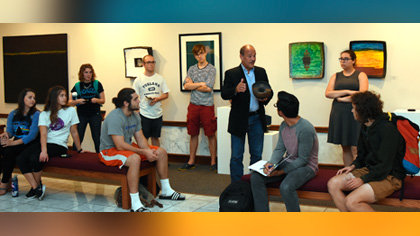 Within the Department of Art and Design, we emphasize the importance of building portfolios and publicly displaying artwork. Each year, all students have the opportunity to submit their work to the Annual Juried Student Show. In addition, we showcase the work of our seniors through a group exhibition each year.
Explore Local Art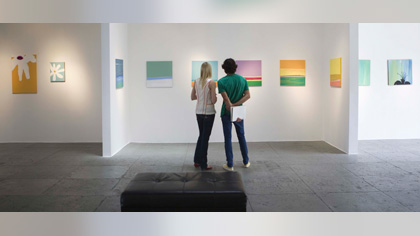 Students who study fine art have many opportunities to view art exhibitions on and off campus. Exhibitions in the Hess Gallery and the Lyet Gallery bring national and international artists to campus and highlight contemporary trends in the art world. Etown students also have access to nearby major art scenes in Lancaster, Harrisburg, Philadelphia, Baltimore, Washington, D.C., and New York. Each semester, trips are arranged to view exhibitions. Recent destinations include the Whitney Museum of American Art, Storm King Art Center and Dia Beacon, the Barnes Foundation, Rodin Museum, Philadelphia Museum of Art and Frank Lloyd Wright's famous house, Fallingwater.