Fine Arts Minors
Students benefit from the ability to creatively express themselves outside of their intended major. Not only does the fine arts teach students how to view the world through a visual lens, it fosters creative thought processes that lead to innovative problem solving that can be applied to any field.
A minor in Fine Arts is the perfect opportunity for non-majors to develop their artistic skills or learn about the history of art. The Studio Art minor involves a combination of studio practices and art history courses while the Art History minor focuses primarily on art in its historical context. When paired with other disciplines, Fine Arts minors offer a world of possibilities to expand your skills and career options.
Interdisciplinary Minors
A Fine Arts major may be combined with one of the interdisciplinary minors in Graphic Design or Architectural Studies. These two minors provide opportunities to diversify your professional portfolio with credentials for multiple career paths.
Graphic Design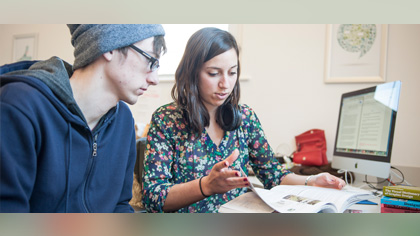 Graphic Design is a growing field with high demand in both digital and print media. The Graphic Design minor combines courses in studio art, computer-generated graphic design, typography, text layout, digital photography and video applications. The curriculum encourages experimentation with corporate, commercial and artistic uses of graphic design. Students learn to master the latest software and to understand copyright and infringement laws. In the capstone course, students produce a presentation portfolio suitable for job interviews. Internships are also available on and off campus.
For more information, check out the Graphic Design requirements in the Course Catalog.
Architectural Studies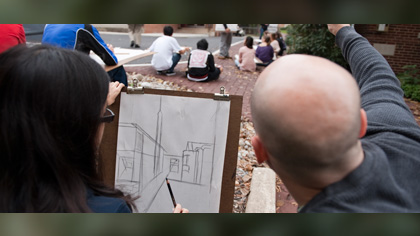 The Architectural Studies minor is for students who are interested in pursuing a career in architecture related to interior design, urban design, landscape design and exhibition design. The curriculum combines courses in environmentally responsible "green" architectural engineering, studio art and the history of world architecture. In the Architectural Design Studio, students study the principles of sustainability in building materials, innovative designs for energy-efficiency and LEEDS standards. Additionally, each student works on real-world design applications with engineers and professional architects and prepares a digital professional portfolio of their original designs.
Read more about Architectural Studies requirements in the Course Catalog.