International Studies Minor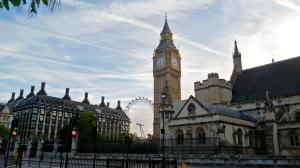 Our International Studies Minor is designed for students looking to enter international careers in an increasingly globalized world. It is an interdisciplinary minor, composed of a cluster of foreign culture, language and international affairs courses with a largely contemporary focus. In addition to the general liberal arts goal of broadening students' horizons of awareness of other peoples and places, the minor offers a valuable complementary education for many career-oriented and pre-professional programs of study. Students who complete the program will develop language competencies, acquire an enhanced understanding of global affairs and gain an appreciation for our interconnected world.
For further information, contact the International Studies Minor Advisor, Dr. Oya Ozkanca, Department of Politics, Philosophy, and Legal Studies.
Why Minor in International Studies at Etown?
Our personalized curriculum allows students to tailor our International Studies Minor to meet their interests. Students who complete the minor will develop international skills and become well-informed international professionals.
Develop Competency in a Second Language
Students must complete intermediate-level modern language courses in their language of choice. Students will be able to effectively communicate in another language at an intermediate level.
Become Globally Aware
After taking courses in our International Studies minor, students will gain insight into the political, historical, economic, cultural, religious and geographic dimensions of international affairs. Students will better understand the relationships between nations and the multi-faceted reasoning behind international decision-making.
Gain an Appreciation for Global Interdependence
Our program is intended to help students appreciate the interdependence among nations throughout the world. Students will learn to appreciate the diversity of people, cultures and organizations throughout the world. The interdisciplinary nature of our curriculum will provide students with information from a variety of perspectives.
Want to take your International Studies Minor one step further? Study abroad in a nation of your choice to dive into the culture and put your skills to the test!
Student Learning Outcomes
Students who successfully complete the International Studies Minor will be able to:
explain the history, evolution, theory, and methods of inquiry of International Studies;
describe the interrelationships among the political, historical, economic, legal, cultural, religious, and geographic dimensions of international affairs;
communicate in a language other than English at an intermediate level through successful completion of 212 or an equivalent level;
analyze the interdependencies related to diversity of people, cultures, organizations, and nations in the world through an international and interdisciplinary perspective;
communicate effectively, both orally and in written form about a multicultural and/or international topic;
demonstrate critical thinking and analytical skills in research on topics related to international studies.
International Studies Courses
Students have the chance to select courses that best fit their interests. We offer International Studies courses in a variety of disciplines including: business, communications, economics, English, fine and performing arts, history, modern languages, political science, religious studies, social work and sociology-anthropology. Some of the courses available to our International Studies minors include:
AN 111 - Understanding Human Cultures
BA 197 - Introduction to International Business
COM 251 - International Communications
INT 332 - Model United Nations
INT 470-474 - Internship in International Studies
PS 245 - NCH International Relations
SO 204 - Population and Global Issues
SW 360 - International Social Development
For complete course offerings and requirements, please view our course catalog.
Looking Ahead: Career Outcomes for International Studies Students
Pairing the minor with an academic major in a primary area of interest allows students to tailor their education to meet their professional goals. Students who complete this program may prepare for the following careers:
Foreign Service
Intergovernmental Organizations
Non-governmental Organizations
The private sector
Academia
Journalism