About Pre-Law Advising at E-town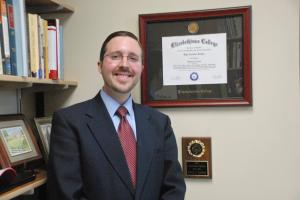 The Pre-Law Program is neither a major nor a prescribed set of courses or co-curricular activities for students who are interested in law and law-related fields. Instead, the Pre-Law Program seeks emphasize the skills necessary for students in any major to attain success in future legal studies. Because the skills necessary for a law or law-related career can be accomplished in almost any academic discipline – such as English, history, political science, philosophy, or business – a committee has been established composed of members from several academic departments to assist pre-law students during their undergraduate years.
The pre-law director and the pre-law committee work with the pre-law student and the student's major advisor to ensure that a reasonable and sound course of study is followed that is acceptable for entry into a school of law. The director and committee aids the student in selecting a suitable school and advises the applicant on the registration and the preparation for the Law School Admissions Test (LSAT). Additionally, the director and committee guide students in preparation and submission of applications and supervises the requests for letters of recommendation for worthy candidates.
In order to create the most effective curriculum, the pre-law student should introduce himself to the Pre-Law Director early in the freshman year to discuss future course scheduling and long-term plans.
The Pre-Law Director also supervises the activities of the Pre-Law Club and works closely with the College's mock trial team, which participates in regional and national mock trial tournaments; both activities are highly recommended for pre-law students. Participants in the mock trial competitions are urged to take Mock Trial I and II, which are taught in the fall and spring semesters. These courses prepare students to participate in intercollegiate tournaments held in the spring semester and are taught by a practicing attorney.
Over the years Elizabethtown graduates have been accepted by and/or attended a wide range of schools of law. Among these are: American University, University of Baltimore, Boston University, Case Western Reserve University, Catholic University, University of Dayton, Penn State Dickinson School of Law, Duquesne University, Georgetown University Law Center, George Washington University, University of Georgia, University of Miami, University of Maryland, University of North Carolina/Chapel Hill, University of Pennsylvania, University of Pittsburgh, University of San Diego, University of San Francisco, Stetson University, Syracuse University, Temple University, Tulane University, Vermont Law School, Villanova University, Wake Forest University, Washington and Lee University, Widener University, and the College of William and Mary