Pre-Law Advising Program
The Pre-Law Advising Program at Elizabethtown College is neither a major nor a prescribed set of courses. Instead, the Pre-Law Program seeks to emphasize the skills necessary for students in any major to attain success in future legal studies. Our Pre-Law Advising Program embraces the flexible nature of legal studies and is overseen by an interdisciplinary committee comprised of faculty across several academic disciplines.
Is Law Right For Me?
Think About Your Skill Set
Being successful in law school is not about knowledge of a particular subject. It is about having a set of key skills. The American Bar Association and the Law School Admission Council identify these skills as:
Analytic/problem-solving skills
Critical reading abilities
Writing skills
General research skills
Oral communication skills
Listening abilities
Task organization and management skills
Values of serving others and promoting justice
Beyond these skills, attorneys must have a passion for research. Professionals must know every detail about their cases well enough to communicate to colleagues, clients, judges and juries. Although these skills are universal, the work of an attorney can vary by legal field and working environment.
Consider Your Long-Term Goals
Before deciding to apply to law school, students should consider the financial cost to attend and the earning potential of a legal career. Often times, the starting salary for a lawyer is between $50,000 and $75,000 annually, but a lawyer's annual salary depends on many factors. These factors include: the type of law practiced, the working environment (i.e., working in a small versus large law firm, public interest group, government entity, etc.), and the current economic climate. According to the Law School Admission Council, the average law school debt incurred by students is often more than $100,000. Consider the area of law you plan to pursue and determine how it will impact your finances long-term.
Why Study Pre-Law at Etown?
Etown is the perfect environment for students looking to hone their law skills. Through classroom and real-world learning opportunities, students will prepare for their future in law.
Pursue Your Passions
In recent decades, the legal community has become much more specialized. Fewer attorneys are solo practitioners or "generalists." Instead, lawyers often specialize in specific fields of law, such as commercial litigation, bankruptcy, education, labor, family, immigration, intellectual property, tax, military, public utilities, among many others. Because the legal community has become so specialized, pre-law students with virtually any academic major can find an area of practice related to their interests.
Receive Counsel Before Making Big Decisions
Our Pre-Law Advising Program committee is made up of expert faculty members that take a personal interest in your educational and professional goals and provide guidance to help you achieve them. Our Pre-Law Advising Program committee assists students in choosing courses that best help them develop their skills and align with their interests.
Prepare for Your Career
Students can hone these skills through a number of courses at Elizabethtown College. Some of these courses are listed in the Suggested Courses section of this website. In addition, our campus community provides extracurricular learning opportunities, which allow students to further explore their interests and practice their skills. Students can get involved with Pre-Law Club, the Mock Trial Team, The Etownian and Student Assembly.
After Graduation
Job Outlook
Frequently, law graduates will receive job offers before they pass the Bar exam. Recent law school graduates can obtain employment in a variety of work environments. According to the "Survey of 2017 Law School Graduates Six Months After Graduation" by the National Association for Law Placement, the majority of recent law school graduates (52%) obtained employment in law firms (i.e., private practice), 15.6% were employed with a business/corporation, 11% with a government entity, 10.5% in a judicial clerkship, 6.9% in public interest law (e.g., non-profit organizations and policy groups), 1.9% in academia, and 1.1% in the military.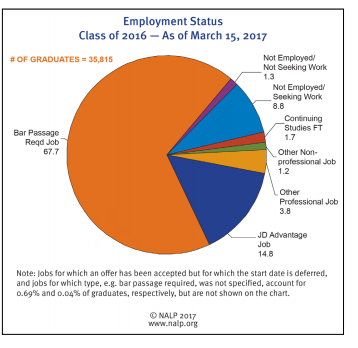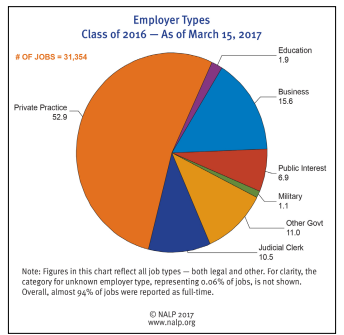 Our Pre-Law Graduates
Over the years Elizabethtown graduates have been accepted by and/or attended a wide range of schools of law. Among these are:
 
American University
University of Baltimore
Boston University
Case Western Reserve University
Catholic University
University of Dayton
Penn State Dickinson School of Law
Duquesne University
Georgetown University Law Center
George Washington University
University of Georgia
University of Miami
University of Maryland
University of North Carolina/Chapel Hill
University of Pennsylvania
University of Pittsburgh
University of San Diego
University of San Francisco
Stetson University
Syracuse University
Temple University
Tulane University
Vermont Law School
Villanova University
Wake Forest University
Washington and Lee University
Widener University
College of William and Mary
For more information on legal careers, students are encouraged view the following links associated with the the American Bar Association and the Law School Admission Council:
From the Pre-Law Program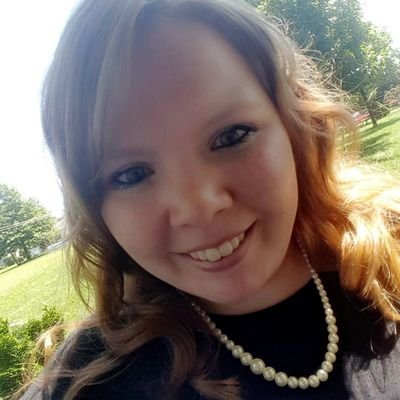 Former Pre-Law Club president at Widener
AS a member of the Pre-Law Club at Elizabethtown College—events with practicing lawyers who share their experiences about their education and legal career—gave Janelle Hawthorne '16 a better insight into the legal profession.
Mock trial prepared Janelle Hawthorne for how to debate and use critical-thinking skills in a trial setting, she said. The former president of the Etown Pre-Law Club and secretary of the Mock Trial now attends Widener University Commonwealth Law School in Harrisburg. At Etown, she was only the second student and only junior to receive the Mock Trial President George Ness Falkenstein Outstanding Advocate Award after her first year of Mock Trial n April 2015. 
"Some of my favorite things about Etown include the friendly and community atmosphere, which makes Etown feel like a second home."
From the Pre-Law Program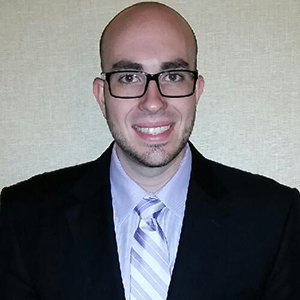 Legal Studies grad gives nod to unique professors
Alex Liebergall is now compliance analyst.
Alex Liebergall '12 said he appreciated his professors Kyle Kopko, Sylvester Williams and Ed Chung in the Elizabethtown College Legal Studies program due to their unique experience prior to being the classroom. He graduated from Etown with two bachelor's degrees—one in business administration with a concentration in marketing and one in political philosophy and legal studies. Four years later, he earned his juris doctor and master's degree in public health from Drexel University Thomas R. Kline School of Law. Liebergall is now a compliance analyst with McBee Associates Inc., where he develops and enhances internal processes.
"[Chung] was not only an expert in his field but also an amazing professor.  He challenged you to do your absolute best at all times."
From the Pre-Law Program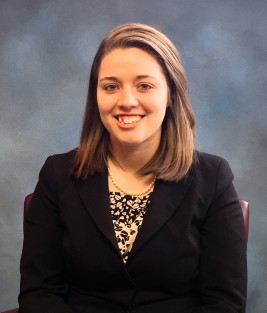 Alumni gives insight on personalized Etown experience
Pennsylvania, New Jersey litigator appreciates law school guidance
After graduating from Elizabethtown College in 2012, with a degree in psychology, Nicole (Triner) Mulhern attended Widener University Law School in Delaware. The transition process would have been a difficult one had it not been for Kyle Kopko, director of the College's Pre-Law program, Mulhern said. With his help, she waded through the red tape and completed all necessary prep work. The Pre-Law Program focused not only on the procedural steps to obtain admission to law school but also the skills and thought process required in the overall legal field. After graduation from law school, Mulhern became a licensed attorney in Pennsylvania and New Jersey. Currently, she is a litigator and handles general and professional liability matters at a mid-sized law firm.
"Although I speak very highly of the benefits to joining the pre-law program at Etown, I think the most spectacular and unique aspect of Elizabethtown College … was its professors and staff."
From the Pre-Law Program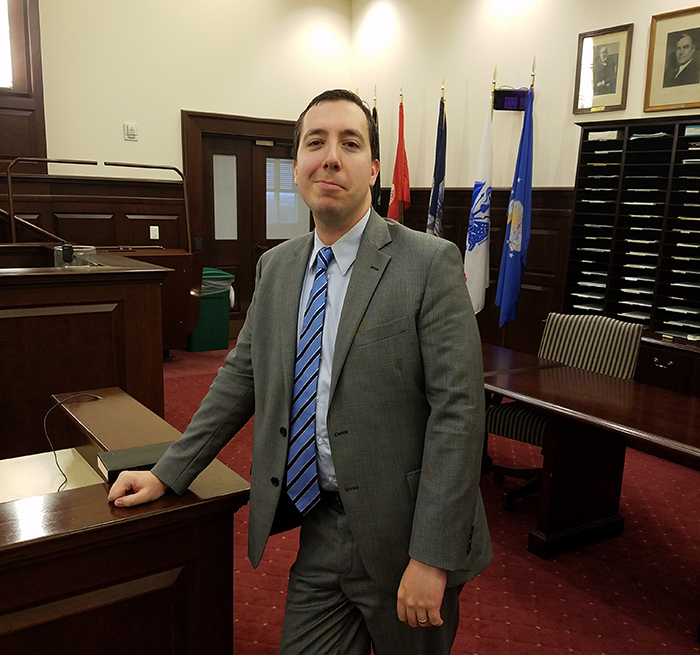 From Blue Jay to Assistant DA
Mock Trial offered skills still used in court
Chris Miller graduated from Elizabethtown College in 2007 with a degree in political science and a minor in sociology. He chose Etown for the small class sizes and individualized attention. While taking part in Mock Trial, a student club, Miller said he gained valuable skills that he still uses today in his work as an assistant district attorney for Chester County. Miller attended Drexel Law, interned for the Defender Association of Philadelphia and finished his master's degree in forensic/criminalistics science. After passing the bar, Miller became a trial attorney in the Court of Common pleas, trying cases from DUI's to corruption of minors to homicides.
"I can't stress enough the importance of the friendships and connections I made at Etown… It's important to surround yourself with different ideas so that you can constantly challenge yourself."