Careers and Graduate School
Careers for Psychology Majors
The career possibilities with a Psychology degree are limitless. Our graduates have gone on to pursue jobs such as:
Clinical Child Psychologist
Pediatric Neurologist
Pharmacologist
Sports Psychologist
Filmmaker
Talent Acquisition and Development Manager
FBI Research Analyst
Software Engineer
Lawyer
Journalist
When you major in Psychology at Elizabethtown, we help you to prepare for direct entry into the workforce or to pursue graduate or professional studies. You'll learn how to think critically, solve problems, analyze data and build your communication skills so that once your time with us is over, you'll be prepared for whatever comes next.
 
With a Bachelor's Degree
With a Graduate Degree
Clinical and Counseling

Human Services Worker

Substance Abuse Counselor

Research Coordinator

Child Care Worker

Early Childhood Behavioral Specialist

Practicing Psychologist

Social Worker

Genetics Counselor

Art/Music Therapist

School Psychologist or Counselor

Mind and Body

Occupational Therapy Assistant

Physical Therapy Assistant

Psychiatric Technician

Pharmacy Technician

Computer Programmer

Health Psychologist

Occupational Therapist

Clinical Neuropsychologist

Pharmaceutical or Biotechnology Researcher

Industrial Consultant or Human Factors Specialist

Self and Society

Gerontology Aid

Child Life Specialist

Advertising or Public Relations Professional

Human Resources Professional

Probation or Parole Officer

Juvenile Detenion Worker

Forensic Technician

Social Policy Researcher

Scientist-Practitioner in a medical or school setting

Market Researcher

Usability Specialist

Correctional Psychologist

Forensic Examiner

Behavioral Analyst
Find further resources on careers in Psychology from the APA and the Elizabethtown College Psychology Department.
Considering Graduate School?
We have talented alumni from who have completed our Psychology major and now work all across the United States and beyond. Our faculty and staff can help facilitate connections with our alumni in fields that you may be interested in working in and can also help you to find and apply to graduate programs that will allow you to achieve your career goals.
Find further resources about graduate school from the APA.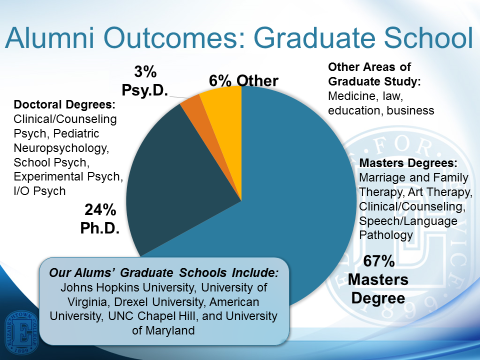 | Graduate schools attended include: |   |   |
| --- | --- | --- |
| Johns Hopkins University | University of Virginia | Drexel University |
| American University | Temple University | James Madison University |
| DePaul University | Immaculata University | Saint Joseph's University |
| Towson University | Marywood University | University of Maryland |
| University of North Carolina | Widener School of Law | Florida State University |
| Adler University | University of New Orleans | Seattle Pacific University |
| University of Memphis | Naropa University | Simon Fraser University |
How We Can Help: Career Seminar
This one-credit course orients Psychology majors to the broad range of careers available. You will explore your own strengths and abilities, learn about the subfields of psychology as well as diverse career options for majors, and discern your fit in the field. In this course, you will interview professionals in the field, create a customized education plan, and develop the skills necessary for communicating your interests, abilities, and experiences to a professional audience.