About Theatre and Dance
Theatre and Dance at Elizabethtown College is a vibrant component of campus life through various clubs and extracurricular activities.
Hands-on Activities
During your time at Elizabethtown, you'll get to enjoy and participate in a number of productions. Typically, Elizabethtown College puts on three major shows per year. In alternating years, staged readings of student-written work and productions of student-directed work are presented.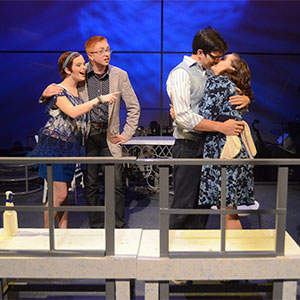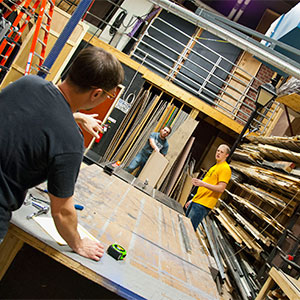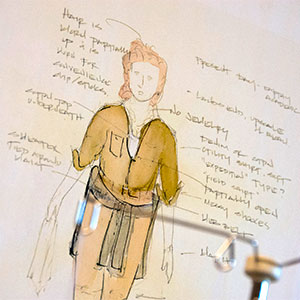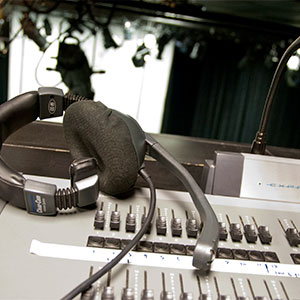 There is no shortage of courses in dance either; we are home to the campus' largest student club, the dance group Emotion. Students from all majors and disciplines come together to dance, and have fun, and express themselves through original choreography. You'll even take classes with our professional dance instructor.
Participating in theatre classes and productions is a great way to learn skills in communicating with others, analyzing texts, and thinking critically, creatively, and outside of the box. Working on stage is excellent training for theatre careers in acting, directing, and stage managing, but also for jobs in film, television, public speaking, law, sales, public relations, arts administration, and ministry. Working on theatre technology and design is a big boost for those interested in theatre design, interior design, art direction, architecture, art, and computer-aided graphics.
From the Department of Theatre 

Theatre, English grad asks 'how can I help'
Offers a voice for those who can't speak for themselves
Kara DeFrias '97 ends up at the top of every industry in which she works: Super Bowl production, women's World Cup press operations, Oscars' production, first class of White House Presidential Innovation Fellows, President Barack Obama's tech SWAT team and director of experience design for Vice President Joe Biden--driving the digital strategy and UX for the Cancer Moonshot initiative. Today DeFrias works at Intuit and owns Teal Carrot, a consultancy in San Diego, California, where she moved in 1999. Through it all, she said, the service mindset instilled at Elizabethtown College has stuck with her. For the past 18 years she has done pro bono work, usually for small women-owned, LGBT-friendly businesses.
"Service is not a class they teach you at Etown. It's not something they make you do. It's part of the ethos, and you take it with you when you go. At my core, it's part of who I am."
In the Theatre Department
Tempest Theatre
Our home, classroom, and stage is in Tempest Theatre. A versatile black box theatre, this space can transform into any stage configuration, performance after performance. Tempest Theatre also contains our costume shop, our recently updated computer equipment for lighting in sound, paint and electronics shop, and a control booth. 
Clubs and Organizations
Without doubt, Elizabethtown College Theatre students take center stage as talented and motivated theatre artists. Several student clubs with a performance flair can be found on campus:
Sock and Buskin, the oldest student club on campus, involves students in Homecoming, Into the Streets, Relay for Life, and co-producing one acts, as well as doing theatre related activities throughout the year.  The group organizes an annual trip to Broadway, and trips to theatre productions in Harrisburg, Lancaster, and Philadelphia. 
Emotion, the largest Etown club, produces student-choreographed and performed dance concerts every semester, using the talents of nearly 150 dancers!
Elizabethtown College Theatre is a member of Alpha Psi Omega, the largest national theatre honorary fraternity.
Mad Cow Improv is an on-campus improvisation comedy group comprised of students across all disciplines.