About the Theatre and Dance Division
Act out in class! We encourage it! The Theatre and Dance Division of the Elizabethtown College Department of Fine and Performing Arts are vibrant components of campus life. Our students, both theatre majors and those from other disciplines, showcase their talent throughout the year in numerous productions ranging from contemporary to the classic, and even originals created by students and professors alike.
Hands-on Curriculum
Our hands-on curriculum encourages students to write, direct, and take part in original theatre productions and dance routines. During your time at Elizabethtown, you'll get to enjoy and participate in a number of productions. Typically, Elizabethtown College Theatre puts on three major shows per year. In alternating years, staged readings of student-written work and productions of student-directed work are presented.
Theory & Experience
With classes in theatre, art, literature, and dance, you'll receive a mix of theory and practical experience with our program. Within the theatre major, there are two concentrations: performance or theatre technology. With our concentrations you can choose to study the craft of acting, directing, or design, be it scenic, lighting, costume or sound design. We also offer a theatre minor in both concentrations.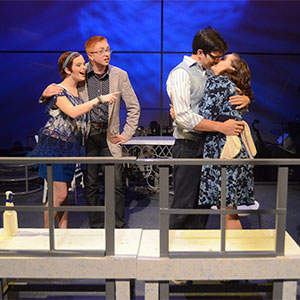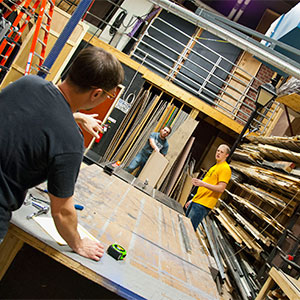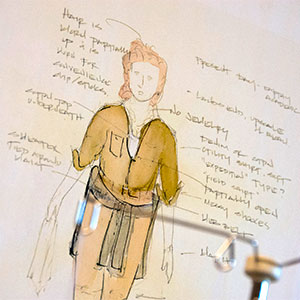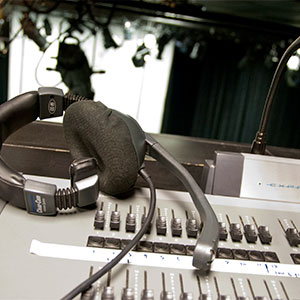 There is no shortage of courses in dance either; we are home to the campus' largest student club, the dance group Emotion. Students from all majors and disciplines come together to dance, and have fun, and express themselves through original choreography. You'll even take classes with our professional dance instructor.
Whether you plan on using your theatre major in Pennsylvania or traveling to nearby New York or beyond after graduation, we guarantee that you will be well prepared for wherever your passions and talents lead you. Participating in theatre classes and productions is a great way to learn skills in communicating with others, analyzing texts, and thinking critically, creatively, and outside of the box. Working on stage is excellent training for theatre careers in acting, directing, and stage managing, but also for jobs in film, television, public speaking, law, sales, public relations, arts administration, and ministry. Working on theatre technology and design is a big boost for those interested in theatre design, interior design, art direction, architecture, art, and computer-aided graphics.
In the Theatre Division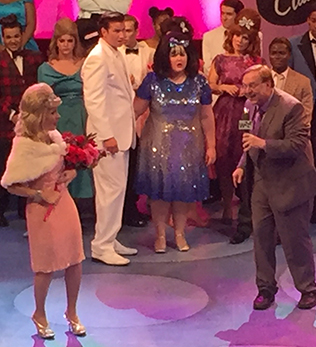 Michael Swanson
Associate Professor of Theatre and Director of Theatre and Dance
The backstage costume changes were frenetic as Michael Swanson performed not one, not two, but four roles in the summer's production of "Hairspray" at Ephrata (Pennsylvania) Performing Arts Center. To play the parts of the bum, company exec, school principal and cop, the always-bearded professor sacrificed his facial hair, too. However, the shock of the clean shave and the panicked production pace were enlightening, Swanson said, reminding him of an aspect of theatre he hadn't experienced in a while. The process helped him refocus on the significance and importance of small roles. He's already referenced the experience in his directing classes. "I have always believed that directors need to act to remind themselves of the other side of the curtain."
Tempest Theatre
Our home, classroom, and stage is in Tempest Theatre. A versatile black box theatre, this space can transform into any stage configuration, performance after performance. Tempest Theatre also contains our costume shop, our recently updated computer equipment for lighting in sound, paint and electronics shop, and a control booth. 
Clubs and Organizations
Without doubt, Elizabethtown College Theatre students take center stage as talented and motivated theatre artists. Several student clubs with a performance flair can be found on campus:
Sock and Buskin, the oldest student club on campus, involves students in Homecoming, Into the Streets, Relay for Life, and co-producing one acts, as well as doing theatre related activities throughout the year.  The group organizes an annual trip to Broadway, and trips to theatre productions in Harrisburg, Lancaster, and Philadelphia. 
Emotion, the largest E-town club, produces student-choreographed and performed dance concerts every semester, using the talents of nearly 150 dancers!
Elizabethtown College Theatre is a member of Alpha Psi Omega, the largest national theatre honorary fraternity.
Mad Cow Improv is an on-campus improvisation comedy group comprised of students across all disciplines.