Computer Specifications
Information & Technology Services supports both Windows-based computers and Macintosh computers on campus.  The campus network is designed primarily around Windows computers and servers.  However, both platforms are tested regularly and are compatible with most systems on campus.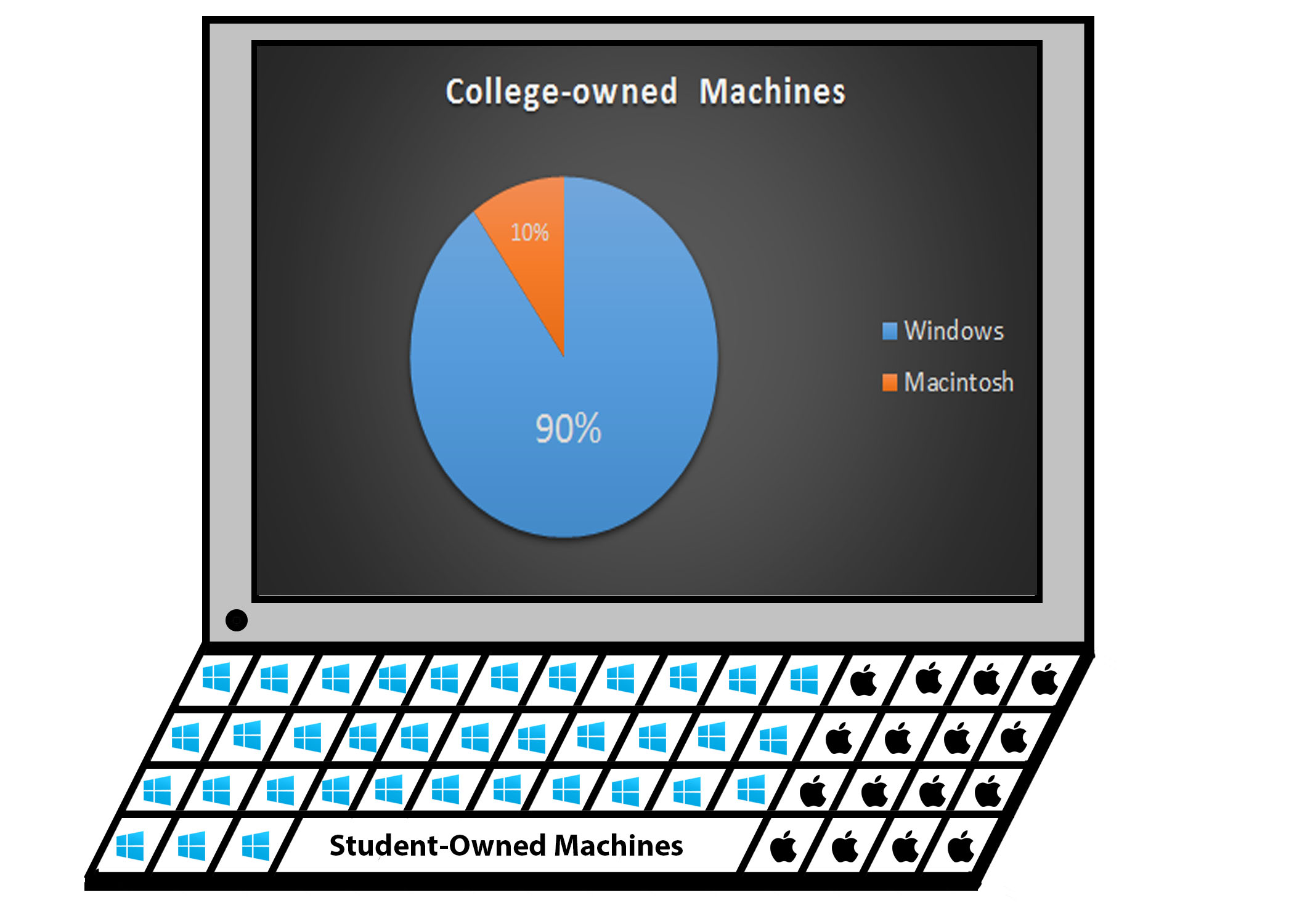 30% of student computers are Macintosh.
New Computer Recommendations
When purchasing a new machine, it is important to consider the longevity of a computer.  Purchasing a good machine now means it is likely to last the four years you are at Elizabethtown College.  Buying a cheap machine means it is likely to need to be upgraded or replaced during that same time period.
ITS recommends reading Consumer Reports as it provides excellent information on a variety of computers.  They also provide details on the repair history or various models of computers.  In general, most computers will work on the campus network.  It is just a matter of how well the computer will run the software.

Many times we are asked what machine to purchase.  Although we do not recommend a specific brand or model for students, we do provide general guidelines in the hardware we believe are best suited for college work.  These recommendations are based around the computers we are currently purchasing for the college.  We also strongly recommend getting a 3-4 year on-site service warranty.

Additional Resources:
• 2017 New Student Computer Specifications (Updated April 2017)
• Computing at Elizabethtown Frequently Asked Questions (Updated April 2017)
Computing at Elizabethtown Frequently Asked Questions (Updated April 2017)
Personal Devices
Campus Network
Software
Students should not purchase antivirus software. ITS requires that all computers on the network run Symantec Endpoint Protection and provides this software for free. It will be available for installation when students arrive on campus in the fall. If you plan to use the computer over the summer, ITS recommends you get a free trial version of antivirus software. These are generally available from most manufacturers when you purchase the computer. Please note that you will need to uninstall this trial antivirus program before installing the required software.
Students will be writing papers and creating presentations for many of their classes. Microsoft is collaborating with the College to provide free Microsoft Office to students. Currently enrolled students are eligible to install Microsoft Office on their computers and personal devices (up to 5). Download and installation instructions for installing this software are available in the ITS knowledgebase.
All computers connected to the network are also required to have the most current updates for their operating system. To save time when registering your computer in the fall, ITS recommends that you install any updates during the summer. Windows users can get their updates from http://www.windowsupdate.com and Macintosh Users should go to the Apple Menu and select Software Update. It is good practice to regularly check for new updates. These updates are as critical to your computer as running antivirus software.
Cable
Each room and common area is wired for cable television. Students receive the standard cable lineup provided by Comcast free of charge which includes over 100 HD and SD channels. A QAM-enabled tuner is required to connect to the cable system. Information about the tuner and a complete listing of the channels provided can be found on the ITS Cable Channels webpage.
First, navigate to XfinityOnCampus.com while connected to the campus Secure Wi-Fi. When prompted, enter Elizabethtown College as your School Name and press enter. This will take you to a login page. You should login with your E-town username and network password. Click Start Watching, and agree to the Terms of Activation. Add a descriptive name of your device. This will help you find your device later when you login. We recommend using your network username to avoid forgetting it. Click continue after you have named your device. This will take you to the Xfinity streaming site.
Additional Questions
The staff at the ITS Help Desk would be happy to answer any questions you may have about purchasing a computer or any technology at Elizabethtown College. The ITS Help Desk can be reached at 717-361-3333 or via e-mail at helpdesk@etown.edu.