Summer Scholarship, Creative Arts and Research Projects Program
The Summer Scholarship, Creative Arts and Research Projects (SCARP) program was created to support independent student research under the sponsorship of a faculty mentor. The program is a non-credit experiential learning program designed to enhance professional skills and provide a competitive advantage to participating students in the pursuit of career opportunities and graduate studies. At the same time, participating faculty scholars and researchers will benefit from student involvement in support of professional scholarship and research agendas.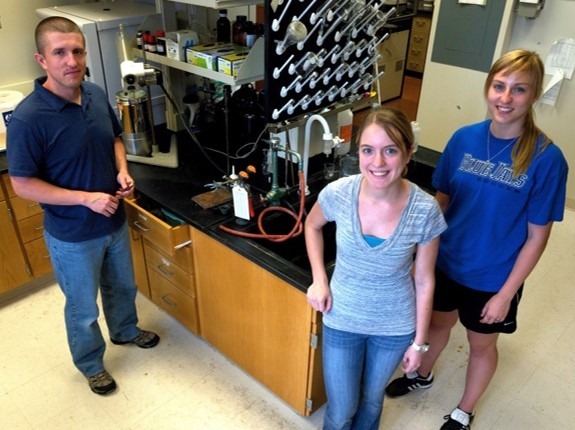 For participating in the program, students will receive a training stipend, room and board for the duration of their projects (from 3 to 10 weeks), and a professional experience as part of a scholarship/research community. They will also benefit from highly personalized mentoring from active researchers and scholars.
SCARP has been approved as a supervised research option that fulfills one of the two required Signature Learning Experiences (SLE) for Elizabethtown College students. Read more about SCARP and other Signature Learning Experiences here.
SCARP would like to give special congratulations to Dr. David Bowne and Dr. Jodi Yorty on being featured in CUR Quarterly Summer 2016 Edition for Dr. Bowne's TurtlePop project. You can read the article here.
Applications for Summer SCARP 2018 are now available. Faculty can access the application through Jayweb at this link 
https://jayweb.etown.edu/ICS/Faculty/Online_Forms/Sponsored_Research/SCARP.jnz. The proposal/application template can be viewed here for your convenience. This template should be attached to your proposal on Jayweb and can also be found on Jayweb. Applications are due by 5:00 pm on February 17th, 2018.    
Summer SCARP 2017
Friday June 9, 2017 | Lyet 153 | 9:00am-10:15am
Faculty Mentor
Student Researcher
Project Title
Dr. David Bowne, Biology
Jennah Krause  Alyssa Taylor
Influence of Land Cover on Predation On Simulated Turtle Nests
Dr. David Bowne, Biology Dr. Kristi Arnold, Art
Maria Anderson
Placida Paper: Transforming Algae Into Art
Wednesday June 21, 2017 | Lyet 153 | 9:00am-10:00am
Faculty Mentor
Student Researcher
Project Title
Dr. Alexandria Poole, Philosophy
Amanda Hafler
The Red, White and Blue Plate Special: The Politics of Food
Dr. Brenda Read-Daily, Engineering and Physics Sustainability
Blair Hendricks
Sulfur-based Drainage Systems: Where has all the nitrate gone?
Friday July 7, 2017 | Lyet 153 | 9:00 am-9:30 am
Faculty Mentor
Student Researcher
Project Title
Richard Papez, Chemistry
Sawa Al Absi Emily Kagarise
Synthesis and Analysis of Non-isocyanate Polyurethane Oligomers Copolymerized with Selected Adducts
Friday July 21, 2017 | Lyet 153 | 9:00 am-10:15 am
Faculty Mentor
Student Researcher
Project Title
Dr. Michael Roy, Psychology
Holly Gasper
Time Estimation Accuracy in Eyewitness Testimony
Dr. Gary Hoffman, Chemistry
Ryan Thomas
A Systematized Procedure for the Theoretical Study of a Diatomic Substance
Dr. Tim McDevitt, Mathematics Debra Sheesley, Dir. Institutional Research
  Bryn Woodling
  Predictive Enrollment Modeling at Elizabethtown College
Dr. Jane Cavender, Biology
Sara Luckenbill Renee Grill
Determination of the Cannabinoid Receptor 2 Variant Expression in Human Diploid Fibroblasts
Dr. Jane Cavender, Biology
Anushka Katikaneni
Effect of CBR2 agonists on the Growth rate of Human Diploid Fibroblasts expressing the Simian Virus 40 T antigen oncoprotein
Friday July 28 2017 | M & M Mars Room | 9:00 am-3:15 pm snack and lunch provided
Faculty Mentor
Student Researcher
Project Title
Dr. Debra Wohl, Biology
Suzie Al Absi
Sulfur-based Drainage Systems: If you build it, do they come? Microbial Community Analysis
Dr. Brenda Read-Daily, Engineering and Physics
Abby Kopytko Catherine Stencler
Stimulating Sulfur-based Autotrophic Denitrification in Agricultural Drainage: Removal Rates and Microbial Community Ecology
Dr. Ting Gu, Computer Science
Byron Lewandowski
Implementation and Parallelization of Lehr's Ciphertext-only Attack on Hill Cipher
Dr. Jane Cavender, Biology
Meghan Dolan
Expression level of nucleophosmin in SV40 T antigen transformed human diploid fibroblasts
Dr. Kurt DeGoede, Engineering and Physics
Margo Donlin
Reaction Time of Young Adult and Middle-Aged Men and Women During Forward Falls
Dr. Anya Goldina, Biology
Marquise Henry
Development of a Pheromone Detection Assay for Regulation of Invasive Crustacean Species
Jason Popp, Development
Tasin Choudhury
E-Town Means Business: Relationship Building in Higher Education
Dr. Tim McDevitt, Mathematics
Angela Wesneski
Probability Bingo Strategies
Dr. Alexandria Poole, Philosophy
Catherine Canfield
The Politics of Social Darwinism and Ethical Altruism
Dr. Joseph Wunderlich Engineering and Physics
Daniel Esteves Nathan Copros
Interfacing Raspberry Pi and other Electronics to Phoenix Contact Equipment
Mr. Jean-Paul Benowitz, Dir. of Student Transition Programs Center for Student Success
Jennifer Lloyd
Architectural Index of the Elizabethtown College Campus for Section 106 of the National Historic Preservation Act
Dr. Fletcher McClellan, Professor of Political Science
Maria Rajkowski
Educating for Service to Students with Intellectual Disabilities: An Evaluation of Best Practices and the Potential for Implementation at Elizabethtown College
Dr. Brenda Read-Daily, Engineering and Physics
Dominic Giancarlo
AASHE Stars Reporting
Dr. Anya Goldina, Biology
Amanda Herzog
Spatial Distribution of Invasive Crayfish in Lancaster County
Dr. Kurt DeGoede, Engineering and Physics
Josh Fishman
EMAT: Electronic Motor Assessment Tool