Summer Creative Arts and Research Program
The Summer Creative Arts and Research program (SCARP) was created to support independent student research under the sponsorship of a faculty mentor. The program is a non-credit experiential learning program designed to enhance professional skills and provide a competitive advantage to participating students in the pursuit of career opportunities and graduate studies. At the same time, participating faculty scholars and researchers will benefit from student involvement in support of professional scholarship and research agendas.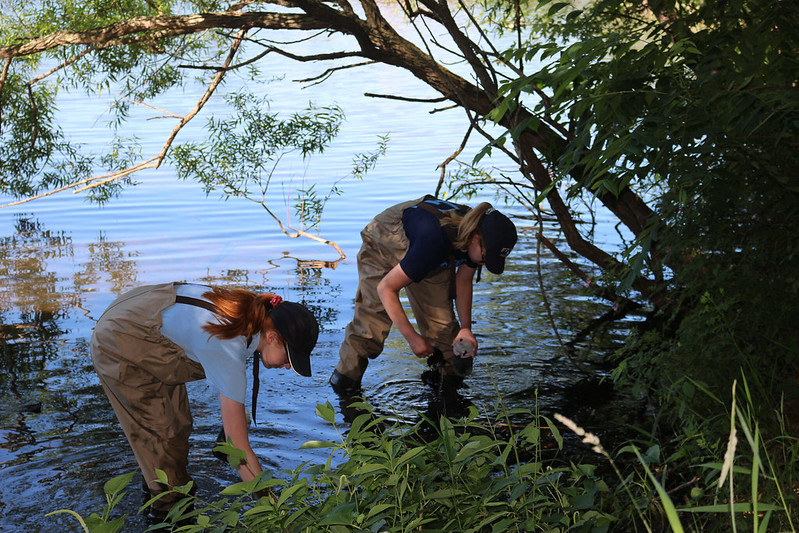 For participating in the program, students will receive a training stipend, room and board for the duration of their projects (from 4 to 10 weeks), and a professional experience as part of a scholarship/research community. They will also benefit from highly personalized mentoring from active researchers and scholars.
SCARP has been approved as a supervised research option that fulfills one of the two required Signature Learning Experiences (SLE) for Elizabethtown College students. Read more about SCARP and other Signature Learning Experiences here.
Previous projects can be found on the JayScholar @ Etown website.
For more information about SCARP, please contact Susan Mapp at mapps@etown.edu.
2022 SCARP Projects


Students will share their 2022 Summer research projects listed below at the 13th Annual Landmark Summer Research Symposium, hosted by UCMerced.
12th Annual Landmark Summer Research Symposium Program
Please contact ouimetc@etown.edu for more information about presentations.
Developing an Anatomy Inspired Education Website
Veronica Zerebilov
Dr. Anya Goldina and Ms. Carol Ouimet
Updating Anatomy and Physiology Curriculum to Reflect Diversity, Equity, and Inclusion
Alex Gates
Dr. Anya Goldina
Editing and Manuscript Preparation of The Cambridge Companion to Amy Beach
Amaris Wolfe
Dr. E. Douglas Bomberger
Travel Writing: Capturing British Culture through Prose and Image
Faith Morrow and Ashley Conway
Dr. Tara Moore
The Effects of Floodplain Restoration on Biodiversity
Jessica Marie Gutekunst and Ireland Keeney
Dr. David Bowne
Factors that Motivate and Maintain Daily E-Cigarette Usage: An Ecological Momentary Assessment Study of Young Adults
Aries Baringer
Dr. Elizabeth Dalton
Nucleobase-Modified Peptide Nucleic Acids for Sequence Selective Triple-Helical Recognition of Non-Coding RNA
Tristan Mabee and Angelina Giglio-Tos
Dr. James MacKay
Tumor virus upregulation of the splicing factor SAM68 in Human Diploid Fibroblast and its Correlation to Transformed Phenotype
Julia Randazzo, Isabella Goebel, Justin Enochs, Camilo Arenas and Alec Delgado
Dr. Jane Cavender
Launching A National Historic Preservation Trust "This Place Matters" Campaign Supporting Marietta, Pennsylvania's "Placemaking Heritage Plan," Through The National Honors Collegiate Council's "Place As Text."
Eric Schubert
Professor Jean-Paul Benowitz
Luminescence from Metal-Organic Frameworks: Structural Modification and Small Molecule Uptake
Brandon Molina and Nicholas Erisman
Dr. Jeffrey A. Rood
NetSec: Accelerated Malware Detection in Executable Files with Machine Learning
Ethan Weitkamp and Yusuke Satani
Dr. Jingwen Wang
The Tenets of Journalism: A Thematic Analysis of Journalists' Adherence to Traditional Journalistic Norms 
Abigail Lindsay
Dr. Kirsten Johnson
Family Business Professionalization: An Explanatory Research
Keely Grim
Dr. Petru Sandu
Oxovanadium Compounds as Potential Insulin Mimetic Molecules
Brandon Baxter
Dr. Jane Cavender
Blue Jay Journeys: Telling and Promoting the Stories of Etown's Humanities Alumni Through Audio and Video Pieces
Jessica Piergallini and Karlie Fromm
Dr. Kirsten Johnson and Dr. Kelly Poniatowski
Surface vs. Force- Myth or Truth?
Thomas Urrunaga
Dr. Kurt DeGoede
ETherapy App Development Phase II
AJ Botticelli
Dr. Kurt DeGoede
Development of Sensitive and Fast Immunoassay for Lyme Disease
Justin Cosgrove
Dr. Lauren E. Toote
Optimization of Simple and Inexpensive Paper-Based Assay for Lead-project #1
Yudeliz Sanchez
Dr. Lauren E. Toote
Optimization of Simple and Inexpensive Paper-Based Assay for Lead Project #2
Kyla DeWittie
Dr. Lauren E. Toote
Minimizing Stimulation Artifact in Real-Time Moment Decoding
Nathan Griffin
Dr. Mark Brinton
Mastery-Based-Learning to Study Anxiety and Belonging in Circuit Analysis (EGR 210)
Meghan Williams
Dr. Mark Brinton
Send it: An Ethnographic and Quantitative Examination of American Stage Rally Racing
Nyvani Molina
Dr. Michele Lee Kozimor
Laser Cutting and Engraving- Designing in the Digital Age
Emily Ward
Dr. Milt Friedly
Promoting Access to Archival Information on the Amish 
Emily Erdlen
Ms. Rachel Grove-Rohrbaugh
Engaging African American Male Youth in Assessing Factors Affecting Their Own Health and Wellbeing: A Photovoice and Community Engagement Approach
Samhar Alomani
Dr. Robert Aronson
Peacebuilding Since World War II: Relations Between Japan and the US
Misaki Yamaguchi
Dr. Shannon Haley-Mize
Synthesis of Hetero-Substituted Tetraphenylporphyrins
Will Davis
Dr. Tom Hagan