Global Scholars Program
The Global Scholars Program provides an enriched learning opportunity designed to go beyond the traditional college experience and prepare its participants to work in an increasingly global world. Over the course of their career, this select group of Elizabethtown students engage in a directed study of international and peace related issues under the supervision of a faculty mentor.  In additional to formal courses, they also participate in relevant co-curricular opportunities.  Upon graduating from the program, scholars earn a certificate and are recognized with the presentation of the Global Scholars medallion.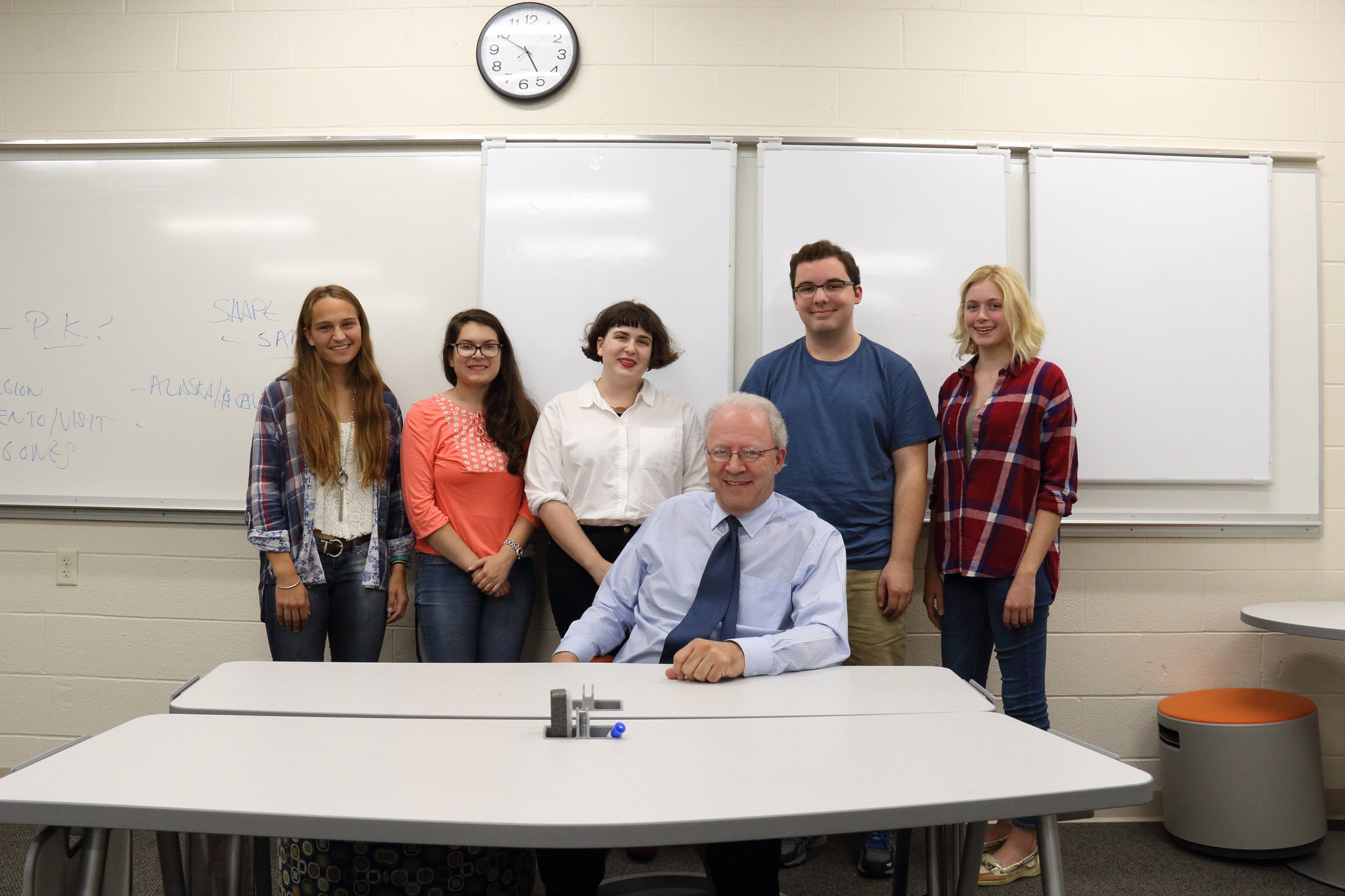 Global Scholars meeting Ambassador David Donoghue
2020 Cohort
Aileen Burke is from Mount Bethel, PA and a is member of the class of 2020. Interested in marketing and environmental ethics, Aileen is majoring in International Business. As a Global Scholar, Aileen hopes to learn more about international relations while studying abroad, completing an internship, and serving the Etown community.
Rachel Craft is an international business major with a peace and conflict studies minor.  Over winter break 208, Rachel visited coffee farmers in the Philippines and is currently working with those farmers to develop a "Coffee for Peace" social enterprise.  E-town Now for more details.
Emily Ennis is an international business major interested in changing the way the business profession is viewed as she makes a positive difference on a global scale. Emily is from Canterbury, New Hampshire, and has added minors in Spanish and Psychology to her academic program.  With an understanding of global interconnectedness, Emily plans to study abroad and complete an international internship.
Samantha Friedline is from Latrobe, PA and is double majoring in Secondary English Education and Asian Studies. She also works as a International Leader Assistant in the Office of International Students and Scholars. Samantha is particularly interested in certification in TESL and fostering diverse curriculum in the classroom. Also interested in travel, she plans to study abroad in Thailand in the fall of 2018 and hopes to utilize the Global Scholars program to make a lasting impact in her work with international students, while studying abroad, and later in the classroom.  
Emily Martin, from Ephrata, PA, was interested in the Global Scholars program for the opportunity to learn about the world and international relations beyond the classroom. Having visited Germany and Costa Rica, she has always had the desire to travel worldwide and help others. Her goal is to visit at least one more country before she graduates.
Natalie Nye is a double Major in International Business and Spanish. She has traveled around the world and is interested to learn more about cultures and global peace. As Natalie explains, "Global Scholars has given me opportunities to meet people in the UN and the EU and heard their thoughts on different topics. It has allowed me to see different views on topics and discuss different theories. I am looking forward to studying abroad, in Argentina and Spain, to learn even more about other cultures and continue to learn and understand the global world."  Natalie is passionate about art and hopes to explore the different types of art while abroad. 
Amity Radcliff is a Communications major from Macungie, PA. She is mainly interested in writing within communications. Amity was drawn to the Global Scholars Program because of her dedication to helping people and being kind to everyone. Amity plans to engage in three different Signature Learning Experiences, including study abroad, faculty-led research, and an internship.  Amity hopes to further her goals and carry out the mission of the Center while at Elizabethtown.
Michael Snyder is from Spring City, PA. He was attracted to the Global Scholars program because of the opportunities it provides for participating in a global environment. This knowledge will prove particularly useful within his major, International Business. The Global Scholars Program was one of Michael's deciding factors in choosing Elizabethtown College. With the goal of studying abroad in Germany, Michael is committed to the mission of the Center for Global Understanding & Peacemaking.
Jack Trego is from Exton, PA. He is a French major, with two minors in Philosophy and International Studies. He is excited to be a part of the Global Scholars program in order to help him connect to the global workspace, where he can expand his interests in international relations and communication. He intends to study in France during his Junior year and to take part in an internship while abroad.
2021 Cohort
Michael Derr-Haverlach, from Riegelsville, Pennsylvania, is an intended interfaith leadership studies major with minors in history, philosophy, and peace and conflict studies. He is a volunteer firefighter with the Riegelsville and Elizabethtown Fire Departments. He participates in the Called to Lead program, as well as in the game club and the photography club. In 2016, he was selected to attend the Summer Leadership Experience at the United States Military Academy at West Point.
Jeremy Eberly is a Finance and Economics double-major. Jeremy very interested in global happenings and plans on studying abroad with a short-term program. In 2018, Jeremy was a co-recipient of the Distinguished First-Year Student Award.
Madelyn Grossman is a proud member of the Elizabethtown College Class of 2021, where she is an elected representative in Student Senate and a member of the Accounting, Council for Exceptional Children, and Circle K clubs. She is actively involved in intramurals and is a resident of the Business Living-Learning Community. An intended accounting major, Maddie aspires to CPA licensure upon completion of her degree. Through participation in the Global Scholars program, she wishes to glean a heightened perspective and to gain practical experience in international business dynamics. A seasoned international traveler, Maddie looks forward to becoming more culturally immersed through opportunities involving study and internships abroad, service learning, and capstones Ultimately, she aims to establish a career in which she can have an innovative, global impact worthy of Elizabethtown College representation. In 2018, Madelyn was a co-recipient of the Distinguished First-Year Student Award.
Sofia Jurado is a first-year student studying English.
Carly Sherba is a first-year student intending to double-major in Japanese and computer science, and she is interested in going into game development in Japan. She also plans to minor in women and gender studies so that she can go abroad and study how gender and sexuality are viewed culturally in the everyday lives of Japanese people.
Matthew Smith is a History and Middle Eastern Studies major with a Peace and Conflict Studies minor. He has been interested in the Middle East since a trip to Israel and Palestine in 2013. Matthew was a recipient of the 2018 Anna Carper Award for Research Excellence for his research paper "Militarism as a Theme in Nazi Education and Youth Organizations" which he wrote for Dr. Newsome's First-Year Seminar on World War II. Through the Center for Global Understanding and Peacemaking, Matthew has traveled to Tokyo, Japan to the World Conference on Religions for Peace - Japan with Peacemaker-in-Residence Jonathan Rudy. In May 2018, Matthew also traveled to South Africa on a peace and conflict studies trip with Dr. Michael Roy. Matthew is currently the student assistant for the Center for Global Understanding and Peacemaking.
Alissa Stoneking is from Harrisburg, PA and is an intended political science and German double major with an international studies minor. She plans to study abroad in Germany and hopes to complete an internship in Washington, DC. As a Global Scholar, she hopes to learn more about international relations and wants to become a better global citizen.
2022 Cohort
Paula Groff intends to major in Accounting and minor in German. Paula hopes to become fluent in German, and study abroad in Germany. She participated in a foreign exchange program with her high school in which she spent two weeks in Germany with a host family. A few months later, her host partner came to the United States for two weeks. In Summer 2018, she interned with the Lancaster County Solid Waste Management Authority in their Finance department where she learned some of the basic accounting practices they do, as well as participated in meetings and discussions about how to improve the company from a financial perspective.
Rachael Ioele of West Chester, Pa is a member of the class of 2022. Rachael is an Economics major, and has an interest in minoring in finance. As a Global Scholar, Rachael plans to learn and study how economics and finance works in foreign countries. She intends to study and intern in London and The Netherlands during her junior and senior year.
Kelsey Jernegan is a Middle-level English Education major. She is interested in various minors offered at E-town that could enhance her teaching and global understanding. In the future, she hopes to receive a certification in TESL and possibly teach English in other countries. Over the past summer, Kelsey taught English in China for two weeks, alongside her mother and other teachers from the U.S. and the U.K. As a Global Scholar, Kelsey hopes to study abroad and gain insight into new cultures.
Livia Marga is majoring in Mathematics Secondary Education and is a part of the class of 2022. Livia was born in Slovakia, Europe, but was raised in Stroudsburg, Pennsylvania. In the summer, she was fortunate to have taught a twenty middle school students about German Language and enlightened them about German culture twice a week. Through the Global Scholars program, Livia hopes to travel abroad to meet people of various cultures so that she can bring a piece of the world back into her future classrooms.
Noah Stetler is an International Business major from Mifflinburg, PA. Noah is considering minoring in Spanish and, to further his language skills, would like to study abroad in Argentina. He is interested in working for a multinational corporation by expanding offices and businesses abroad. Language and travel have always been two of Noah's keen interests, and he is looking to further his knowledge of both of these areas by being a global scholar.
Zekiel Taliaferro is a member of the Class of 2022.

Madelyn Vingom is a member of the Class of 2022.
Benefits of the Program
An integrated educational program that will provide participants with the skills and knowledge to be global citizens.
Financial assistance of up to $2,000 toward the completion of Signature Learning Experiences (internship, research, study abroad, service learning, and/or a capstone project).  Students must apply for these funds and disclose other sources of possible funding.
A dedicated faculty mentor to provide educational and professional guidance (in addition to your major advisor).
Free membership to the World Affairs Council.
Association with a cohort of like-minded young scholars and social activities such as the annual banquet.
Certification from the Center for Global Understanding and Peacemaking and an enhanced job resume.
Program Requirements
Maintain a 3.2 GPA.
Complete two Signature Learning Experiences (internship, research project, study abroad, service learning, or capstone course) directly related to global understanding and/or peacemaking.  Both experiences must be approved by the scholar's designated faculty mentor.  It is anticipated that these will be the same Signature Learning Experiences required by your individual major.
Complete three classes from within the Asian Studies, International Studies, and/or Peace and Conflict Studies programs.  These may also count toward your core requirements and/or major requirements.  At least one of these courses must be taken before the junior year.  Additionally, at least one of the three must be at the 300 or 400 level.
Make a presentation related to Global Understanding and/or Peacemaking at Scholarship and Creative Arts Day.
Attend four CGUP-sponsored co-curricular lectures or events each school year.
Application Procedure
If you would like to apply for the Global Scholars program, submit the following to the Center for Global Understanding and Peacemaking (Nicarry 120, cgup@etown.edu): 
Letter of interest explaining why you wish to participate (limited to no more than 400 words).
Copy of your Elizabethtown College transcript.
Copy of your resume.
Only first and second year students are eligible to apply.