Elizabethtown College Peace Fellowship
One of the Center's major events in the fall is the visit of the annual Peace Fellow. The College hosts a several-day residency of a peace scholar, who connects with the campus community through a lecture and several other events. For more information, click here.
2023 Elizabethtown College Peace Fellow: Dr. Donna Hicks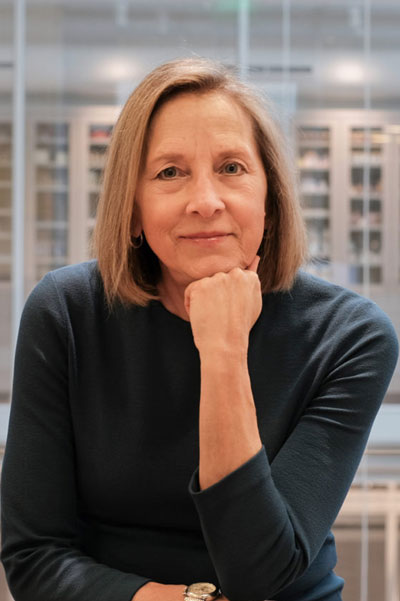 Donna Hicks Ph.D. is a renowned expert in international affairs, conflict resolution, and the essential role of dignity. 
With more than two decades of experience as an Associate at the Weatherhead Center for International Affairs at Harvard University, Dr. Hicks has become a global authority in her field. She is the author of two influential books, "Dignity: Its Essential Role in Resolving Conflict" and "Leading with Dignity: How to Create a Culture That Brings Out the Best in People".
Hicks has an impressive track record, having successfully applied her dignity model to organizations such as the World Bank, the United Nations, the U.S. Navy, and governments worldwide. Her expertise extends across various sectors, including business, healthcare, government, and education, where she helps leaders build cultures that encourage innovation and dignified human relationships.
While at Etown, Hicks will appear in an episode of Elizabethtown College Dean of the School of Arts and Humanities, Kevin Shorner-Johnson's Music & Peacebuilding podcast , and will also speak at several classes.
Learn More about Dr. Hicks: https://drdonnahicks.com/ 
Dr. Hicks will give her lecture titled 'Dignity: Its Essential Role in Resolving Conflict' on Monday, Oct. 30, at 7 p.m. in the Susquehanna Room, Myer Hall.
Past Elizabethtown College Peace Fellows include:
2022: Dr. Christena Cleveland, Social psychologist, public theologian, author, and activist
2020: Dr. Donald Brown, Elizabethtown College Scholar-In-Residence and Professor for Sustainability Ethics and Law at Widener University Commonwealth Law School
2019: Dr. Drew Hart, Professor of Theology at Messiah College
2018: Dr. John Reuwer, Emergency physician; Adjunct Professor of Peace and Justice at St. Michael's College
2017: Dr. Celia Cook-Huffman, Professor of Conflict Resolution at Juniata College
2016: Melanie Snyder '83, Executive Director at the Lancaster County Reentry Management Organization
2015: Dr. Celia Cook-Huffman, Professor of Conflict Resolution at Juniata College
2014: Dr. Robert Johansen, Senior Fellow at the Kroc Institute for International Peace Studies, University of Notre Dame
2013: Dr. Ellen Marshall, Associate Professor of Christian Ethics and Conflict Transformation at Emory University
2012: Matthew Southworth, Foreign Policy Legislative Associate at the Friends Committee on National Legislation
2011: Dr. John Dernbach, Co-Director of the Environmental Law Center at Delaware Law School
2010: Dr. Ron McAllister, Provost and Dean of the Faculty Emeritus at Elizabethtown College
2009: Joshua Casteel, Board of Directors of Iraq Veterans Against the War
2008: Dr. Caroline Hartzell, Director of the Globalization Studies Program at Gettysburg College
2007: Lee Griffith '70, author of God is Subversive: Talking Peace in a Time of Empire
2006: Andrew Murray, Director of the Baker Institute for Peace and Conflict Studies at Juniata College