Elizabethtown College Peace Fellowship
One of the Center's major events in the fall is the visit of the annual Peace Fellow. The College hosts a several-day residency of a peace scholar, who connects with the campus community through a lecture and several other events. For more information, click here.
2020 Elizabethtown College Peace Fellow: Dr. Donald A. Brown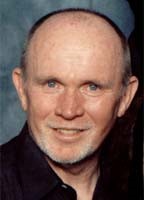 Donald A. Brown is Scholar In Residence and Professor for Sustainability Ethics and Law, Widener University Commonwealth Law School where he teaches International Environmental Law, Human Rights Law, and Climate Change Law. He holds a B.S in Commerce and Engineering Sciences from Drexel University, a J.D. from Seton Hall University School of Law, and an M.A in Liberal Studies majoring in philosophy and art from the New School University where he also was in the PhD. In 2013 he was a visiting Professor, Nagoya University Law School, Nagoya, Japan where he taught human rights law and comparative international law. In 2014 he was a visiting lecturer at Griffith University in Brisbane Australia where he lectured on climate change ethics issues. He is also a contributing author to the Intergovernmental Panel on Climate Change (IPCC), 5th Assessment Report.

Previously he was Associate Professor of Environmental Ethics, Science, and Law at the Pennsylvania State University. Prior to that, he was an environmental lawyer for the states of Pennsylvania and New Jersey and Program Manager for UN Organizations at the US Environmental Protection Agency's Office of International Environmental Policy where he represented US EPA negotiating sustainability issues at the UN including climate change, international water issues, biodiversity, and Agenda 21. His newest book was published in 2012 by Rutledge, Navigating the Perfect Moral Storm, Climate Ethics. He has written over 180 books, book chapters, or articles on environmental and sustainability ethics and law. He manages an award-winning web site, ethicsandclimate.org, which examines ethical issues that arise in climate change policy formation. He has taught or lectured on climate change issues in 38 countries approximately 70 times. In November 2019, he was awarded by UNESCO in Paris, the Avicenna Award for Excellence in Ethics and Science for his work on climate change ethics.
CV: https://commonwealthlaw.widener.edu/files/resources/browndonaldcv-sep-18.pdf
Dr. Brown will give a lecture on Wednesday, October 28 - "Why nations must comply with their ethical obligations to prevent climate catastrophe."
Past Elizabethtown College Peace Fellows include:
2019: Dr. Drew Hart, Professor of Theology at Messiah College
2018: Dr. John Reuwer, Emergency physician; Adjunct Professor of Peace and Justice at St. Michael's College
2017: Dr. Celia Cook-Huffman, Professor of Conflict Resolution at Juniata College
2016: Melanie Snyder '83, Executive Director at the Lancaster County Reentry Management Organization
2015: Dr. Celia Cook-Huffman, Professor of Conflict Resolution at Juniata College
2014: Dr. Robert Johansen, Senior Fellow at the Kroc Institute for International Peace Studies, University of Notre Dame
2013: Dr. Ellen Marshall, Associate Professor of Christian Ethics and Conflict Transformation at Emory University
2012: Matthew Southworth, Foreign Policy Legislative Associate at the Friends Committee on National Legislation
2011: Dr. John Dernbach, Co-Director of the Environmental Law Center at Delaware Law School
2010: Dr. Ron McAllister, Provost and Dean of the Faculty Emeritus at Elizabethtown College
2009: Joshua Casteel, Board of Directors of Iraq Veterans Against the War
2008: Dr. Caroline Hartzell, Director of the Globalization Studies Program at Gettysburg College
2007: Lee Griffith '70, author of God is Subversive: Talking Peace in a Time of Empire
2006: Andrew Murray, Director of the Baker Institute for Peace and Conflict Studies at Juniata College