Elizabethtown College Peace Fellowship
One of the Center's major events in the fall is the visit of the annual Peace Fellow. The College hosts a several-day residency of a peace scholar, who connects with the campus community through a lecture and several other events. For more information, click here.
2022 Elizabethtown College Peace Fellow: Dr. Christena Cleveland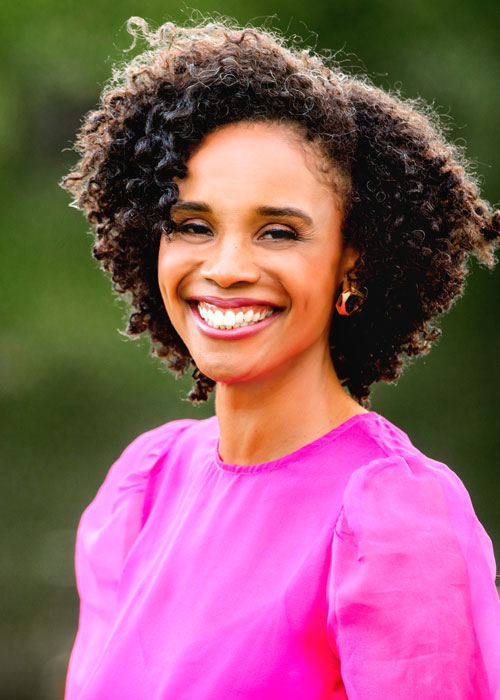 Christena Cleveland Ph.D. is a social psychologist, public theologian, author, and activist. A weaver of
Black liberation and the sacred feminine, she integrates psychology, theology, storytelling, and art to stimulate our spiritual imaginations. She recently completed her third full-length book, "God is a Black Woman," which details her 400-mile walking pilgrimage across central France in search of ancient Black Madonna statues, and examines the relationship among race, gender, and cultural perceptions of the Divine.

Dr. Cleveland holds a Ph.D. in social psychology from the University of California Santa Barbara as well as an honorary doctorate from the Virginia Theological Seminary. An award-winning researcher and author, Christena is a Ford Foundation Fellow who has held faculty positions at several institutions of higher education—most recently at Duke University's Divinity School, where she led a research team investigating self-compassion as a buffer to racial stress.
Learn More about Dr. Cleveland: https://www.christenacleveland.com/ 
Dr. Cleveland will give a lecture on Monday, October 3 at 7 p.m. - "THE LIVING GHOSTS OF ANTI-BLACKNESS"
Past Elizabethtown College Peace Fellows include:
2020: Dr. Donald Brown, Elizabethtown College Scholar-In-Residence and Professor for Sustainability Ethics and Law at Widener University Commonwealth Law School
2019: Dr. Drew Hart, Professor of Theology at Messiah College
2018: Dr. John Reuwer, Emergency physician; Adjunct Professor of Peace and Justice at St. Michael's College
2017: Dr. Celia Cook-Huffman, Professor of Conflict Resolution at Juniata College
2016: Melanie Snyder '83, Executive Director at the Lancaster County Reentry Management Organization
2015: Dr. Celia Cook-Huffman, Professor of Conflict Resolution at Juniata College
2014: Dr. Robert Johansen, Senior Fellow at the Kroc Institute for International Peace Studies, University of Notre Dame
2013: Dr. Ellen Marshall, Associate Professor of Christian Ethics and Conflict Transformation at Emory University
2012: Matthew Southworth, Foreign Policy Legislative Associate at the Friends Committee on National Legislation
2011: Dr. John Dernbach, Co-Director of the Environmental Law Center at Delaware Law School
2010: Dr. Ron McAllister, Provost and Dean of the Faculty Emeritus at Elizabethtown College
2009: Joshua Casteel, Board of Directors of Iraq Veterans Against the War
2008: Dr. Caroline Hartzell, Director of the Globalization Studies Program at Gettysburg College
2007: Lee Griffith '70, author of God is Subversive: Talking Peace in a Time of Empire
2006: Andrew Murray, Director of the Baker Institute for Peace and Conflict Studies at Juniata College