Ware Lecture on Peacemaking
Hosted annually by the Center for Global Understanding and Peacemaking, the Judy S. '68 and Paul W. Ware Lecture on Peacemaking is the Center's signature event. The lecture is made possible by a generous grant from Judy S. '68 and Paul W. Ware of Lancaster, Pa. The Ware Lecture has brought Nobel Peace Prize recipients, influential journalists, and political leaders from around the world to Elizabethtown.
The Ware Lecture is open to the public. Tickets are free, but must be reserved by calling 717-361-4757 or emailing lecturetickets@etown.edu.

2020 Ware Lecturer: Jeremy Gilley, Founder of Peace One Day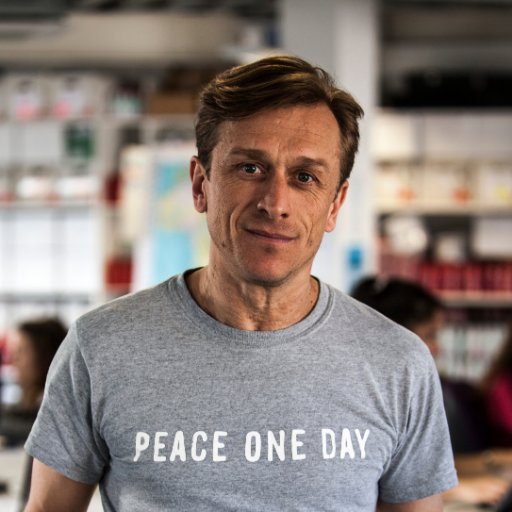 Wednesday, March 18, 7:30 pm
Leffler Chapel and Performance Center
Following a successful career as an actor and documentary film maker, Jeremy Gilley founded the non-profit project Peace One Day in 1999. His big idea was to establish one day every year where every single warring nation would lay down its arms.
"In September 2001, as a result of Jeremy's efforts, a General Assembly resolution was unanimously adopted by UN member states, establishing 21 September as an annual day of global ceasefire and non-violence on the UN International Day of Peace – Peace Day. Peace Day is an opportunity for UN agencies and NGOs to focus their ongoing life-saving activities within a global context. The impact of a day of global ceasefire and non-violence cannot be underestimated. Throughout the years, millions of people have been active on Peace Day in every country of the world, and hundreds of organisations have carried out life-saving activities in areas of conflict" (http://www.peaceoneday.org/jeremy-gilley). 
Judy S. Ware '68 on the Ware Lecture:
Listen to Etown's 2019 Music Everywhere Playlist on Spotify! The Music Everywhere Playlist was created by the Elizabethtown College Community in anticipation for the 2019 Ware Lecture featuring members of Silkroad.
Past Ware Lecturers
2019 - Silkroad Ensemble, Musical organization created to promote Cross-Cultural Understanding and Peacemaking
2018 - Karen Armstrong, Officer of the Most Excellent Order of the British Empire and founder of the Charter for Compassion
2017 - Jonathan Haidt, Professor of Ethical Leadership at the NYU School of Business
2016 - Kim Phuc, Vietnam War survivor, UNESCO Goodwill Ambassador, and founder of the Kim Phuc Foundation International
2015 - Nicholas Kristof, Pulitzer Prize-Winning New York Times Columnist
2014 - Tawakkol Karman, 2011 Nobel Peace Prize Laureate
2013 - Leymah Gbowee, 2011 Nobel Peace Prize Laureate
2012 - Muhammad Yunus, Nobel Peace Prize recipient and founder of Grameen Bank
2011 - Shirin Ebadi, Nobel Peace Prize recipient and founder of the Association for Support of Children's Rights in Iran
2010 - Terry Waite, founder of Hostage UK and Y Care International, and U.K. Ambassador for the Freeplay Foundation
2009 - Jody Williams, Nobel Peace Prize recipient and chairman of the International Campaign to Ban Landmines
2008 - F. W. de Klerk, Nobel Peace Prize recipient and former president of South Africa
2007 - Mary Robinson, former president of Ireland and chair of Realizing Rights: The Ethical Global Initiative