Ware Lecture on Peacemaking
Hosted annually by the Center for Global Understanding and Peacebuilding, the Judy S. '68 and Paul W. Ware Lecture on Peacemaking is the Center's signature event. The lecture is made possible by a generous grant from Judy S. '68 and Paul W. Ware of Lancaster, Pa. The Ware Lecture has brought Nobel Peace Prize recipients, influential journalists, and political leaders from around the world to Elizabethtown.

2023 Ware Lecturer: Jemele Hill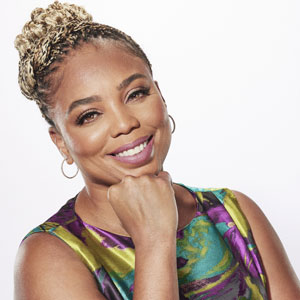 April 11, 2024 7 P.M.
Leffler Chapel and Performance Center
Learn from Your Past. Live by Your Convictions.
Jemele Hill, an Emmy Award-winning journalist and Webby Award winner, is actively engaged in work that builds the capacity for sustained peace by initiating sometimes difficult, but necessary conversations around systemic oppression. She has spent more than 25 years exploring the nuanced intersection of race, social justice, politics, and sports. On her podcast, "Jamele Hill is Unbothered" she conducts intimate interviews with some of the biggest names and most thought-provoking contributors to culture, music, and entertainment. In her keynote, Hill will discuss how trauma and adversity in her childhood have provided her with a unique perspective as a journalist and an advocate for living authentically with multi-layered identities, using her platform to bravely address complex issues in order to build a stronger, more just society for all. Tickets can be purchased here.
Judy S. Ware '68 on the Ware Lecture:
Past Ware Lecturers
2022 - Valerie Jarrett, New York Times Best-Selling Author and Chief Executive Officer of the Barack Obama Foundation
2021 - Karima Bennoune, Longtime Human Rights Advocate and Former Amnesty International Legal Advisor
2020 - Jeremy Gilley, Founder of Peace One Day
2019 - Silkroad Ensemble, Musical organization created to promote Cross-Cultural Understanding and Peacemaking
2018 - Karen Armstrong, Officer of the Most Excellent Order of the British Empire and founder of the Charter for Compassion
2017 - Jonathan Haidt, Professor of Ethical Leadership at the NYU School of Business
2016 - Kim Phuc, Vietnam War survivor, UNESCO Goodwill Ambassador, and founder of the Kim Phuc Foundation International
2015 - Nicholas Kristof, Pulitzer Prize-Winning New York Times Columnist
2014 - Tawakkol Karman, 2011 Nobel Peace Prize Laureate
2013 - Leymah Gbowee, 2011 Nobel Peace Prize Laureate
2012 - Muhammad Yunus, Nobel Peace Prize recipient and founder of Grameen Bank
2011 - Shirin Ebadi, Nobel Peace Prize recipient and founder of the Association for Support of Children's Rights in Iran
2010 - Terry Waite, founder of Hostage UK and Y Care International, and U.K. Ambassador for the Freeplay Foundation
2009 - Jody Williams, Nobel Peace Prize recipient and chairman of the International Campaign to Ban Landmines
2008 - F. W. de Klerk, Nobel Peace Prize recipient and former president of South Africa
2007 - Mary Robinson, former president of Ireland and chair of Realizing Rights: The Ethical Global Initiative