Find the Major that is Right for You
The Department of Biological and Environmental Sciences at Elizabethtown College offers three department-specific majors, and four interdisciplinary majors. Students interested in medicine, physical therapy, dentistry, etc. follow a specialized concentration in Health Professions within the Biology major. Regardless of the chosen major, our students are provided a rigorous academic experience and advising and mentoring, which leads to graduates prepared for direct entry into the workforce or to competitive graduate school programs.
Request Information About Biology at Etown
Affiliate Programs
From the Department of Biological and Environmental Sciences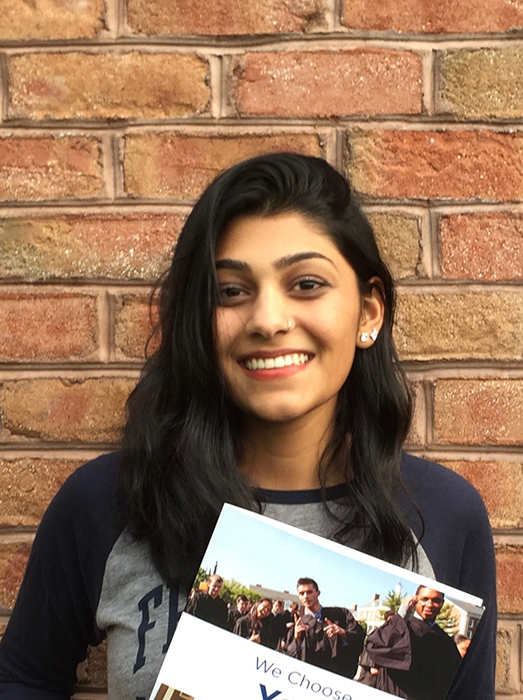 Amal Ismail, sophomore biology – premed major with a minor in interfaith leadership studies
Earned her CNA certification through a partnership with Masonic Villages
"I helped the residents dress and feed themselves. I helped them communicate."
When Amal Ismail began certified nurse's assistant (CNA) training at Masonic Villages, a retirement community in Elizabethtown, Pennsylvania, the work was different than what she had expected. Ismail worked in the dementia unit where she found herself challenged in some uncomfortable situations. She learned to work her way through them and, most importantly, she confirmed that she wants to continue her schooling in healthcare. The experience, she said, fits well into her plans to attend medical school after graduation in 2020. In exchange for the CNA certification, Ismail will continue to work with Masonic Villages through next June.
From the Department of Biological and Environmental Sciences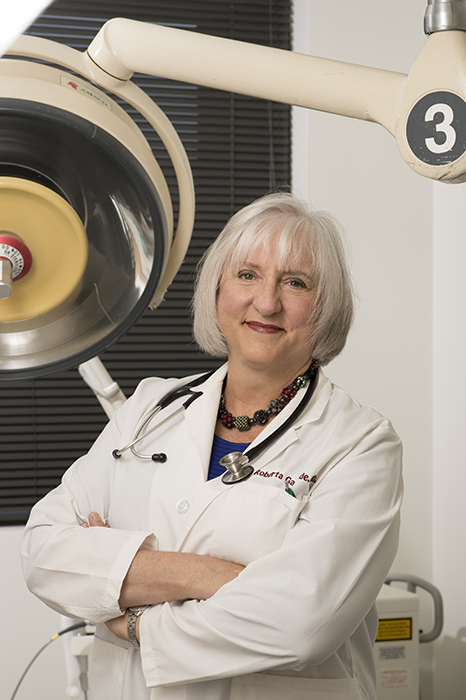 Roberta Gartside '76, Society for Women's Health Research board chair

Helping to promote women's health research.
"I'm fulfilling 'educate for service'. You just never know where that's going to take you."
After Roberta Gartside graduated from Elizabethtown College in 1976 with a degree in biology, she studied melanoma for a year with Dr. Lenard Goldman at the Skin and Cancer Hospital in Philadelphia, then she started medical school at Temple. Gartside completed a residency in general surgery at the University of Vermont and plastic surgery at George Washington University. In 1988, she began her own practice and started work with Society for Women's Health Research, a Washington, D.C., nonprofit, whose research focuses specifically on the biological difference of male and female response to medication, women in clinical trials and the effects of disorders—migraines, incontinence, heart disease--based on gender. This year Gartside was named the Society's board of director's chair.
From the Department of Biological and Environmental Sciences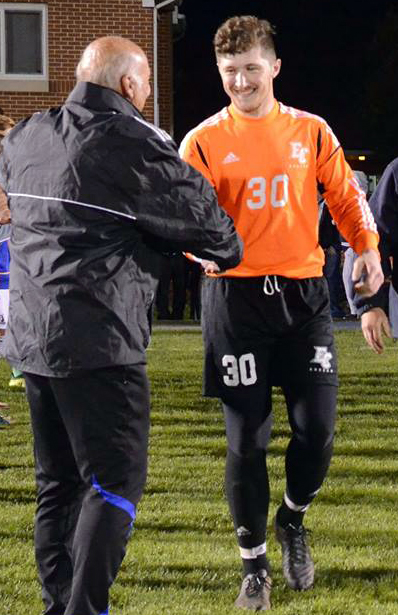 Aaron Belman '18, CNA, biology major, allied health concentration
following path toward ophthalmology
Aaron Belman spent last summer training to be a certified nursing assistant (CNA) through a special partnership between Elizabethtown College and Masonic Villages. In addition to studying the healthcare system, administration and long-term and acute healthcare, he cared for patients by learning proper ways to assist them in bathing, eating, using the bathroom and dressing. The work, he said, was inspirational, confirming for him that he's on the right career path. "Imagine every task you do in a day—get up, brush your teeth, use the bathroom, dress, eat. Imagine you can't do those things. I could help them. It made me feel like I was in the right job."
From the Department of Biological and Environmental Sciences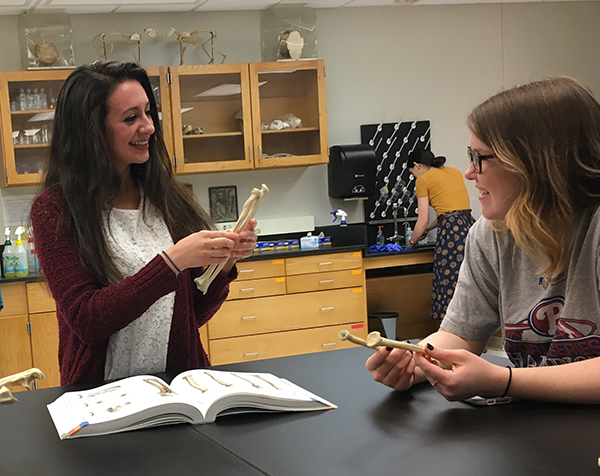 Danielle Barattini '18, occupational therapy
teaching assistant in human anatomy and physiology
When Danielle Barattini was in elementary school, she visited an exhibit of plastinated cadavers—preserved through plastic injection for the intent of anatomical study—and was fascinated by the ability to see, in detail, what was inside her own body. Fast forward almost two decades, and Barattini has had the opportunity not only to study preserved cadavers but also to share this knowledge with other students as a teaching assistant in the Elizabethtown College anatomy lab. "It's an amazing teaching tool. For an occupational therapist, it is important to know the placement of muscles and what muscles will be affected by stroke or spinal cord injury."
From the Department of Biological and Environmental Sciences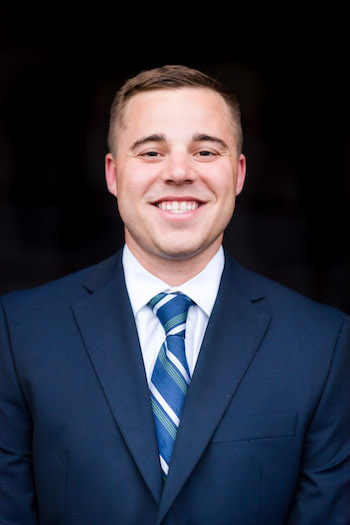 Andrew Fry '16, Biology Major with Biochemistry Minor
Went on to Graduate from the Syidney Kimmel Medical College at Thomas Jefferson University
Andrew Fry was sure that he wanted to pursue a career in the medical field going into college, and the education that he received at Elizabethtown College prepared him for the Medical College Admission Test (MCAT), which he scored well enough on to secure acceptance into many of the top medical schools in the country. Every class he had at Etown prepared him for both the MCAT's and a life in medicine. Andrew plans to work as a Family Medicine Physician in Central Pennsylvania. Andrew was also a student athlete on the men's basketball team, where he made many lifelong friends. "The Etown Biology department is comprised of an exceptional group of professors. Their depth of knowledge and enthusiasm makes for an optimal learning environment. Smaller class sizes and a sense of community allows each student to maximize their experience in each course. I know I could not have asked for a better college experience and it has led me down an amazingly fulfilling career path."
From the Department of Biological and Environmental Sciences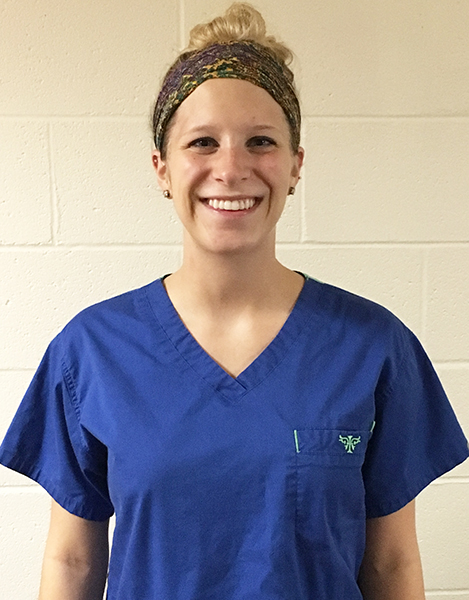 Marlee Schwalm '18, biology and religious studies
Working as a student assistant in the College's cadaver lab puts her a step ahead when applying to grad schools.
After graduating from Elizabethtown College next spring, Marlee Schwalm plans to earn a graduate degree as a physician's assistant. As she begins her graduate work, she will have a significant advantage over her fellow students. Since the summer, Schwalm has worked in Elizabethtown College's temperature-controlled anatomy lab with two donated cadavers, preparing them for study in the classroom so she and her classmates can see, firsthand, the inner workings of the human body. "You can look at pictures, but to actually work with a cadaver is a great experience. It's not one I would have normally had at the undergraduate level."   
Put Science into Service
Biology students at Etown College take the motto "Educate for Service" seriously. As part of your genetics coursework in your sophomore year, you will work with clinics, non-profit agencies and other groups dedicated to helping people with genetic disorders. In other classes, you'll also have the chance to volunteer your time at a hospital, monitor water quality in local streams, or assist with ecological restoration projects! Our students become ingrained into the fabric of our community by putting their education to use for organizations that need it most.
After Graduation
Graduates from the Department of Biological and Environmental Sciences at Etown College see success both in their professional and personal lives. From placements into top medical schools such as University of Pennsylvania and Penn State Hershey College of Medicine, to research at labs around the country, our former students consistently cite their experiences at Etown as the catalyst that launched their careers and introduced them to new passions.
Learn in High-Tech Labs
Our Department is located in the Masters Center for Science, Mathematics and Engineering, and is home to nine teaching laboratories, ten research laboratories and other specialized facilities equipped with cutting-edge instrumentation. From genetics and biotechnology labs, to a human cadaver lab, our students expertly practice lab procedures, and graduate with superior theoretical knowledge with field experience to match it.
Make Discoveries with One-on-One Faculty-Supervised Research
As a student in the Department, you can take part in real-world research with one of your professors. You might even share your findings by co-authoring a paper, or presenting at a regional or national conference!
Experiential Learning Opportunities
Out-of-class experiences will make you an outstanding candidate for acceptance into our 4+1 master's program, graduate or professional schools, (MD, DO, PA, DPT, PhD, MS) or for immediate employment positions! With the Department of Biological and Environmental Sciences, you'll have the chance to participate in:
Shadowing Experiences
Leadership Opportunities
Research
Field Work