The Blue Bean Cafe
Enjoy a variety of gourmet coffees, teas, ice cream treats, delicious pure fruit smoothies, and an assortment of baked treats, featuring the famous Elizabethtown College carrot cake!
Looking a special birthday surprise for a friend? Why not consider the Blue Bean Birthday Cupcake package featuring a specially decorated cupcake in a festive box with a fun birthday noisemaker, and a birthday tag, all tied up and ready to present to someone special! Also, don't miss the weekly homemade baked good and why not try a Bean Blaster - a delicious ice cream creation with your choice of mix-ins, only $3.99!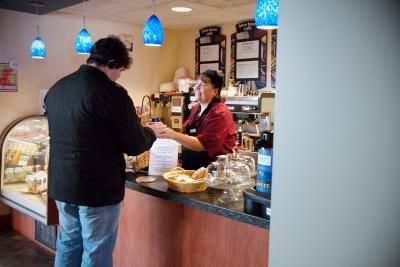 Baked Item of the week -      For the week of October 16th, we feature a "Mummy" Sugar cookie, only $.99 each!  Next week, look for  spooky Halloween decorated cupcakes, $1.50 each

Smoothie of the month - For October, we feature the Spiced Chai Smoothie

The Blue Bean is located on the first floor of the Baugher Student Center and is open during the academic year Monday through Thursday from 7:45 a.m. until 10 pm and Friday from 7:45 a.m. until 4 p.m. Closed every Saturday and Sunday.