The Marketplace
Located on the second floor of the Baugher Student Center, the Marketplace is the primary residential dining location on campus. The Marketplace is an "All-You-Care-To-Eat" facility for students using their meal plans.
In house dining is available to all guests.  The OZZI to-go system is avialable to anyone with a current, valid Etown ID.
In addition to meal plans used on the Etown College ID card, the Marketplace accepts cash, credit card, Jay Bucks and campus charge with a valid Etown College ID.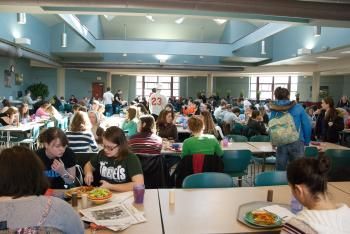 MARKETPLACE SUMMER HOURS OF OPERATION
Monday through Friday
Breakfast 7 - 9 am       Lunch 11 am - 1 pm      Dinner 4:30 pm - 6 pm
MARKETPLACE ACADEMIC YEAR  HOURS OF OPERATION

Monday - Thursday 7 am - 3 pm and 4 pm - 7:30 pm
Friday, Saturday and Sunday 7 am - 3 pm and 4 pm - 7:00 pm
At the Door prices for the Academic year 2021/2022:

Breakfast - $7.70
Lunch/Brunch - $12.50
Dinner - $14.75
Marketplace Features:
The Center Plate
From lasagna to chicken tenders, the Center Plate houses the main course items.
The Corner Grill and Deli
The grill and deli serves up made to order sandwiches and freshly grilled hamburgers and hotdogs.
The Mongolian Grill
Offered every Monday and Wednesday, assorted veggies, proteins and sauces of the day are cooked to order on the Mongolian grill.
The Garden Stop
The garden stop features fresh salads with countless toppings, fresh fruit, and yogurt!  A choose-your-own Salad Toss option is available Tuesday, Thursday for lunch and dinner and Friday for lunch.
The Hearth
Made in our own brick oven, enjoy an assortment of freshly made pizzas. Also, indulge in our soup with two new flavors every day.
The Pasta Sauté
Offered every Monday and Wednesday, the pasta sauté features made to order pasta dishes. Just pick your type of pasta, sauce, and toppings!
The Omelet Station
Want an omelete but it's dinnertime? We make made to order omeletes  right in the center of the marketplace.
The Baker's Rack
Have a sweet tooth? Snack all day long on freshly made desserts or serve yourself a soft-serve ice cream cone.