Promotional Website Calendars
The information from 25Live is used on promotional calendars throughout the College's website as well as in weekly emails, text alerts and through various social media channels. While an event may show on multiple calendars, there is still just one event in the scheduling system.
If you have questions, comments or suggestions about promotional calendars please contact Zach Klinedinst at klinedinstz@etown.edu.
If you would like to develop a calendar for your organization please submit a request through OMC.
Why Promotional Calendars
The promotional calendars are intended to help distill the numerous campus events into digestible, searchable and user-friendly listings. All calendars are publicly available, and anyone can sign up for a calendar's weekly email.
How do I promote my event?
The very first step is to schedule your event through 25Live.
Select the Primary Sponsor and any Additional Sponsor(s) that might be hosting the event. This will ensure that the event is shown on organizational calendars, if applicable. Tip: "Star" your organization for faster searching in the future.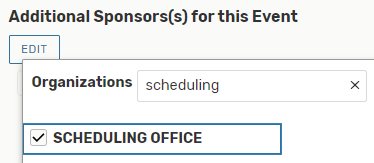 To give a little more detail about the event, utilize the Event Description box to give any additional and relevant information. This description will show on the public calendars as well as giving you another chance to "sell" your event.

Example:
You may name an event: "OMC Social Media Lecture" for internal and searchable purposes, HOWEVER, you should craft your Title and Description to "sell" your event:
Title: Social Media Marketing and Your Students
Description: Discover how you can attract students, make connections and exceed your admissions goals. Rachel Vandernick, Web Content and Social Media Manager, will show you four actions you can implement now to see the benefits.
Free and open to the public, but tickets are required.
Contact: 717-555-1234 or person@etown.edu for more information
Lastly, make sure you click the button for "Show on Public Calendars."
Choose "Add a Custom Attribute"
Select "Show On Public Calendars"
Click on the toggle to move it to "Yes"