COM Experience: October 9, 2017
Come to our Communications Day and experience the hands-on education you can receive as a communications student at Elizabethtown College. You'll have opportunities to get in front of the camera and work behind the scenes, all while interacting with current Elizabethtown students and faculty.
At Communications Day you'll experience what it's like to be a student in our friendly and accomplished Department of Communications by discovering the many options and opportunities the curriculum has to offer.
During our COM Experience you'll have the opportunity to: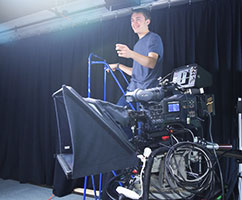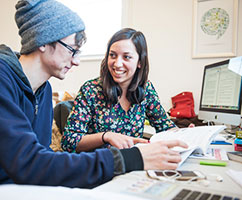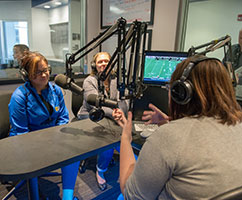 October 9, 2017 Schedule
Student Schedule
| Time | Session | Location |
| --- | --- | --- |
| 8:30 - 9:00 a.m. | Welcome and Continental Breakfast | Steinman Hall, 2nd Floor Lounge |
| 9:00 - 10:00 a.m. | Inside the News Station/PR Crisis | TV Studio/Mac Lab |
| 10:00 - 11:00 a.m. | Know Your Brands | Mac Lab |
| 10:30 - 11:00 a.m. | Producing News on the Move | Remote Bus |
| 11:00 - 11:30 a.m. | Alumni Speaker | BLR |
| 11:30 - 12:20 p.m. | Lunch with E-town Students | Marketplace |
| 12:20 - 12:50 p.m. | Exploring the Road to Radio Fame | Radio Studio |
| 12:50 - 1:15 p.m. | Closing Remarks/Optional Dismissal | Steinman Hall, 2nd Floor Lounge |
| 1:15 - 2:00 p.m. | Tour of Campus (optional) | Campus |
| 2:00 - 3:20 p.m. | Class Observation (optional) | Steinman Hall, 2nd Floor |
Parent Schedule
| Time | Session | Location |
| --- | --- | --- |
| 8:30 - 9:30 a.m. | Welcome and Continental Breakfast | Steinman Hall, 2nd Floor Lounge |
| 9:30 - 10:30 a.m. | Signature Learning Experiences | Steinman Hall, 204 |
| 10:30 - 11:00 a.m. | Financial Aid | Steinman Hall, 204 |
| 11:00 - 11:30 a.m. | Alumni Speaker | BLR |
| 11:30 - 12:20 p.m. | Lunch with Professors | Marketplace |
| 12:20 - 12:50 p.m. | Admissions | Steinman Hall, 211 |
| 12:50 - 1:15 p.m. | Closing Remarks/Optional Dismissal | Steinman Hall, 2nd Floor Lounge |
| 1:15 - 2:00 p.m. | Tour of Campus (optional) | Campus |
October 10, 2017 Schedule for optional overnight stay
| Time | Session | Location |
| --- | --- | --- |
| 8:30 a.m. | Breakfast at the Marketplace | Marketplace |
| 9:30 a.m. | Communications Class Observation | Steinman Hall, 2nd Floor |
| 11:00 a.m. | Campus Tour (optional) | Campus |
| 12:00 p.m. | Lunch at the Marketplace | Marketplace |
| 1:00 p.m. | Checkout (overnight guests may plan to meet their parents at this time) | Admissons Lobby |
Registration is closed. If you have questions please contact: 717-361-1262 com@etown.edu