Founders Hall
Who to contact

Gene Thomas, Area Coordinator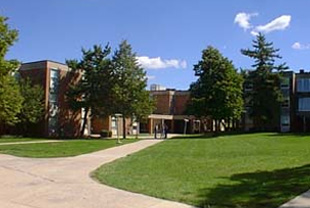 ---
History
Founders opened in 1971 and the towers were named for the four founders: Samuel H. Hertzler, George Ness Falkenstein, Isacc Newton Harvey Beahm, and Jesse C. Ziegler. Founders began as a residence hall for coeducational learning communities.
General Information
Founders is home to about 326 students in a setting of all double rooms. The building houses students from all cohorts. Founders is comprised of four towers (A, B, C, and D) with B and C towers connected by the main lounge. The towers are square shaped with student rooms located in the corners. All floors are co-ed. Each corner has a bathroom and most floors have small study lounges. Each tower has its own laundry facility. Founders is home to the Stonewall, Wellness, Business Block and Partners in Engineering (PiE) learning communities.

Building Information
Walls: Cinderblock
Floors: Carpet in rooms and hallways (a couple rooms have vinyl flooring instead of carpet).
Furniture: Each student will have a twin bed that can be adjusted for height, a desk and desk chair, a wardrobe, and dresser.
Windows: All room windows come with a shade.
Air Conditioning: Central HVAC system (PTAC)
Kitchen Facilities: Communal kitchen located off the main first floor lounge, including sink, refrigerator/freezer, & stove/oven.
Bathroom Information:  Traditional, communal style bathrooms that include sinks, toilets, and showers.
Laundry Facilities: Located on the first floor of each tower. There is no additional cost for laundry during the academic year.
Renovations
C/D Tower roof was replaced 2022
HVAC units replaced 2022
A/B Tower roof was replaced summer of 2021
The main lounge was renovated in 2010 and includes the community kitchen.