Residence Halls and Apartments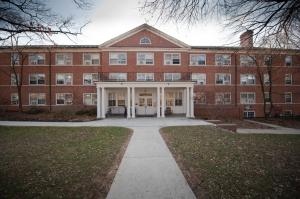 The majority of our resident students at Elizabethtown College live in one of our six traditional residence halls or in one of our two Independent Living Units (ILUs), on campus. Our residential facilities are inclusive to all genders. Your housing options are listed to the left - check them out!
A few of our residence halls are homes to learning communities, where students with a common interest or course live in the same residence and plan activities together. Aside from residence halls, apartments and townhomes, the College owns several single-family homes around the perimeter of campus. Groups of upper class students can apply to live in these homes, called Student-Directed Learning Communities, where they spend the academic year serving out a mission of the house's theme. 
Click here to see a video of our residential buildings!
Heating Ventilation Air Conditioning (HVAC) information to consider as you select housing:
 *Under class students who require year round air-conditioning due to a medical condition should choose either Founders or one of the residence halls with installed  window units and work with Disability Services to request the units remain in year round.
Learn more about living on campus: