NOTICE:

Updated: 9/20/2018 8:00 a.m.
The College is in receipt of the final report from High Environmental Health and Safety Consulting, the firm which conducted testing on the microbial samples taken from rooms in the Hackman Complex. The microbial growth was identified at Aspergillus/Penicillium, which is the most common mold species to appear in indoor air samples. The majority of the hundreds of sub-species are allergenic, not toxic. This group of species commonly grows in environments with high humidity. The College continues to monitor humidity levels in the Hackman Complex, reminds residents to keep their dehumidifiers operating 24/7, regularly discard the accumulated water and to file maintenance reports should additional concerns surface.
Vera Hackman Apartments
Built in 2000, the Vera H. Hackman Apartment complex was opened in the Fall of 2000 for Junior and Senior students. Known as Hackman North and South, the complex is divided into two separate buildings. Each three-story structure, has 23 four-person apartments. Each apartment has two bedrooms, a full kitchen and bath, and furnished living and dining rooms.
Hackman North and South have their own common laundry facilities. There is a picnic space in the grassy area in front of Hackman with community charcoal grills and picnic tables. The building is air conditioned through a central HVAC system. Each room is equipped with high speed internet access.
2018-19 Community Fellows
Noah Abbe
Anthony Carter
Nadia Mourtaj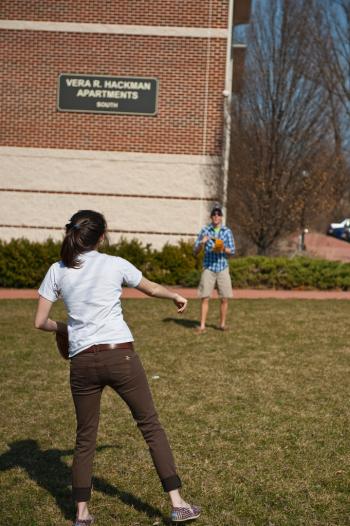 What We Know
The timeline of the discovery and steps taken to address it:
Monday, Aug. 20:
Work Order received, North 253 (Reports of microbial substance on furniture)
Environmental Services (ES) Manager and Facilities Director dispatched immediately and inspected apartment
Visual confirmation of microbial growth on mattresses and on soft goods, sofa and chair
ES Manager and ES Supervisors re-inspected apartment
Visual confirmation of microbial growth
Measurable growth had occurred during the two hours between the two inspections
Facilities Director orders a walkthrough of all rooms on the second floor with the ES Manager and found similar conditions on some mattresses and sofas.
Facilities Director authorizes ES Manager to call in outside company
Tuesday, Aug. 21:
A.M. - Contractor arrives
Confers with ES Supervisors
ES Manager called in
Mechanical Trades Supervisor/Residence Life Director/Facilities Director called in
Contractor is authorized to do full-scale mobilization
Meeting with Hackman residents at 5 p.m. to discuss situation and next steps
Wednesday, Aug. 22:
Contractor presents recommendations of a Certified Industrial Hygienist (CIH)
Full and immediate implementation of CIH recommendations is approved
Second meeting of Hackman residents at 6 p.m. to provide update
Thursday, Aug. 23:
Remediation work begins in accordance with CIH recommendations
Friday, Aug. 24:
Email communication and website with updated information/progress reports goes live
Ongoing
The Facilities Management team, college administrators and one student recommended by student leadership, will meet with Compleat Restorations at 2 p.m. every day for update reports beginning Monday, Aug. 27, for progress updates.
Here's what we know now:
Estimated completion and turnover of Hackman Apartments to students for move-in: Friday, Aug. 31
Storage units will be delivered to the Hackman parking lots on Saturday, Aug. 25. Students who are not able to move into Hackman will be invited to store their larger belongings in the units until they move into Hackman on Friday.
There will be a Collegewide support system of movers mobilized from every area of campus to assist students with their move to Hackman on Aug. 31. More details will be forthcoming.
The turnover of Hackman will include the placement of brand new mattresses in all Hackman units.
Facilities staff will install residential dehumidifiers in all units which will be in place until fall break (the time at which humidity should be under control with cooler temperatures).
Hallways, common areas and laundry rooms are also receiving treatment.
What we are doing
(have done)
We are meeting daily, at 2 p.m. with the mitigation firm and will be providing daily updates to this website.
The president assembled the senior staff of the College on Thursday, Aug. 23 to discuss the Hackman situation. He requested that a task force be formed. The task force will be co-chaired by Holly Francescone, Student Body President; Bob Wallett, VP for Administration and Finance; and Celestino Limas, VP for Student Life and will include student representation. Their charge will be to:

address how the College manages housing concerns and work orders;
determine what the issues were that contributed to the Hackman microbial growth problem;
consider improvements to the College's work order system (School Dude). Although the work order system did not contribute to the Hackman situation, we are optimistic that the School Dude system offers even greater capabilities for reporting, logging and tracking work orders, which would offer greater efficiencies. The task force will report progress back to the president and Student Senate at a mutually agreed upon date.

The full report from High Environmental Services—is posted here for inspection. The College is offering the report to provide full disclosure on the scope of work, extent of the suspect microbial growth and timeframe for mitigation completion.
We are discussing the appropriate reimbursement to compensate students for their inconvenience during this move-in week and that information will be shared with those students who are affected.
FAQs:
We have developed a series of Frequently Asked Questions to help you understand how the Hackman situation happened and details that might be helpful to you moving forward.
What was found in the Hackman Apartments and how widespread was it?
A suspect microbial growth was found in the room of the student who reported a suspicious looking white growth patch. It is NOT black mold—and is non-hazardous. Twelve units were inspected and suspicious growth was found in some of those units. In the interest of time and safety, the College decided to treat all units, whether or not suspicious growth was found. The College also decided not to wait for test results which can take 2-3 days. Instead, the approach was to treat the rooms as aggressively as possible to ensure every room was clear of any suspect growth.
Can the growth spread through the duct work in Hackman (meaning from floor-to-floor)?
All of the duct work was inspected and found to be clear of any suspect growth. Before the treatment of the units began, all the duct work was encapsulated/sealed to ensure no contamination occurred. Following the treatment in each unit, the duct work will be re-opened.
What contributed to the suspect growth and why wasn't it discovered earlier?
The summer of 2018 has been the wettest summer in Lancaster County history. Student workers and guests to the campus lived in Hackman during the summer months and vacated the space in early August. Air conditioners ran throughout that period of time which controlled the humidity levels. Once the units were vacated and cleaned (the weeks ending Aug. 11 and Aug. 18), humidity levels rose again until the time on Aug. 21 when the report was made and the room was inspected. This particular type of microbial growth is light surface growth which occurs in high humidity spaces, primarily on soft surfaces, like furniture.
Who is the company the College is working with to correct the situation?
Compleat Restorations is the firm that is partnering with the College to mitigate the situation. The College has authorized double time/extended shifts for Compleat Restorations to ensure the work is completed thoroughly but expeditiously.
What should I do with my personal belongings to ensure they are not contaminated?
Personal belongings that were left in the units will be inspected by Compleat Restorations to determine if there is any growth present. Those items that are determined to be suspect, will be bagged and sealed. The College will consult with the owners to determine next steps. Compleat Restorations has a high confidence that only a small number of personal items will be affected.
Floor Plans