Royer Hall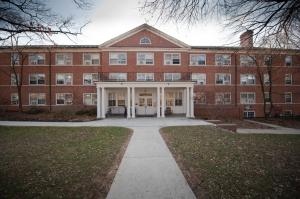 Currently being renovated for opening in Fall 2023!
Who to Contact

Gene Thomas, Area Coordinator
History
Royer open in 1962 and is named in honor of B. Mary Royer (1921).
General Information
Royer is home to about 130 students in a setting of 1 triple, 4 singles, and 64 doubles. The building houses students from all cohorts. The building is co-ed, with men and women housed on different ends of the hallways. Each floor has two community bathrooms. The building features a lounge on the first floor and laundry facilities in the basement. Royer is part of the Dell community.
Building Information
Walls: Drywall in the rooms, cinderblock in the hallways.
Floors: Tile in the rooms and hallways.
Furniture: Each student will have a twin bed, a desk and desk chair, a built-in closet and dresser (please note built-in furniture cannot be moved). A few rooms have a wardrobe and dresser instead of the built-in furniture.
Windows: All room windows come with a shade.
Air Conditioning: Window AC units that are placed in the rooms by the Facilities Management team during spring break (typically March) and removed during fall break (October).
Bathroom Information:  Traditional, communal style bathrooms that include sinks, toilets, and showers.
Laundry Facilities:  Located in the basement. There is no additional cost for laundry during the academic year.