Royer Hall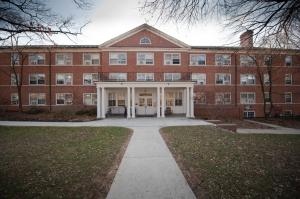 Who to Contact

Gene Thomas, Area Coordinator
History
Royer opened in 1962 and is named in honor of B. Mary Royer (1921).
General Information
Royer is a co-ed residence hall that is home to about 130 students in a setting of  10 singles, and 58 doubles. The building houses students from all cohorts. The building features pod style bathrooms on each floor, a lounge on the first floor, and a community kitchen on the first floor. Laundry facilities can be found on the first floor and the ground floor. The first floor of Royer is ADA accessible. Royer is home to the Social Change learning community. 
Building Information
Walls: Drywall in the rooms, cinderblock in the hallways.
Floors: Sealed concrete in the rooms and carpet in the hallways.
Furniture: Each student will have a twin bed, a desk and desk chair, a wardrobe, and dresser.
Windows: All room windows come with a shade.
Air Conditioning: Window AC units are in the rooms and are turned off and unplugged by Facilities management between fall and spring break.
Bathroom Information:  Pod style bathrooms (clusters of individual use bathrooms)
Laundry Facilities:  Located on the first floor and basement. The 1st floor laundry facilities are ADA accessible. There is no additional cost for laundry during the academic year.