Royer Residence Hall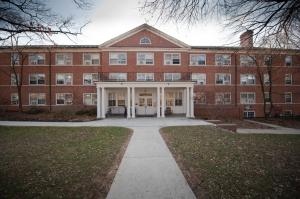 Royer residence hall is located in the Dell Community. Named after B. Mary Royer and built in 1962, Royer is a place that 125 students call home. Men and women live together in Royer though they are housed at opposite ends of the hallway.   The small size of the building allows residents to really get to know one another.   The rooms are air conditioned with window units that are installed during spring break and removed during fall break.  Laundry and vending are located in the building. The main lounge has a wireless hot spot for student internet use and each room is equipped with high speed internet access. The lounge and community kitchen are very popular spaces for students by day and night. 
Pet-Friendly Housing
The 1st floor of Royer is now pet-friendly!  This means you may bring a small caged animal, cat, or dog (under 25 lbs) to live with you in your room.  To apply as a returning student, complete the themed housing application on the housing selection page or by clicking here.  First year students may request pet-friendly housing on the housing preference profile.
"Living in Royer is the cherry on top of my freshman year in college. Even though Royer is small and compact, we got to hang out with different people and got to know them well. We became a one big family after months of living together. I've been closer to my Royer friends than my high school ones which only proves that the bonding we had in this dorm is very special. Here in Royer, I found my true friends that I know I will keep forever and the boy who makes me smile every day."

 
Floor Plans
Area Coordinator
2018-19 Resident Assistants
Savannah Martinez
Max Piston
Nick Wnuk
Kim DeStefano